Forza Motorsport 6 review
After ten years, the Forza Motorsport series is back with its most ambitious installment yet. Forza is one of those Xbox One exclusives that can truly boast that it's a console seller.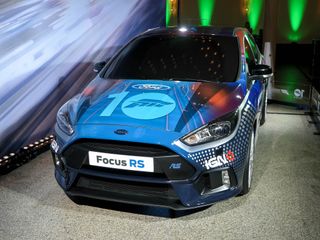 Forza 5 left many feeling a little unfulfilled. Sure, it was drop-dead gorgeous, and there was a ton of cars to drive. But the lack of circuits to drive them on left players with too much repetition. And repetition gets boring.
Forza 6 puts all that in the past. It's still the same game engine underneath that gives us silky smooth frame rates and full HD graphics. But what's on the outside is more in almost every regard. More opponents, more circuits, more testing racing conditions, to name but a few.
Forza 6 has more competition than it's predecessor, with the likes of Project Cars to go up against. So, how good is Forza 6? Has the last ten years been leading up to this?
Let's find out.
What you'll like:
Stunning graphics.
A rock solid 60fps
A bigger selection of circuits compared to Forza 5
24 cars in every race
Storming down the Mulsanne Straight in the dark
What you won't like:
Drivatars can still be a tad aggressive
You'll spend a decent amount of time waiting at loading screens
Bottom Line
Along with Halo, Forza Motorsport is one of Xbox's crown jewels. With Forza 5, it's easy to say there were compromises, cut corners, and a somewhat tarnished experience. With Forza 6, all is forgiven. This is the Forza Motorsport that the Xbox One deserves. With a staggering collection of cars, some of the world's best circuits, night racing, online multiplayer that isn't daunting to beginners and a solid 1080p 60fps, Forza 6 is the most complete racer on the Xbox today. Project Cars can boast a better sense of realism, but full-on realism isn't for everyone. Forza 6 strikes a balance between that and being able just to pick up and play. Forza has finally, properly arrived on the Xbox One.
On camera
The video walkthrough
What good is 1080p, 60fps if you can't show it off, right? Thanks to Paul Acevedo for the extensive video walkthrough.
Let's go racing
The circuits and the cars
Image 1 of 2
Before even considering graphics, performance, gameplay, multiplayer and all that other stuff, let's get to the basics. Forza 6 is a racing game. And racing games need to be packed full of circuits and cars. Else they're not going to be very good racing games. The lack of circuits is something that plagued it's predecessor, but thankfully, things are much better for 2015.
We've got a mix of real-world circuits like Silverstone, Circuit of the Americas, Yas Marina and the fearsome Nurburgring Nordschleife with street layouts in Prague, the Alps, and Rio de Janeiro. All are back from Forza 5 accompanied by a bunch of new, and in the case of Rio, it's a celebratory return. To celebrate ten years of Forza, Turn 10 went and devised a circuit based on real roads through the city. It's the very first one you drive, too.
There are 26 circuits in total and 460 cars in which to tear them up. The vehicle selection is vast, from classic hatchbacks, to track day cars, LMP1 Prototypes, Indy Car and even Formula E, with multiple stops in between. One to own for sure is the cover car, the 2017 Ford GT (not least because it's an achievement!)
We're not going to list the full roster of vehicles and circuits because there'd be no room for anything else, frankly. Instead, hit the link below to check it out.
Hey, good lookin'
Beauty on the outside, and the inside
Forza 6 is stunning. There're few other words that can describe how good it looks. It isn't perfect, but at this point in time we're left feeling like perhaps the Xbox One is holding it back graphically, rather than Turn 10 not doing enough with it. And it has retained the 1080p resolution and 60fps frame rate from Forza 5 despite upping the number of cars on track at any one time to 24.
The ForzaTech engine is what makes the magic happen and Turn 10, in collaboration with Playground Games (Forza Horizon 2) has continued to refine it since Forza 5, and the result is almost faultless. You get a rock solid 60fps even when things on screen get particularly busy, and we've only seen a very small number of very specific graphical glitches so far. For example, in cars like the BAC Mono or the Lotus F1 Car, when we're in the cockpit view, racing at night and at either Le Mans or Abu Dhabi, you lose a couple of frames on the final and first corners respectively. But only on the first lap.
Forza 6 has a locked 60fps frame rate, and it doesn't deviate from that at all during gameplay. The cutscenes that show more detail are downgraded to 30fps, and noticeably so, but where it really matters you're getting 60fps all the time. The folks at Digital Foundry ran the Forza 6 demo through its paces to show what we're talking about. You can see that video here
If you want to have the best circuits these days, it's all about the laser scanning. Forza 6 has it in spades leading to some lovingly recreated digital versions of real life circuits. Speaking from experience, Turn 10 has captured the essence of Silverstone and Brands Hatch on a race day impeccably. There's not much reason to doubt the authenticity of the circuits I haven't been to.
Quality handling
Stiking a perfect balance
Image 1 of 2
We're lucky that on the Xbox One we have different options to suits different tastes in racing games. If you want full-on realism, there's Project Cars. If you want something with a little more personality and arcade feel, there's Forza Horizon 2. Forza 6 strikes a perfect balance between the two. There's still a great element of realism, but you can also just pick up and play.
The experience can be tailored to your tastes. You get to customize difficulty, control systems and such, as well as alter the technical aspects of your cars. Where Project Cars has a lot of emphasis on car and tire setups, Forza 6 is much more playable without getting stuck into the finer points.
It's all the better for it, too. It is, after all, one of Microsoft's premiere titles. It needs to appeal to all. And it does.
When you're on the circuit, handling naturally changes based on the type of car you're driving. You're given satisfying rumble feedback through the controller, and the sound of the tires screeching can be a valuable asset. Listen out for them, you'll know when there's just a bit of squeal and when they're absolutely screaming. The latter is bad. And you need to be aware of understeer and oversteer, each on tap by the bucket full, and likewise tamable by tweaking some aspects of setup.
As you power round the track, you're given the full experience. Get it wrong, and you're straight on into the gravel, or worse. Drifts are fun and look spectacular but scrub more speed from your cornering than you'll need in pursuit of the hot lap times. It's about finding your own balance, and it's oh so satisfying when you do.
Something for everyone
Career, free play and multiplayer
Image 1 of 2
With 460 cars on offer, you might be wondering how you're going to be able to even think about sampling them all. Free play allows you to just get in and drive any one of them on any of the circuits. If you don't own the car you want to drive you're able to "rent" it, with the sacrifice being that you can't earn XP or credits from the race.
Career mode follows a familiar path to anyone who played the previous game. It follows an objective-based progression system rather than points based, meaning you don't need to 'win' a championship to progress. For example, you're set an objective of finishing third to continue to the next race in a series.
It's actually pretty refreshing. Other games, including Forza Horizon 2, require an outright points win to get where you want to be, putting extra pressure on achieving the win. A racer will never accept second place, you always want to win, but you're not punished so hard if you just can't reach it. It's also voiced over by some famous names, including British motoring journos and former Top Gear hosts, Richard Hammond, James May, and Tanner Foust, to name a few. The Stig also makes an appearance.
The career mode theme is "Stories of Motorsport" and is split down into five volumes. Each volume is then split down into a number of series, which in turn has a number of different car classes to choose from in which you can enter. Turn 10 promises over 70 hours of gameplay from the main career mode. You still earn XP to increase your driver level, credits to buy things and manufacturer affinity levels to earn even more credits to buy more things.
Multiplayer has some handy features designed to make it less daunting and more accessible for all players, regardless of skill. Leagues are new for Forza 6, described by Turn 10 like this:
The idea being that you're not going to come up against a professional racer in your very first Forza race. Leagues seem to operate within specific time windows, so you don't appear to be able to hop in whenever the mood strikes. For that, you've got the more regular multiplayer mode. And since there aren't that many people playing online during the pre-release period, the state of the servers is still an unknown quantity at the time of writing. We'll get a better feel for those from September 10.
Traditionally I shy away from online multiplayer in most games. The issue being the gulf in abilities. It's just not that fun for a lot of people to go online and get it handed to them time and time again without showing any signs of improvement. I like that Turn 10 has addressed this and provided something to fit everyone.
One little niggle we have with multiplayer concerns the experience in the lobby. One issue is the lobby will be set to a specific car class, and the car selection doesn't just jump to that class. You have to mess around with filters and set to view by class. It feels like an unnecessary set of steps to jumping into some online play.
Tweak it
Mods and tunes
Before each race, you're given the chance to apply mods and tuning to your car. Mods are basically what they sound like, but they're not limited to the performance of the car. You can purchase mod packs in the game using credits, and each contains some cards. Some common, some rare. Some can be used for one race only, others as many times as you like.
The cards represent some performance enhancements, such as weight reduction or an increase in grip, financial and XP benefits, boosts to grid position and dares. Dares make the race more challenging but ultimately pay off with bigger rewards. If you're feeling brave why not start from the back of the pack?
Tuning is more traditional fare, but also not universally applied. Some cars don't have options to change where some will have plenty. If you can't figure out why you're not catching the leaders, dive in and have a look. Everything is given super clear instructions as to the consequences of what you change.
Into the night
When the sun goes down
New for Forza 6 is racing at night. As Turn 10 described to us during Gamescom, though, removing the natural light doesn't mean a uniform experience. For example, racing under the floodlights at Daytona will be a much different experience to hurtling down the Mulsanne Straight at Le Mans at over 200mph.
It's these differences that have been recreated pretty well within the game. You do get a feeling for how the different circuit environments change when things get dark. At Daytona, for example, you're perfectly well lit on the banking but you then go into areas of almost total darkness on the infield. At Spa, much of the circuit is poorly lit.
The way light behaves at night has also been considered. It's not just a uniform beam in front of you. Floodlights glisten on the cars. Lights sweep across you and then you're back in shadow as you go past a light source and back into darkness. The cockpit of the car reacts with changing visibility depending on what happens to be shining on you at any one time.
The one thing that perhaps I'd have liked to have seen is dynamic lighting. Night racing is either on or off, it doesn't seem to change. Maybe for Forza 7.
There's a drizzle in the air
Make it rain
Along with night time racing comes wet weather. And as with night racing it's either on or off. But goodness it doesn't half change things. Rain is often described as the great equalizer. Mastery of it can pull off shock results against the usual run of form.
Turn 10 describes it as:
It leaves you with a very different experience. In the wet, the regular line is often not the fastest line. Do you hammer through the puddles or try to go around them? Attack the kerbs and risk losing control or stay well away? (Hint: kerbs in the wet get slippy!)
Wet weather is a welcome addition and, again from experience, the puddles do seem to be accurately located. However, I'm not sold on how big they are. Aquaplaning is truly an issue for wet weather racing, but puddles of the sizes seen in Forza 6 just wouldn't happen. Or not for long, at least. The puddles are a challenge, but they'd still be a challenge if they weren't so apparently deep. When you come across one at a high-speed corner at Sebring, you're left with little option but to hit it and see what happens. If a puddle that large and that deep were actually on the Sebring circuit, I'd be surprised if anyone was racing through it.
Visually though it's a treat. The water beads off the cars, you're given the full treatment of massive spray and windscreen wipers, and it really does add a new dimension to the Forza experience. There's space to refine it further, though.
Rack up the points
Achievements
As you'd expect there's a full 1000 Gamerscore on offer in Forza 6, ranging from the simple to the frustrating beyond belief. Some of the easier ones include just playing the introduction race, sharing a photo or owning the Ford GT cover car.
Some that are easy to gloss over, but equally simple, including accessing Forza Hub from Forza 6 and equipping bronze or silver badges. All three can be done from the main game dashboard and will get you a handful of points for virtually no effort.
Thankfully, Turn 10 released a full achievements list in the weeks leading up to the games launch. You'll find that at the link below.
Moar racing
Add-ons
As is so often the way these days, Forza 6 comes with some add-ons available to purchase from the Xbox One Store. There's a VIP pack, Car Pass, Fast and Furious car pack and some other cars available at launch.
You don't necessarily need to buy these separately, either. For example, the digital Ultimate Edition comes with everything included, as well as five days early access to the game. If, in doubt, double check the version you're buying to see what you get.
As ever, the Car Pass will get you every new car pack that's released into the store. Over the course of it all you'll save yourself some cash, too.
Throwing it out there
Other random snippets
Image 1 of 2
Forza 6 is such a vast experience that even in the course of writing a review, things keep popping into your head. Here're a few random bits and pieces worth noting.
Bouncing up on two wheels from a kerb looks fantastic. But it also scrubs your speed. Be careful around those big uns.
That said, attacking the kerbs can also be your best friend. Often the Drivatars will leave just enough of a gap for you to slip by.
Unless it's wet. Stay off them when it's wet.
There's altogether too much time spent in loading screens. Sure, this is a huge game with a ton of assets. But nothing kills your race buzz like sitting in front of a loading screen.
While the review was written using a controller, Forza naturally has control settings for steering wheels too.
Don't be afraid to increase the quality of your Drivatar opponents. On the easier settings, they're well, really easy to beat. Even for the Forza novice. The game will prompt you to increase if you start reeling off some easy wins.
You don't have to, of course, but half of the fun is in the challenge.
Leveling up still gets you a prize spin with winnings including expensive (and not so expensive) cars, credits, and mod packs. It's possible to build up some pretty impressive additions to your garage for doing absolutely nothing.
The rewind button is back again. You still take a hit on rewards for using it, but it's also mightily handy for trying again when you just went into a tire wall at 180mph. Like cheating, but it's allowed!
Tire walls are pretty fantastic. They explode on impact, sometimes spilling out onto the circuit.
As this is Forza, custom designed liveries are aplenty. Create and share your own or choose from those designed by the community. Make your car your own.
Get all artistic with the in-game photo mode. During races or ForzaVista, take some snaps of your favorite cars and tracks. Some of the images in this review were taken using it, can you tell which ones!?
Wrapping up
The bottom line
Where to begin. The last ten years has treated Xbox racing fans to one of the best franchises anywhere with Forza. And while Forza 5 felt like a misfire, Forza 6 is taking the checkered flag as number one. Project Cars can boast a finer degree of realism, but it can also be quite grinding, especially to the more casual player. Forza 6 is more accessible, with a shallower learning curve for the beginners and enough options to keep the seasoned pros happy.
Along with Halo, Forza Motorsport is one of Xbox's crown jewels. With Forza 5, it's easy to say there were compromises, cut corners, and a somewhat tarnished experience. With Forza 6, all is forgiven. This is the Forza Motorsport that the Xbox One deserves. With a staggering collection of cars, some of the world's best circuits, night racing, online multiplayer that isn't daunting to beginners and a solid 1080p 60fps, Forza 6 is the most complete racer on the Xbox today. Forza has finally, properly arrived on the Xbox One.
Paul Acevedo contributed to this review
Forza Motorsport 6 launches on September 15 in the U.S, September 18 in Europe.
Windows Central Newsletter
Get the best of Windows Central in in your inbox, every day!
Managing Editor - Tech, Reviews
Richard Devine is a Managing Editor at Windows Central with over a decade of experience. A former Project Manager and long-term tech addict, he joined Mobile Nations in 2011 and has been found on Android Central and iMore as well as Windows Central. Currently, you'll find him steering the site's coverage of all manner of PC hardware and reviews. Find him on Mastodon at mstdn.social/@richdevine
Meh. Still can't pick up chicks.
No lie I do love Forza, but the thing is it really needs to be on PC. I have enjoyed countless hours in Forza. After getting rid of my Xbox and moving to pc only. I just can't find a fun racing sim.

Thanks for really provoking a discussion there!

There was an old street racing game that let you do that. Wish I could remember the name.

There are plenty of great racing sims on PC, even better ones then Forza.

I'm no racing lover when it comes to my gaming. More into arcadish racing fun. But even the demo of Forza made me enthusiastic about racing.
The realism when driving in cockpit and the feel of on even the controller when driving through the rain or whatever... I never knew that was possible to get so much through a controller.
This is one amazing game. Yeah, too bad the weather isn't dynamic but no other game with even dynamic weather feels like that. Or good enough to make me wanna spend hours on it.
Thought it was an easy pass on Forza due to so many great games in two months, still playing gears etc. Now I can't stop thinking of buying forza as well. Damn it

I am going to lose my life to this game in the coming weeks. I know it. My own preference is the in-cockpit view. I honestly think you get a better feel for the cars handling and perception of speed.

My point exactly. I don't tend to spend time with racing sims. Means I should hate cockpit view. Yet here I am staying I love Forza 6 for that. It's a big deal really. Racing through the puddle in cockpit view not only this game makes you see a natural reaction of the car but feel I accordingly as you would think it should on the controller. Thumbs up for the amazing job the ppl at Turn10 did. Truly remarkable.

I don't like the view because I have so little faith in A.I. drivers to not get right up on my side, and looking with the right stick can be bothersome. I grew up on the far chase cam, and I still use it.

As a more of the arcade racing kind of guy far chase cam is my favorite. And I emphasize that Forza 6 making me love the cockpit view is what's amazing to me. Great experience.

I know it's your preference, but you should really try to let go of the the chase cam. If for nothing else but the sense of speed. If you find the cockpit view too restrictive the bumper/hood cam is also amazing, because being so close to the road and the back of other cars makes the racing all the much more white knuckled.

I've tried, and I just don't like it. It feels too restricting to not know what the other cars around are doing, and having to look from side to side with the right stick causes other issues. I basically always give the cockpit view a try with every game, just to see if I do any better with it, but I havent' yet. I'll almsot certainly try it again sometime today or this week as I play Forza 6, but I don't have high expectations that the change will stick.

Any 3D support in these games?

Especially with VR and AR on the horizon.

It's annoying that they don't support 3D. Even if 3D was stressful for the game engine they should give the option of enabling it with downgrading the resolution. I don't know why that is not a standard since more or less everyone has a 3D capable HD tv by now.

Exactly. What's the point of VR if we aren't even using our 3d tvs?
Playstation games seem to have more support for the format.
I believe one of the earlier Forza titles supported 3d.

Anyone unable to connect to multi in xb1 based forza games had this issue since launch fixed it by turning on the vpn filters on my d-link but had since moved to an asus & cant find an equivalent to handle this?

Would buy but don't have an Xbox One or a ps4

Gotta put the Xbox One on your Christmas list! Or save up for it. :)

Its not on PS4. Xbox One exclusive. And even though you don't have an Xbox One, if you decide to get one, you can still pick Forza 6 up, bundled FREE with an Xbox One, in the limited edition Forza 6 bundle. https://youtu.be/WM-jQCNeJgU And if you look around enough, you may even be able to pick up the bundle, with one, two, or three extra games - all also for free. Depends on the retailer, and the bundle they are putting together.

I've been with this series since forza 2. Looking forward to this! Forza 5 was missing all my favourite tracks except Laguna Seca. I love photo mode and racing lap times in rivals mode with my Toyota MR2. The demo feels good to drive after turning off all assists.

I had a similar issue. Two of my favorite tracks were Fujimi Kaido and Maple Valley. Their continued omission sucks, but at least Hockenheimring is back.

well I played the demo on the XBox One. I thought there was a slight bump in graphics but not huge. I have Forza 5 as well. Maybe the final version will look better. I like the addtion of open wheel race cars, would have preferred F1 to IndyCar as I was dissapointed in the new F1 game. My big problem with this franchise is that to get the full experience you have to shell out $100. This isnt COD, theres no need to charge $60 for the game and alot more money to get the really nice cars. You should be able to earn them by playing alot and unlocking them.

It has over 400 cars without the VIP package. It's easily worth it. Those extra cars are just an upsell for people who love cars way too much. As for the graphics, they are significantly improved, especially where effects are concerned. You might not be remembering Forza 5 very accurately.

Agreed, the is enough content. The thing I hate is how they tie Achievements to the DLC, and they are on your account, taunting you, even if you don't buy the DLC. I'm far from an Achievement whore, especially after MS hid them so deeply in the One's UI, but when I find a game I really like, I try to 100% it. Having that ruined by DLC that I don't want is a smidge irritating.

When I first started the demo it felt way different to F5. Don't know whether it was the 60fps or what but the hair on the back of my neck was standing up. Then I did the night racing - even more of a buzz, then racing in the rain Holy Shit !!! hold on to your seat !!!! In contrast I have deep regret in buying Project Cars - terrible handling and frustrated with structure of game. Can't wait to be doing F6 career. Great review by the way Richard.

Odd to leave out F1 2015 (even if its average). Furthermore the minus about agressive AI, there's an option in the demo to make them less agressive. Isn't that working properly or enough? Because i would imagine that this option is specifically there to get rid of the negative point. One thing i'm still sceptical about is that it seems there aren't really many new features in the game. The weather and time seem nice and the new setup for carreer is fine but they aren't that major to the gameplay itself. That just looks and feels the same. No real feeling for competition (in carreer), no pitcrew or garage in any footage, no handy radiomessages, basically nothing to get that racing feeling (only the driving feeling). Plus knowing where your opponents are, is still difficult or the fact that you still very often start at the back of the pack (which with 30 AI is lots of space between you and the one in the lead). Anyways, I'm still looking forward to the game. Especially the new carreer (with more changes of scenery and cars). I'm not looking forward to the loading times, but i haven't seen a modern racer with complex physics that loads instantly. Perhaps an SSD might help but i think its more to do with the fact that they can't pre-load everything. Though i still feel that some things can an thus loading could improve.

I was really hoping there would be a qualifying option...

Probably worded it worse than I should. My point is that with it set on default (and the more challenging setting) drivatars will still just pile into you. It feels like aggression first, driving second.

Also, in unbeatable mode, computers drives too flawless, difficult to beat on circular race tracks

Not sure what you can REALLY ask them to add in a realistic racing game that isn't in F6. I suppose I would like them to bring back endurance races (45+ minutes), and they COULD force pit strategy in, but it's not necessary.

Everybody who picks up Forza 6, please grab and like my custom decals! Choose to apply a vinyl group, hit the Search button, then search by user for EastX. I've got Mario and Zelda designs on the market already, with many more to come. :) Also, awesome review, Richard. Enjoyed teaming up with you on this.

Spaaaaaam!
Now seriously, make a WC decal for the GT-R, that would look absolutley badass and people would know that we are cool. (The Horizon 2 WPC group is always quiet, at least when I play) Posted via the Windows Central App for Android

There might be a Windows Central logo decal in Forza 6 now... ;) I wish Forza 6 had car clubs! Would be cool to race with the same people from Forza Horizon 2.

Right now I'm just creating decals that can be used with any car. I might also create some car-specific designs for the starting three cars. We'll see! https://twitter.com/PaulRAcevedo/status/641267858975010816

Spent hours doing designs on Forza 5. Had a fair few downloads too. If I get this I will definitely check yours out. I also hope that 6 improves on design discovery. 5 was awful. I want to be able to see all of my friends' designs in a single search. Sorted by friend. The search should also populate from the friends list.

That's awesome that you're into livery editing too! Unfortunately, discovery is the same as in Forza 5. No friends browsing. At least we can search by each other's Gamertags, but it could still be a lot better.

Do you have any for Forza Horizon 2? I don't like track racers, but love horizon.

I might go back and do a Windows Central logo for Horizon 2, but otherwise I'll probably wait for part 3. I missed the boat on custom designs for that game, unfortunately.

Oh, that's alright. I am also eagerly waiting for part 3; horizon is easily my favorite racing game.

I have spent countless hours on them, all real basic, but I loved them. My Renault Clio and Mini got covered. Also my Honda 200. Used to love it. My most popular were my Mass Effect ones. Dead basic designs, but surprisingly popular.

Played the demo after having played a fair amount of Project Cars over the last few months with a wheel and pedals set up. I can honestly say PC is more realistic in its simulation of real world racing. Yes Forza 6 is a more polished outing and the smooth 60 fps rate helps deliver a stunning visual experience, but its not all about visuals, I want more reality than the demo was willing to give, I hope the full version will have enough settings menu options to improve the overall experience.

There are some options, but as I alluded to in the review, Forza 6 is for everyone. Project Cars (which I love also) could get a bit grinding for more casual players.

The article on your Windows 8/10 app is empty

Open in browser to see content.
Mentioned at the bottom of the article.

Not understanding why I need to use the browser to read this. Why have the app if that's the case?....

Because our app needs to be updated to support new formatting styles, and that's still a little ways off.

Because the new review format we're using on big posts like this doesn't play nice. The site is designed before the app.

Im sure most on wm10 aren't using it anymore seeing as notifications don't really work so they might aswell use that other platform's app on wm10

The game looks really awesome. Please Windows Central start an Xbox One Forza 6 Bundle giveaway contest.

I thought this game does not come out until the 15th????

He had preordered the digital version

Reviewers often get games a few days early - sometimes as much as two weeks early. This helps us to prepare the review for release day or the day the review embargo lifts.

That's correct, although the Ultimate Edition launches on the 10th. The review embargo lifted today, a few days in advance of either release.

I can't wait! I pre-ordered the Digital Ultimate Edition and I can't wait to play it on the 10th!

Gotcha, thanks. I interpreted the review as if today is launch day.

The final line clears that up hopefully ;-)

Microsoft gave us early access. Among other publications, too. Nice of them, right?!

I've skimmed the car list for this and didn't actually spot the RS on it, I think. Just the ST. Have you noticed the RS listed and any indication if it would be in the base game or DLC pack of some sort? I keep on seeing it as the WC article photo, but a friend has to point out that it's not actually the cover car as I'd thought.

It has some nice features and great car selection thanks to Microsoft's power when getting licenses, but in term of realism, and racing on real life tracks DiRT Rally is a lot more promising, it might not have as much content, yet, but the racing simulation is spot on.

You're damn right. Forza 6 is a great game but Dirt Rally seems something better and different. I played Forza 6 demo and i think Forza 2 is best forza i have ever played.

My life will start ticking away the more I play this game! Its just too good! Turn 10 and Microsoft have made a racing game that is so spectacular!

Kind of boring, run cars on race track, nothing like nfs here. I played demo, pretty bore.

NFS and Forza aren't the same type of games. NFS is about holding down the acceleration button as long as you can... Forza is about realism. To each its own.

But still it is boring, like those people who drive cars in circuit, fenced and no traffic, you just have to focus. That's it.
Other games like horizon 2, nfs often fun with focus.

So real life racing drivers are doing something boring is all I got from that comment. No traffic? Fenced? You need to open your eyes and your mind. I have a racing license and while I'm not exactly experienced, boring doesn't even come close. Try thinking before spouting nonsense.

Thinking isnt possible for some of these readers.

Cool! I have a ​SCCA Regional Competition License. I have been lucky to race Lime Rock and Watkins Glenn. What license do you have?

MSA National. Probably the UK equivalent!

well some might find it boring, each to their own I guess... personally I cant wait to get my hands on this game.. Seems a bit silly to criticize the game though just because you don't like the genre :)

Yes, such people are boring,

Thought about trying it at fanexpo not worth the wait(VIPs pain in the ass)

I bought the Ultimate Edition so i could play it 5 days earlier and get all the extra content. Im craving for this game!

Same here less then 2 days to go now....

Anyone know if this will work with the logitech G25 sterring wheel + Titan One? Alternatively, does anyone have any steering wheel setups to recommend? :) Really looking forward to this game, and I'll get to race against my brother if he can use his ps3 steering wheel, cause then he'd buy an xbox!

Turn 10 says that it works just fine with the G920 from Logitech, however that's also an Xbox One certified wheel. If you're getting the game anyway it's worth a try!

So, has this game shown up on any deal sites yet ? Want to get thsi but, need a discount before I can buy it...

Lol. The game hasn't even launched yet and you're already looking for deals. That's optimistic
:-) Posted via the Windows Central App for Android

Im in agreement. I haven't finished 5 or fh2. My gf and I decided to hold off untill we are done. Yes the visuals have improved but I learnt. Xbox has sales it is a matter of time. Since I dont need to rush into it ill get it later. Eventually.

Gotta get that Best Buy GCU.

Looks fun tried the demo.

Have a minor issue with the statement "Drivatars can still be a tad aggressive" well duuh of course they can, they are Drivatars , not boring AI The whole point of Drivatars is that they emulate how some people play the game, so if a player is aggressive when playing, his/her Drivatar will be to .. makes for a more dynamic racing experience... Sure you might prefer all AI based boring competition, but i like the whole Drivatar concept, makes a race more unpredictable..and ever changing

The "show in browser" link seems not working for me

Forza 5 was the first Simulation game I ever played. Although becomes boring for a Time, it made me love it more than let say the Arcade version (FH2). BUT Am still looking forward to Forza Horizon 3 with these graphics. :D

Looking forward to driving at night and in rain. Finally!

I'm so in love with the Forza series that I wish they use the game to compare to the real life counter parts during race events.

ill get it eventually when I finish f5 & fh2.

I've found that if you come into the pits too fast, your car will either swerve erratically bumping into walls and on the rare occasion actually lands on its side when it falls off an invisible edge in the main pit area. Also some races, once a vehicle is chosen once in the event the car isn't the same colour as when you painted it. Fair to say that Forza 6 is a balance between Forza 5 and Project Cars, but perhaps having limited the number of cars on track to 18 instead of 24 would have allowed maybe working pit crews. Driving into the blank space which is the pit area is quite frankly the pits. A working crew in the pits would have given us (the players) a sense of confirmation that this truly is a step forward. I absolutely hate how poor the game play was in Forza 5, it was beautiful to look at but loading before and after races took so long that after a while I decided to flog the game. Forza 5 was a colossal failure which was saved in essence by horizon 2. I have to agree that dynamic lighting would have added to Forza 6's benefit but as we are all aware, when one Forza is released, there is already a replacement planned if not already in production. My perspective is simple, instead of churning out games every 6 months to a year, why not postpone and make more of an effort to be a trend setting title instead of just barely meeting the trend with a hope that if it's not good enough the first time, there's bound to be a replacement in a few months which will address these issues. Make an icon and be praised for it, don't make a flop and then expect the world to see it as you would have it when it's not all that to begin with. Forza is a simulation based game, why not put emphasis on realism in favour of the guys who actually play the game. I have played Forza 2, Forza 3, Forza 4, Forza horizon, Forza 5, horizon 2 and now Forza 6. Let's hope that all the aspects of racing and the realism is captured before we reach 20years of this formidable game.

Paragraph breaks!! You mentioned a 1 year development cycle, but the mainline Forzas are on a 2-year cycle. Turn 10 worked on Forza 6 while the Forza Horizon 2 developer did its thing. Still, it wouldn't hurt for them to give us more time between Forzas. I'd love to see them mix Project Gotham back into circulation and give every game three years in development instead of two.
Windows Central Newsletter
Thank you for signing up to Windows Central. You will receive a verification email shortly.
There was a problem. Please refresh the page and try again.