Here's your complete Forza Motorsport 6 Achievements list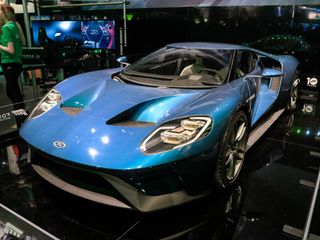 Forza Motorsport 6 will soon here here for the Xbox One, and ahead of the September 15 launch (or September 10 for Ultimate Edition buyers), Turn 10 has released the complete list of Achievements.
There's a full 1000 Gamerscore on offer across 57 individual achievements. As ever, some look like they'll be a doddle (get 5 points just for playing the game, for example) and there are those that will be a little more challenging.
In any case, here's the list of Achievements in full, with their Gamerscore value and what you have to do to get them. And if you're interested in learning more about the forthcoming racer, be sure to check out our full preview from Gamescom here
Cover Car - 20 - Own the 2017 Ford GT Cover Car
Bronzed - 10 - Equip a Bronze Level Badge
Smooth Silver - 15 - Equip a Silver level Badge
Digging Gold - 25 - Equip a Gold level badge
Going Platinum - 40 - Equip a Platinum level badge
Community Welcome - 20 - Visit Forza HUB from Forza Motorsport 6
Welcome to Forza Motorsport - 5 - Complete your first race
Posting a Selfie - 5 - Share a Photo
Greatest Moments - 5 - Share a Replay
Record Breaker - 25 - Go Faster than 250 mph in any car
Car Culture - 50 - Complete a Race with every car from Ferrari
One Down - 10 - Win a Race in a 2017 Ford GT in Freeplay with 24 cars
First Time - 15 - Win a Race in a 1966 Mclaren M2B in Freeplay with 24 cars
Street Legal - 20 - Win a Race in a 2014 BAC Mono in Freeplay with 24 cars
Best of Spa - 10 - Complete a race in the 2015 Lotus E23 on Spa in the Rain
Down Under - 10 - Complete a race in the 2015 Ford #17 XBox Racing Ford Falcon FG X on Bathurst
Turning Left - 10 - Complete a race in the 2015 Honda #15 Rahal Letterman Lanigan Racing IndyCar on Indianapolis
Forza Triple Crown - 25 - Complete the One Down, First Time, and Street Legal Achievements
Collecting the Checks - 10 - Earn 50,000 credits from Drivatars
Setting Pace - 10 - Lead for a total of 50 miles
Chase Car - 15 - Lead for a total of 100 miles
Modified - 15 - Finish in 1st place with all Mod Types equipped
Home Field - 10 - Use a Track Specialist Crew Mod on the track this Mod states
Mod Buff - 15 - Collect 250 Amount of Mods
Kickback - 10 - Earn 100% credit bonus from Mods in a single race
Up to the Challenge - 10 - Finish 1st using the Suggested Line Off, Cockpit Camera only Dare Mod
I Dare You - 15 - Finish 1st using the Back of the Pack Dare Mod
You Shouldn't - 20 - Finish 1st using the Manual Transmission Dare Mod
Meeting Objectives - 10 - Complete 30 Race Objectives
Accomplished - 15 - Complete 60 Race Objectives
Showdown - 20 - Finish 1st in the Ariel Atom Stig 1-on-1 Showcase
Dodging and Weaving - 20 - Finish 1st in the Ferrari LaFerrari Passing Challenge Showcase
I Got This - 20 - Finish 1st in the Formula Ford Cup Factory Spec-Racing Showcase
Just Getting Started - 30 - Complete the final race of final series in the final Volume
One for the History Books - 50 - Complete all Car Divisions, all Series, and all Showcases
Showstopper - 40 - Complete all Showcase Events in the Career
Championship Legend - 30 - Complete all Championship Series in the Career
Volumes Closed - 20 - Complete all Volumes in the Career
Spin to Win - 10 - Do 25 Prize Spins
Gaining Experience - 10 - Complete 100 laps in Multiplayer
Devoted Racer - 20 - Complete 300 laps in Multiplayer
Nightvision - 10 - Complete 50 laps at night in Multiplayer
Rain Dancer - 10 - Complete 50 laps in the rain in Multiplayer
Speaking Up - 5 - Vote for a track in a Multiplayer Lobby
Racking up the Mileage - 20 - Drive for 1000 miles in Multiplayer
World Traveler - 50 - Complete a race on every location in Multiplayer
Down to the Wire - 15 - Pass for lead to win the race within a second of the finish line in a Multiplayer race
Real Deal - 25 - Win a race with no assists turned on in a Multiplayer race
Thru the Pack - 20 - Start Last and Finish 1st in a Multiplayer Race with 24 cars
Giving it a Go - 5 - Enter your 1st League Event
Unrivaled - 20 - Beat a 10 Rivals while running with no Assists
Cashing In - 20 - Earn 50,000 credits from the community using your Design
Making a Name - 20 - Earn 50,000 credits from the community using your Tune
Takin' a Spin - 5 - Test Drive any car
Working Artist - 10 - Share one of your Paints
Working Tuner - 10 - Share one of your Tunes
Joining the Ranks - 10 - Finish 1st in a League Race
Windows Central Newsletter
Get the best of Windows Central in in your inbox, every day!
Managing Editor - Tech, Reviews
Richard Devine is a Managing Editor at Windows Central with over a decade of experience. A former Project Manager and long-term tech addict, he joined Mobile Nations in 2011 and has been found on Android Central and iMore as well as Windows Central. Currently, you'll find him steering the site's coverage of all manner of PC hardware and reviews. Find him on Mastodon at mstdn.social/@richdevine
Love the realism of this game. Even though I know I'll complete less than half these achievements

Glad they didnt reintroduce the kinnect achievements

Oh, your thinking of that 5 points on Forza 4.... I ddi it, it was not that bad... I was actually impressed on how well it worked but, not as accurate enough to play the whole game with it.. Found it to be fun when I had some frends over and we were drinking....for sure a LOL thing..

Forza makes an absolutely beautiful game at 1080p60 while other developers can't seem to pull it off (including another racing game). To me, it just shows the amount of effort developers are willing to put into one console over the other. If Turn 10 can make a realistic racing game at 1080p60, you can do the same with your FPS that doesn't require as much detail.

Agreed. Was quite good hearing the developers talking about the work they've put into their engine to make Forza maintain 1080p 60 as they're upping the detail and the number of cars.

What there's no crazy lead a match for x amount of miles in multiplayer achievement. Wtfish ?

What are the chances of starting off in last place in a 24 player multiplayer race, let alone coming in first?

VERY slim...unless they allow you to pick lobbies or something. There is just way too much loading time in most Forza MP I feel... I know the achievement will be possible though, people will just have to put together groups and boost for it.

Street Legal (BAC Mono) - haha finally they add this car! Best of Spa - oh man this one is going to be a pain... Home Field - crew mods? interesting Up to the Challenge - this should be fun Down to the wire - there may be a lot of frustration on this one.
Windows Central Newsletter
Thank you for signing up to Windows Central. You will receive a verification email shortly.
There was a problem. Please refresh the page and try again.