Check out the gorgeous promo videos for the new Surface Studio and Surface Book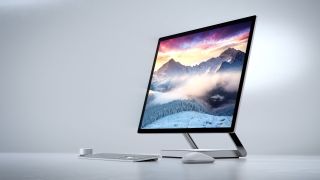 Microsoft certainly had a lot to show off at its Windows 10 event, including the new Surface Studio all-in-one PC and an updated Surface Book. Of course, alongside these announcements, Microsoft had some short videos showing off some glamour shots of both Surface products, and boy are they gorgeous. Take a look in the videos below:
What was your favorite announcement from the event today? Let us know what you think in the comments below!
Dan Thorp-Lancaster is the Editor in Chief for Windows Central. He began working with Windows Central as a news writer in 2014 and is obsessed with tech of all sorts. You can follow Dan on Twitter @DthorpL and Instagram @heyitsdtl. Got a hot tip? Send it to daniel.thorp-lancaster@futurenet.com.
Finally a good advert from Microsoft, epic and detailed

You should probably adjust your diet.

No interest in owning one of these. But it is awesome

Me too, I'd still opt for a custom built rig for true power....BUT the product is absolutely fantastic and IMO blows the iMac out of the water - I don't have a need for either but I can see how epic this is for those who do. For me it's still Surface Pro 3 and a powerful desktop at home with triple monitors for productivity with full desktop performance of true Corei processors and GPUs. The product itself is bad ass though

GTX 980M
32GB RAM (DDR5 I think)
2TB HDD (Was unsure whether it's SSD or a Hybrid Drive)
Core i7

2017. I heard somewhere. But it may be limited to few countries. Others, be prepared to wait till 2018!!

ZUNE and now Windows phone!!!

Guys, you can buy HP Elite X3 or 950 XL. Both are awesome devices.

Joe Belfiore confirmed release of Windows Lumia Zune this year.

Poor Josef, who is a little cracked record then?

Just WOWW...and Incredible...!!!!

Only..... Thats what we paid for a 368 years ago.....

Only..... Thats what we paid for a 368 years ago.....

A 368? lol I know what you meant, but it's still hilarious.

A top of the line 27" iMac with an i5 processor and weaker all around costs $2299.

If it's Apple, it won't be much right?

Looks good. But what about things that we really want? Phones and Wearables...

No one presenting was wearing a band, sad reality of the band.

It was mentioned here not to expect it. What on earth made you think otherwise?

I don't know, probably because Windows Central doesn't know everything about everything and because those are the stuff people really want; I mean ... the average consumer. Overall they start to sell an iMac touch , the rest of the presentation is somewhere in the future.

Basically everything that was leaked here came to pass. (other than the hub) The only real surprise came last year when they announced the Surface Book. That was epic!

Sales show nobody actually wants any of those.

So what sales shows then? That everybody wants a new desktop? Average consumers change their phones and tablets every 1 or 2 years (3 at best), desktops are just accumulating dust. How many times do you look at your smartphone in one day? Probably 10x more than you turn on your desktop in a week.

This is not intended for final consumer. This is for producers, not consumers. Everybody else can use their crappy(magical explosions and bendgate included) Android and iPhones.

According to MS, phones will be dealt with in 2017. You're expectations for phone announcements are year early.

Come on, At least a little glimpse of surface phone :(

Dream on! MS showed us mid finger!

I really enjoyed the event today. I think all the videos they showed today were top notch. Loved Panos Panays enthusiasm and presentation. Was looking forward to seeing a Home Huh of sorts, but I guess the Surface Studio does that and more. Although a Home Hub device would be great, I think they are saving all them up for the BIG event. Really enjoyed to see the new Microsoft

I think a home device using Cortana is a way off - But I'd love to see something similar to Amazon Echo next year. The problem with Cortana is it is a single user experience right now....I'm not sure how Amazon determine who is asking the question but any shared device needs to know whether it's me or my wife asking about the calendar without us first signing in

Cortana has voice recognition, at least on W10M. It's under Cortana>Settings>Hey Cortana, it's an option labeled "try to respond only to me".

You're missing my point though. Right now if you had an Amazon echo like device (shared and placed on the Kitchen table) then out of the box Cortana doesn't have multi user support. It can't be set to identify a person by their voice for example. Right now Cortana is always running in the context of the logged in user.

Microsoft know how to make some truly great adverts, it must be said. Devices look brilliant- way too high end for me, can't deny - but like some quality pieces of kit I'd love to have my hands on.

Boy Microsoft have drastically improved. I remember just a few years back when there were rushed ads all over the place and many people stated that Microsoft's marketing was really poor (and I agreed back then). It's great to see the improved investment in their marketing teams and more focused campaigns nowadays, honestly. The Surface Studio ad is beautiful, just like the device itself

Just watched the whole presentation from here in England on my 950xl flawlessly. Give Microsoft some credit please. Thanks for that Bill Gates and all those who carry on the great work now.

They do good work but not great. They never see things through and they don't see the obvious. What they showed with the Hp x3 where they take a £d photo If they keep something like that for windows phone only then they would become deal makers

...great work now... after when Windows Phone is kaput!

The point isn't to sell Windows Phones, the point is to allow everybody to be creatives in new ways and bringing that to the masses. A much better mission than trying to sell a few extra phones

Anyone know whoch version of "Pure Imagination" this was in the ad?

ask Cortana... seriously. She'll probably be able to pick it up. I don't have audio here at work (or Windows 10 for that matter) otherwise I'd try it myself.

Cortana couldn't pick it up, I can't find it either.

Here yah go: https://www.youtube.com/watch?v=2-p7xf6OEsg

That was the first thing I wanted to know as well. That is a gorgeous rendition. Had to listen again on my Paradigm Shift Soundbar just to get the full effect. Its kinda funny that Cortana can't pick up a song from a MS promo video...sigh.

Shazam can't find it either. Such a good cover to the song

Pure Imagination - Stephanie Tarling https://www.youtube.com/watch?v=2pGBwgFKmqg

Love how they get Tony Stark each year... Nice. Seriously though, some sweet tech. Nothing in my price range, but great devices.

These look great but I need another car before I need one of these.. :(

There goes my tax return money....

Wow, When Apple "invents" this next year, it's going to skyrocket.

hope the education store will have these soon. not up yet.

If only the company that could create the Surface Studio would build a phone using that same focus, energy, and investment... Pure Imagination...

And it will be useless without Apps

So the 950 that I've been using the last 10 months is useless?

Ya, I guess my 950XL that I've been using since last October is useless too. Gee, if only I'd known.

Half the people here that go on about how important a "Surface Phone" is probably wouldn't even buy it due to the cost

Depending on the size and specs, I'd purchase one.

What about the windows phone

Microsoft is selling dreams ... their future never come kkk Meanwhile the hole world are buying iStuffs and Droid Things. It's like that sand castle, just one wave and it ruins. MS should sell their final user business like IBM did, and focus on "enterprise" kkk it's almost 2017 and they're launching desktops

You have to dream sometimes. Also, one shouldn't look at the Surface Studio as a mere desktop. I'm sure this is marketed to a VERY specific segment and not intended to have mass market i[crap] appeal. But if you are a creative professional (like I used to be...sigh), this product hits you right where it should.

Billions of people are buying PCs.

If you think people only use phones and tablets, then you're the one who's dreaming. And I bet if Microsoft simply tried to copy everything Apple and Google are doing then you'd complain about that too. Give them some credit for being leaders and innovators instead of hating on them just for the sake of it.

Hahaha you are funny. Have you heard of Apple being a cloud infraestructure provider? MMMM no, sorry but after a few years we will see if people will continue consuming the same products. it would be great if you informed yourself a little bit and see where the ship is going.

Not a good news day for Apple. It will do them good to have to play catch up. Their phone range is not doing anything for them either so they will have their hands full for a while. Ohh dear...

As a critic of Microsoft lately, all I have to say is WOW. Thanks for pushing the envelope. Glad to see a product Microsoft is taking the lead in instead of following and dropping it like it's hot.

They did the same with the surface tablet.

Yep and that's why I have one.

Surface Pro 3 + Powerful custom desktop rig is the ultimate combo for me, along with my Lumia 950 which I still love (despite what anybody says, it's my honest personal opinion)

The Surface All-in-One turned out way more impressive than I thought it would. It's so much more than your average all in one (or iMac for that matter). The product isn't for me, I'd just build a way more powerful PC for a lot less.....BUT the product is bad ass, and ideal for many many people out there which is fantastic.

This is crazy and this is epic

Studio and Book look decent. But very expensive and more niche products. Cool from a marketing standpoint, but nothing the mainstream is going to eat up.

Microsoft had made it clear from the beginning that the Surface line will high end devices for OEM's to model after. You are seeing it with the Surface line of 2-1's with OEM's making affordable, mid and high end devices. Doing this let's Microsoft push the envelope on their devices and charge the premium for it.

This is so true. The innovation and ideas Microsoft put into this premium product will eventually trickle down to more mid-range devices made by other companies. It happens in most markets. Look at technology in cars for example, you can get all sorts of things in a fairly average car these days that were only in the most premium cars 5-10 years ago. I'm sure Microsoft helped various OEMs over the years too when it came to creating innovative hardware by sharing things they'd learnt

They're not targeting the mainstream.

So that's what they were working on while they put phones aside.

Let's wait till next year and see what they have up their sleeves. I'm actually glad that they have (possibly) delayed things because I'd like to get more than a year of usage out of this 950 before purchasing another phone.

Ditto. Next year will be the perfect time for me to replace my XL.

this should be shown on TV, these are nice videos that explain the power and beauty of the surface line. now get something like this for the "Surface Phone" and we have a winner ladies and wingents

They should be doing the promos on World wide channels like BBC world every day, so that many people should be aware world wide of this Surface studio. Isaiah Heart

Anyone know where to get that elepahnt wallpaper from?????????????????????????????

I really love this device, wish I could afford it though...

Wait, is that Kina Grannis?

So whose going to be the lucky winner? Isaiah Heart
Windows Central Newsletter
Get the best of Windows Central in in your inbox, every day!
Thank you for signing up to Windows Central. You will receive a verification email shortly.
There was a problem. Please refresh the page and try again.