Check out the official Surface Go unveiling video here!
Surface Go is official! As with all Surface announcements, Microsoft has a slick new unveiling video for us.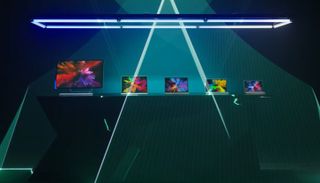 (Image credit: Microsoft)
Microsoft is known for its excellent unveiling videos for Surface-related products, and with the latest Surface Go announcement comes a brand new reveal video advertising all that the Surface Go has to offer.
Lasting about a minute, the new Surface Go reveal video is fast-paced, cutting quickly between shots of the Surface Go and information about it. It opens with a quick overview of all the Surfaces available today, and leads into the Surface Go with a swish transition from the Surface Pro.
The music featured in the video is titled "I Like It" by Port Au Prince and Peter Groenwald, for those that are interested in all the music that has been used in Surface advertisements so far. Microsoft has famously used covers of songs like "You're the one that I want" from Grease and "Pure Imagination" from Charlie and the Chocolate Factory.
What are your thoughts on the new Surface Go reveal video? Let us know in the comments!
See at Microsoft Store (opens in new tab)
Windows Central Newsletter
Get the best of Windows Central in your inbox, every day!
Zac Bowden is a Senior Editor at Windows Central. Bringing you exclusive coverage into the world of Windows on PCs, tablets, phones, and more. Also an avid collector of rare Microsoft prototype devices! Keep in touch on Twitter: @zacbowden.
nice, really nice...but I wish the bezel size was much much thinner! it would have given it a much sleeker look.

What's nice exactly? The gigantic bezels? Or the retarded CPU? Or maybe the fact that it runs OS that's totally touch-hostile with UI and File Explorer dating back to Windows 95 and a few abandoned touch apps in the Store with versions behind their iOS counterparts?

You should delete the second half of your comment before someone actually sees it.

Maybe he meant the presentation video? You know, what Zac asked about...? ;-)

The bezels are there for you to hold the device as a tablet without covering the screen. As for the CPU, sorry for the fact that it doesn't have a 18-Core Core i9 desktop CPU, with 0 throttling under intense load in a hot summer day, powered by 2x GeForce Titan V SLI, and deliver 80h of battery life, all costing under $199 US. As for File Explorer is from Windows 8. Even if you want to go at the "core level", it stops at Vista. Earlier versions where using IE. Since Vista, File Explorer it isn't own file and folder explorer program. And the IE File Explorer started in Windows 98. Windows 95 was it's own short lived thing. So all your facts are wrong.

You don't need those big bezels to hold it though. And I had them all with relatively big hands.

I like the slower artful marketing instead of fast music. I like that of the surface studio showing the precision of parts, etc. This video doesn't say anything about education maybe they will make a special video showing it off for that

+1 on the bezel looking a bit huge, possibly the overall screen size contributing to that thick bezel look.

Wow. Kind of a letdown after all the Surface Phone Andromeda hype.

Nice commercial! Didn't know they had it in them. Wonder what the Andromeda one might be like...

Ok, so the commercial gave me at least one reason to recommend it over an iPad... which I was really struggling with... the Alcantera keyboard.

The keyboard is also backlit

So this device is targeted at students, let's look at it as such: The ipad is a nice to have device for sure, but for all the talk of "what's a computer?" to me the answer is "still not really an ipad". Microsoft is often accused of an app gap, and in terms of some commercial apps this is true, far less so with social apps these days. However for productivity windows and therefore the surface still has a big win over IOS. Now I know that for some courses an ipad may do, but the moment you go near anything that requires you to examine data its on the back foot. The ipad just lacks the tools to properly ingest, restructure and analyse data, its still a consumption device, so yes there are some nice visual and mathematical apps but they rely on the first two steps being done beforehand, data isn't always ready. So it comes to context, if you are sure you will never need to use a pivot or a regression or connect to an sql dbase, you will be fine with an ipad, if you are doing an analytical course not an art, it probably will fall short.

Don't confuse college with grade school; the iPad and as a result this Surface Go is definitely aimed at the latter! Whether it will succeed is another matter - so many educational apps for grade school have been specifically and exclusively been developed for the iPad...

It's only taken Microsoft 14 years to finally clone the shape of the original Apple iPad generation 1. At that rate we might see an iPhone clone In another 10 years... the 1 inch bezel just proves once again that Microsoft has no taste...

You haven't used a tablet recently, have you?

Lol Panos maybe losing his touch.

Here is another video from Microsoft that goes into detail about the hardware of the Surface Go. https://www.youtube.com/watch?v=hBxylZI4zl4

Says it has NFC chip on it.

Hey, If apple iPad was invented 14 years ago... that means the original patents on the iPhone expire in 3 years...

Surface Go would have been a perfect name for the Andromeda device. It doesn't suit this device at all.

Of course it does. Perfect. NOT perfect at all for the Andromeda device I.e just, 'Surface'

You don't think the Andromeda will be more portable?!?

It's kind of a play on the name, Surface Pro, so yeah, it fits this device perfectly.

It has USB-c finally no need of adapter anymore

Moan moan moan seems like there are lots of moaning people here. not been here for a while but nothing seems to have changed with the commenters.
It looks nice, great for when i travel let's hope it has a good battery life, my Pro 3 i7 is now over 3 years old and struggles to make a 2.5 hr plane journey nowadays, th

Ignore the toxic trolls. I think there's still a lot of sensible people around here. If we're not commenting constantly, it probably means we're too busy earning a living. :)

People want a state of the art product at a budget price. The whining from the entitled crowd was completely predictable.

Andromeda _was_ "likely" to be coming out in October. If Andromeda has been delayed, when will it be announced/come out now?

I'm sorry not reporting about the fact that this is a 400 dollar tablet where you have to spend an additional hundred bucks to have a keyboard is BAD JOURNALISM. To be fair to windows central every other mainstream tech journalism site did the same thing. you look like the industry has you in their pocket.

It's been reported here and elsewhere, along with the pen also being an additional cost. Dan even compared the cost of the Go + keyboard to the cost of an iPad with a Logitech Bluetooth keyboard. But don't let the facts get in the way of a good rant.

To be fair, the number of apps available on the iPad that are specifically designed for a touch interface compared to those on Windows is a very significant number. While the Surface Go has access to significantly more programs, a large number of those are legacy and not intuitive with a touch screen. Basically, at least in terms of education circumstances, an iPad doesn't need a keyboard, this does. You can also buy a crappy iPad keyboard for 20 bucks, so there's that too. Although I'm assuming this would be compatible with Bluetooth keyboards/mice also so it's not REQUIRED to spend $99 on a keyboard here either.

I'm not going to complain like the trolls on here, you know who you are, but I don't understand why Microsoft discontinued the regular non-Pro Surface after the Surface 3 and are now deciding that a consumer Surface is the best thing ever with the Surface Go. I thought Nadella hated consumers!!!!

I was disappointed, until the price. That makes all the difference. I know that this is probably the price for the base spec., but that is still a lot of very nice looking hardware for a surprisingly reasonable amount of money.

Love it, can`t wait to get it. :-) My Surface 3 needs a break. :-(

Really.. I wonder if they stole the name from Andromeda. Why not call it Surface mini or just Surface as they did before? Surface Go sounds exactly like a hyper portable Surface device, something pocketable that will GO with you everywhere.

lol, seriously youve never heard of Andromeda? Of course the name was stolen, it's the name of a galaxy and a part of Greek Mythology. It does look cool though, wonder if the RAM can be upgraded without the HD, probably not though..

Might be the right birthday present for my mother in law turning 80, but we'll wait for the LTE version as she's very mobile.

I just realised that most reviews and blogs and stories don't cover/adress the usecase and support for the surface dial, despite its prescence at the end of the ad.