Chime in: What do you think of Windows 10's (sad) tablet mode?
Windows 10's tablet mode is pretty bad. We want to hear about your experiences!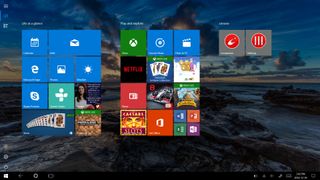 Windows 10's tablet mode was okay when it first launched, but a lot has changed in the tablet space since then, and tablet mode hasn't, which means it's fallen really far behind when it comes to other tablet OS experiences.
Compared to say, the iPad's tablet OS experience, Windows 10's tablet mode is a sorry state of affairs in 2018. Bare of any real animations, fluidity or niceties, it's there to get the job done on tablet mode, which is unacceptable really. Sure, it works, but the experience is horrible.
I know I'm not the only one who thinks this too, plenty of the recent Surface Go reviews note tablet mode has being one of the weaker parts of that device, and that's because it is. The Surface Go is a great bit of hardware, but its the OS experience that makes everything feel unfinished.
Even if you think animations are silly and niceties are unnecessary, they are important parts of the general user experience for most people. The iPad wouldn't be nearly as fun or intuitive to use if it didn't have the fluidity that it does. Gestures, animations, and everything in-between, Windows 10 has none of it.
Windows 10 is still using the taskbar for navigation, a system feature that dates back decades. Tablet mode is very much representative of old Microsoft, of a world where Windows was dominant. In today's world, Windows doesn't get to dictate how OS experiences should be, so it's time to adapt.
Get the Windows Central Newsletter
All the latest news, reviews, and guides for Windows and Xbox diehards.