Chivalry 2 for Xbox, PC: Gameplay, release date, and everything we know
Here's what we know so far about Torn Banner Studios' sequel to Chivalry: Medieval Warfare.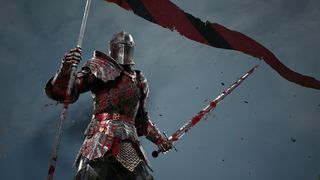 (Image credit: Torn Banner Studios)
Update 6/8/2021: Updated with new information about Chivalry 2's launch.
Torn Banner Studios struck gold when it released Chivalry: Medieval Warfare on PC in 2012. With its deep melee combat mechanics, expansive siege-style battles, and incredible player customization, the game took the PC gaming community by storm and made gamers realize just how great first-person melee games could be. Now, Torn Banner Studios is back, and it has brought a sequel, Chivalry 2, right to your plate-armored hands. Here's everything you need to know about Chivalry 2, including details about the gameplay, release date, and more.
Flesh and steel collide
Anything but chivalrous

Chivalry 2 is the sequel to the famed Chivalry: Medieval Warfare, featuring skillful melee combat and massive multiplayer battles.
Chivalry 2 development and reveal
Chivalry 2 is being developed on Unreal Engine 4 by Torn Banner Studios, the same developer that released the original Chivalry: Medieval Warfare back in 2012. The game was revealed by an announcement trailer during the PC Gaming Show at E3 2019, which showed off some of Chivalry 2's melee combat and the scale of the in-game battles.
Chivalry 2 gameplay and features
At its core, Chivalry 2's gameplay is all about a deep and skill-based melee combat systems where players need to use a mix of light and heavy attacks, blocks, feints, ripostes, kicks, and more to successfully take down opponents. According to a listing on GameStop's website, the class system from the original Chivalry is returning, but with additional subclass options that allow players to pick something perfect for their playstyle. Additionally, the latest trailer for the game shows off archery, so fans of ranged combat need not worry. This trailer also revealed that crossplay will be available between all platforms.
Aside from the melee fighting, players will also be able to make use of various different map-specific sandbox elements. Based on Chivalry 2's trailers, you'll be able to use trebuchets, catapults, ballistae, buckets of boiling oil, and more. Horses are going to be in the game as well, but Torn Banner Studios confirmed that they would be added after launch in a later blog post.
In terms of game modes, three have been confirmed: Team Objective, which pits two 32-player teams against each other as both teams try to accomplish an objective; Team Deathmatch, which takes the scale of Team Objective and makes each team's lives a limited resource; and Free for All, which is an all-out massacre between individual players. Torn Banner Studios has stated that it will "have more info to share about other game modes, maps and gameplay features in the future."
Finally, players will have "Enhanced player expression" that "brings thousands of hilarious new voice-lines and deep character customization" to the Chivalry 2 experience, according to the official site for Chivalry 2. The aforementioned GameStop listing details that players will also be able to customize their character with facial features, face paint, and more. Additionally, players will be able to change what their armor and clothing looks like, too. The official FAQ also notes that players can perform a suite of various taunt animations during gameplay.
Chivalry 2 story and setting so far
While Chivalry 2 doesn't have a campaign mode, the game's multiplayer battles are contextualized by a fair amount of lore. The Chivalry universe takes place in the fictional land of Agatha, where the Agatha Knights originally ruled. However, a rival faction called the Mason Order rose to challenge the Agatha Knights and were able to overcome them, killing Agatha's king, Feydrid. This drove the Agatha Knights into hiding, and thus the Mason Order was free to pillage and plunder the lands.
Chivalry 2 takes place 20 years after this, as the Agatha Knights, commanded by a new leader called Argon II, attempt to take back Agatha from the Mason Order and its own leader, Malric. The official lore trailer for Chivalry 2 confirms that this conflict will serve as context for the multiplayer, although it's unclear whether players will be able to influence the outcome of the war through gameplay.
Chivalry 2 visuals and music
Chivalry 2's visual style looks to be very gore-heavy, with a huge emphasis on blood, explosions, and other special effects. In terms of quality, Chivalry 2 doesn't look particularly "next-gen," but its stylized realism nevertheless looks great in motion, especially during combat scenarios.
When it comes to the game's score, we know that it's being composed by Ryan Patrick Buckley. Buckley composed the soundtrack for the original Chivalry: Medieval Warfare as well, and has worked with Torn Banner Studios for many years.
Chivalry 2 system requirements and next-gen enhancements
Ahead of the game's release, Torn Banner Studios has released the PC system requirements you'll need if you want to have a satisfying Chivalry 2 experience. Here are both the minimum and recommended specs:
Minimum specs:
Windows 10 64-bit
Intel i3-4370
8GB Memory
20GB Storage
NVIDIA GeForce GTX 660 or AMD Radeon HD 7870 2 GB
Recommended specs:
Windows 10 64-bit
Intel i7-6700 or AMD Ryzen 5 3500x
16GB Memory
20GB Storage
NVIDIA Geforce GTX 1070 or AMD RX Vega-56
Chivalry 2 will also feature next-gen enhancements for new consoles like the Xbox Series X and PS5. These include the following:
4K UHD
Capped 60 FPS and "uncapped framerate" modes
"Prefer Ray Tracing" mode (post-launch) that adds ray tracing, but caps FPS at 30
DualSense Controller Haptics (PS5 only)
The Xbox Series S will have a locked FPS of 60 and an uncapped framerate mode available as well. However, there won't be 4K UHD support for the console, and it's unclear whether or not ray tracing will be available for the Series S when it releases post-launch either. Notably, last-gen consoles such as the Xbox One, Xbox One X, and PS4 will be capped at 30 FPS.
How to play Chivalry 2 alpha and beta
Chivalry 2's Closed Alpha opened up registration in August 2020, and players were able to sign up to participate in playtests. The Closed Alpha took place on PC and on Xbox One in late 2020 and earlier in 2021. There was also a Closed Beta in April for PC and console players who pre-purchased the game ahead of its upcoming release.
In addition to the Closed Alpha and Beta, there's was also a free Open Beta for all platforms that began on May 27, 2021, and ended June 1, 2021. The beta included up to 64-player battles, crossplay between platforms, and the game's customization system. PC players were also able to join 1v1 dueling servers.
Chivalry 2 release date and price
Originally, Chivalry 2 was supposed to release in 2020. However, the developers recently announced that they were delaying the game to 2021 to polish the game further and ensure that more content could be included at release. Recently, it was announced that the official Chivalry 2 release date for all platforms will be June 8, 2021.
In terms of price, Chivalry 2 is available on all platforms for $40. There's also a Special Edition available for $50 that includes some unique pieces of gear, including two sets of special jousting armor and a royal broadsword and battle axe.
Lastly, Chivalry 2 has been released on Xbox Series X, Xbox Series S, Xbox One, PS4, PS5, and Windows 10 PCs through the Epic Games Store. After a year, it will also release on other platforms like Steam.
Chivalry 2 preload times
Torn Banner Studios has revealed when players will be able to preload Chivalry 2 ahead of its release on June 8. Here's what you need to know:
Preload is available now on Xbox One, Xbox Series X, and Xbox Series S consoles.
Preload will be available on PS4 and PS5 at 11 a.m. ET on June 6.
Preload will be available on PC (through the Epic Games Store) at 10:30 a.m. ET on June 8.
Your thoughts
What do you think of Chivalry 2? Are you excited to get your hands on it? Let us know. It could end up being one of the best Xbox games of 2021, so keep an eye on it! Also, if you're looking for something similar to Chivalry 2, check out Mordhau.
Flesh and steel collide
Anything but chivalrous

Chivalry 2 is the sequel to the famed Chivalry: Medieval Warfare, featuring skillful melee combat and massive multiplayer battles.
Medieval mayhem at its finest
Have at them, boys!

If Chivalry 2 isn't for you, try Mordhau. It's got the same style of gameplay, making it an excellent alternative.
Get the Windows Central Newsletter
All the latest news, reviews, and guides for Windows and Xbox diehards.
Brendan Lowry is a Windows Central writer and Oakland University graduate with a burning passion for video games, of which he's been an avid fan since childhood. You'll find him doing reviews, editorials, and general coverage on everything Xbox and PC. Follow him on Twitter.