Citrix Receiver updates to version 1.2 - access your files, apps, and desktops on the go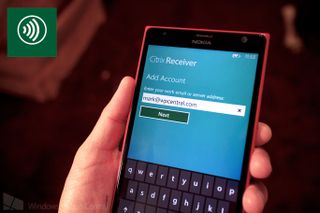 Citrix Receiver lets you access your enterprise files, applications, and desktops to help you be as productive on the go as you are in the office. If you already use it, then you would probably like to know that the app for Windows Phone 8 has just been updated. Version 1.2 features several things like support for Netscaler Gateway 10.1 and multiple in-session screen display options.
Head past the break to read the full change log.
What's new in version 1.2 according to the store listing:
Text input editor for East Asian languages
Fully localized for French, German, International Spanish, Italian, and European Portuguese
Expanded support for the Mobile SDK for Windows Apps
Support for Netscaler Gateway 10.1
Direct connections to XenMobile App Controller apps (Web and SaaS apps) without a Storefront proxy.
Multiple in-session screen display options
Log collection for debugging purposes.
On-screen assistance for in-session gestures
Citrix Receiver lets you access your applications, desktops, and data easily and securely from any device, including smartphones, tablets, PCs and Macs. For smartphones, there's an app on Android, iOS, Blackberry, and Windows Phone. The software allows devices to connect to various desktop virtualization services offered by Citrix. It's designed as an important component for XenDesktop and XenApp installations. If these things sound foreign, this app is probably not for you.
Citrix isn't a stranger to Windows Phone. They have also just released GoToMeeting for Windows Phone. It is used for online meetings on the go.
Citrix Receiver is a free download from the Windows Phone Store. It requires a specific configuration, so ask your IT department how to get started after installation. Do you use Citrix Receiver as part of your job? Let us know what you think of the Windows Phone app in the comments!
Thanks for the tip, Richard D.!
Windows Central Newsletter
Get the best of Windows Central in in your inbox, every day!
Sorry if im silly but im Hindu so i dnt know. So how exactly do u guys celebrate Christmas? Merry Christmas anyways

Well thank you lol merry christmas

We decorate our houses with lights and buy gifts for family and friends. My birthday is on Christmas so my family actually celebrates the day before :P

Because you know ......YOLO...

Dude.. Just like we celebrate diwali..

In the Netherlands we just eat nice food :P Sinterklaas, Santa Claus' father, arrives on December 5 already. And of course we decorate our houses with trees and lights and stuff

Great,,,,,,,,,,,,,,,,,,,,,, Merry Christmas........to all....

Merry christmas everybody and happy holidays to all!

Merry Xmas and happy & safe holidays to ALL fellow WP users & the editors at wpcentral.

They so need to update the Windows 8 version, I'd imagine its a bit more important for tablets than for phones.

Lol your comment is the only one on topic haha.

Merry Christmas to one and all.

Mark, step away from the computer/laptop, Go enjoy your Family and friends, we will survive 1 day without the fantastic staff of WPC, we thank you for your dedication to ths site and the WPC fan base, but all work and no play makes "Jack" a real idiot lol, wishing you and yours and all the WPC readers a very Merry Christmas!!!

Not sure what i can do with this software. Is it possible to connect to my ubuntu homeserver and browse through harddisk content on server?

Nope, you need a Citrix server to host an app or desktop first.

Go get drunk you workaholic!

Merry Christmas from Portugal!

Well, watta you know, a bit of news on Christmas day. Go home! It's Xmas!
P.S. Merry Xmas!

Great app! Already tested it and it works very well.

App is slowly improving. Just wish they had better support for Citrix Access Gateway on Windows 8/Windows Phone 8.

Feliz navidad a todos!!!!
Windows Central Newsletter
Thank you for signing up to Windows Central. You will receive a verification email shortly.
There was a problem. Please refresh the page and try again.