Classic 'Duke' Xbox controller will make its return in March for $70
Ready your nostalgia, folks: The original "Duke" Xbox controller is nearly ready to make a comeback.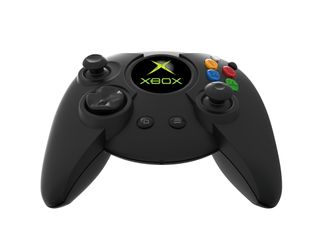 Several months ago, gaming peripheral maker Hyperkin announced plans to release a working replica of the original "Duke" controller that was first released with the original Xbox. Now, the massive controller is nearly ready for its debut.
Seamus Blackley, who was on the original Xbox launch team and has been involved in bringing the project to life, has announced on Twitter that the controller will be available at the end of March for a cool $69.99.
Hyperkin originally billed the controller as a "faithful recreation of the original controller's form-factor," but some tweaks have also been made for modern gamers. The biggest update is that the massive Xbox logo in the center of the controller has been replaced with an OLED display screen. Left and right bumpers have also been added, and a detachable 9-foot cable is included as well. And if you want to do some PC gaming, the Duke will work with Windows 10 in addition to your Xbox One.
Sure, the "Duke" controller was comically large and had its fair share of detractors. But with original Xbox games now hitting backward compatibility, now's as good a time as any to try to replicate the feel of the OG console.
Are you planning to pick up the Duke when it's available in March?
Windows Central Newsletter
Get the best of Windows Central in your inbox, every day!
Dan Thorp-Lancaster is the former Editor-in-Chief of Windows Central. He began working with Windows Central, Android Central, and iMore as a news writer in 2014 and is obsessed with tech of all sorts. You can follow Dan on Twitter @DthorpL and Instagram @heyitsdtl.
Really... And this is not even an official Xbox controller with wireless? Wow.

The original Duke wasn't wireless. And this has the full support of Microsoft.

Yeah, but the original Duke also came out in the turn of the century. Wireless wasn't exactly where it is today (even where it was at the start of the 360 days), especially Xbox wireless. If this has the full support of MS, then they should have made it wireless. Nothing you have stated has supported a 70 dollar price tag without the basic functionality that we have come to expect for over a decade in an official controller.

It says detachable wire. Which means its wireless.

OMG such whining. I hope you're little kids. This like 1 Starbucks coffee everyday for a month. In the UK it's 7 packets of cigs. 20 pints of beer. This is not an amount of money to get your little tampax all up in a bunch about. Get over it

OK, but if you don't drink Starbucks it's more like a week without food or 3 months without gas for your car. Not that I can't afford it, but I'm not one to throw money at something and use false equivalencies to support it.

Actually, I believe this is wired only. I think the detachable part comes from the little snap-away feature that some of the wired Xbox controllers had, where if you were playing and someone walked between you and the tv it would just pop the cable apart instead of snatching the controller out of your hands, or your Xbox off the shelf!

There I go not fully reading the article apparently. Thanks. If it is wireless capable makes the price a lot more reasonable. By the way, stating something is not the correct price or is lacking standard features is not whining. I think it's perfectly reasonable for a controller (which one can argue are a bit too expensive as they are already) that actually costs more than the standard fare, would have the same features as the cheaper option.

Nope, detachable cable unlike the original but it is NOT wireless.

No, the detachable cable is for convenience of storage, not wireless connection. https://www.cnet.com/news/microsoft-xbox-duke-controller-hyperkin-seamus...

So I have to choose between this or the Sea of thieves special edition? Whyyyyyyyy am I put in this situation.😥

Gonna definitely pick this up.

The slim controller of the original Xbox was much better. I don't get this

Yeah, I enjoyed the slim version myself.

Yes, this design was horrible

People have different hand sizes. I don't have huge hands or anything, but even when the S controllre came out, I felt the original was a better fit and more comfortable, and I was about 12 or 13 at the time. Heck, I have a N3DS that I never play because my hands are sore after playing it for a while, due to its compact size (wish I had gotten a N3DSXL).

It's almost like different people like different things. This is going to be a niche product but there's nothing wrong with that.

The original designer is the head for hyperkin. This controller will be almost 1st party feeling.

Glad to see they finally got it all worked out. Wonder if there are any shots of the actual production model instead of these renders? However, my fancy will still not be tickled until I see an "Xbox 360 Controller for Xbox One" (or however they'd like to word it). Wired or wireless, I'd take either one.

I would like this as well (minus the cheap battery piece), I don't remember as much hand fatigue on my 360. I maybe just getting old though and 6-8 hours on any controller will hurt.

If it's wireless, I'll get it. If it's not, it's a tougher sell. Then again, with a display inside, battery life would probably be trash with a battery (though they could fit a sizable battery in this, it would also make the device quite heavy). I'm on the fence, but I'll consider it...if I even remember in 10 weeks.

It's not wireless, according to this: https://www.cnet.com/news/microsoft-xbox-duke-controller-hyperkin-seamus...

I still have my Duke in a desk drawer. Memories

Controllers, controllers, controllers... It's crazy to see how hype some people are about controllers. How many controller designs do people need? It's not like there are a lot of local multiplayer games on this console. Some of these people are happy with the amount of games MS are providing their gamers and are celebrating controller announcements.

Controller choices are crucial because it is what physically connects us to our games. Nice to have options. I think about the gear shift in my pickup... I can go with a T-handle or one of those baseball shifters, or whatever. But, just having that big ugly black 1-2-3-4-5-R knob it there makes me feel more connected to the truck in a way.