Behold the ColorWare Custom Xbox One Elite Controller in Windows Central colors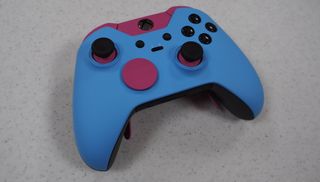 Custom coloring specialists ColorWare recently started offering their coloring services for the Xbox One Elite Wireless Controller, the cream of the crop of videogame controllers. Professionally recoloring a controller can be an expensive proposition, so we decided to test the process for ourselves.
Read on for full insights into the custom coloring process and more photos of the Windows Central Xbox One Elite Controller!
The ColorWare process
Before I ordered a custom Elite Controller, I spoke to ColorWare about their coloring process.
ColorWare offers aftermarket coloring services, meaning they paint products that have already been produced for retail. Whether you send in or buy a product directly from ColorWare to be recolored, the first thing they do is disassemble the product. They clean each part to remove oils, glues, and other residues so that it can be painted evenly.
The multistage paint process that follows closely resembles the process of painting a car. Each part is sanded, covered in a primer base coat, two clear coats, inspected, and reassembled. Finally, the product gets boxed up and shipped out to the customer.
ColorWare's facility consists of four car-size paint booths, which they describe as superior to what most aftermarket car painting facilities use. One booth is dedicated solely to prep work, one to painting solid colors, one to metallic colors, and one to clear coats. This separation prevents cross-color contamination. Further preventing contamination, all 58 colors have their own paint gun.
Now that we understand the general process from ColorWare's end, let's customize and order an Xbox One Elite Controller.
Choose your colors
ColorWare provides custom coloring services for a variety of electronics. Gaming-wise, they offer custom Xbox One and Playstation 4 controllers and systems. The systems cost quite a bit more than controllers to colorize, but you can send in your system to significantly reduce the price.
With standard controllers, you just design the controller, and they sell you a brand new one; you can't send in your own. But ColorWare does let you send in an Elite controller to reduce the price of the coloring job, presumably because the Elite is already a costly controller.
Designing your own Xbox One Elite Controller is a bit more involved than a regular Xbox One controller, but only because the Elite Controller has more parts that can be colorized. Head to ColorWare's custom Elite Controller page and you'll find nine different parts to colorize and one to engrave. Note that only the front color is included in the base price. Each additional part you colorize adds to the cost of the job.
ColorWare offers 29 "solid" colors and 29 metallic colors, for a total of 58 color choices. Each of these comes in a gloss or matte finish. I'm told that glossy finishes resist wear and tear more than matte, but the downside is they also show dirt and grease a lot more.
The following parts can be colored:
Front: The main face of the controller.
Top: For $10, you can have the glossy area surrounding the bumpers and triggers painted.
Bumpers: Colorize the Left Bumper and Right Bumper buttons at the top of the controller for $10.
Triggers: Coloring the Left and Right Triggers costs $10.
Joystick Bases: Although you can't color the actual analog stick tops, you can, at least, add a splash to the stick bases for $5.
D-Pad Plus Style: The Elite comes with two swappable D-Pads. Each D-Pad style costs $5 to color. If you don't use a particular D-Pad, you don't need to pay to have it colored.
D-Pad Disc Style: My D-Pad of choice looks great with color!
Battery Cover: Colorizing the battery cover costs $10. Note that painting the battery cover will hide the trigger lock labels found there. I find a colored battery cover looks tacky on a black rear shell anyway, so I opted not to color mine.
Paddles: The Elite's removable paddles are one of its standout features, although I don't care for them myself. $10 lets you choose a single color for the four of them.
Engraving: For $40, you can engrave text on the top of the battery cover. No choice of fonts, unfortunately.
As you choose your colors and engraving, the preview image automatically updates to reflect your design. Having finished your design, you can then click the Share button to the top-right of the preview and send a custom link to your friends. Follow this link for our controller design.
If you're ready to order, add the controller to your cart. A newly purchased controller will ship out within 7-10 days, and comes in the original Microsoft packaging.
All custom products from ColorWare include a one-year warranty. If you experience any paint wear during that time, the company will repair it for free. After that time, the cost of repair services depends on the cause and extent of the wear.
Our custom Elite Controller
Just over two weeks after I sent my Elite Controller to be recolored, I received the finished product. I'm pleased to say that this one turned out just as well as the regular Xbox One controller we had them customize a while back.
Once again, I can't find a single imperfection. The colors are uniform, smooth, and completely professional. The only way you can tell this controller wasn't made in blue and pink is by checking the back side of the removable components like the D-Pads and Battery Cover. ColorWare doesn't color the surfaces you wouldn't see during normal use.
Comparing the coloring service offered between a regular controller and an Elite, there are some notable differences. You can get the entire back of a regular controller painted. The only rear surface on the Elite that ColorWare paints is the battery cover. That owes to the rubber handles on the Elite Controller. Because the rubber is built into the rear plastic shell, the shell apparently can't be painted safely.
One big improvement with ColorWare's service for the Elite Controller is you can change the color of the top portion of the controller, as well as the bumpers and triggers. I've never cared for the glossy black area on most standard Xbox One controllers, so I'm glad they let us change the color and finish on the Elite. You can even give the bumpers and triggers different colors from the top. ColorWare should paint the green sync button at the top, though, as it tends to clash with custom designs.
The most elite of the Elite
ColorWare's services are top notch. I find it almost impossible to believe you could order a custom controller from them and not be happy with the results. But as ever, the cost may be a sticking point with prospective buyers.
The base price of buying a custom Xbox One Elite Wireless Controller directly from ColorWare is $264 shipped. If you'd rather send in an Elite that you already own, that starts at $114 shipped. ColorWare also ships internationally, but they only accept credit cards as payment – not PayPal. No matter what, you're looking at spending nearly twice the retail price of an Elite Controller on a purely aesthetic service.
Before you flip out over the price, remember the amount of work that goes into disassembling, painting, and reassembling a controller. It's a complex process that does not afford shortcuts or cost-cutting measures.
Nobody needs to give an Xbox One Elite Controller a sexy custom paint job. But man, what a cool thing to have! And the chances are that a decent portion of gamers who can afford a $150 controller also have the disposable income to spend on customizing one too. Whether those people choose to do so, all comes down to how much they care about having a controller that stands out from the crowd. If that sounds like you, ColorWare won't let you down.
Customize an Xbox One Elite Controller at ColorWare
How do you like the Windows Central-colored Elite Controller? If you think you can do better, be sure to leave a comment with a link to your own custom design!
Paul Acevedo is the Games Editor at Windows Central. A lifelong gamer, he has written about videogames for over 15 years and reviewed over 350 games for our site. Follow him on Twitter @PaulRAcevedo. Don't hate. Appreciate!
Well......its unique I'll say that.

Thats a nice way to put it. I'll be blunt and say its ugly. Sorry someone has to say it.

It's slick. The varieties makes us unique.

I really wish I was a footballer.... Would really enjoy getting some fresh colours.

Well....its not the best looking controller in the world if I'm honest

Looks ok. Posted via the Windows Central App for Android

Nope. I mean, the work done on the controller looks great and if they weren't an US-based company I'd probably buy something from them. But the colour combination of the WCentral controller is just horrible. But that's the fault of whomever picked the colours for Windows Central. I'd surely like to see other custom painted controllers. I personally, though, think I prefer to use dbrand skins. . (ps - Hey, Paul...newsflash: this isn't Windows "Phone" Central anymore, mate ;P)

dbrand is expensive for what you get, a sticker. hate stickers

Don't agree on being expensive. On the contrary. Plus it doesn't void your legal warranty. Which is 2 years here in Europe ;)

The process is cool, but I have a lot of gripes about it. The worst is their site, which is just a pain to get around. I couldn't find on their site where I can just pick a product to customize. Some are there, but the Elite Controller wasn't. There was some Titan one for $300, but I don't know what their deal is as a whole on that site. As for the actual painting, I don't like the shortcutting of not painting the entire object. I guess it makes SOME sense, becuase you don't want people crying about warranty repainting because it worse off on contact points during switching, but it kind of looks bad to pull the paddle or D-pad off, only to see the original color in a bad way. I also would have liked if you asked them what the major problem is with taping up the grips to paint the rear shell, and I'm curious as to whether there is any way to be sure that all of the parts you send in are all the same that you get back. Hearing them hedging about paint wear for matte is also somewhat worrisome, because for the price they charge, I would want a lifetime warranty on it. It's bad enough Microsoft screws customers over with a bad warranty on the controller itself; I'd like some serious assurance that the controller's paint won't wear after a year (you know, since a console can be expected to stay with a person for 5+ years). The job really does look nice, minus the color combo. The pink needs more of a magenta/red tint, I think. It looks like a very pale pink, compared to what the site uses (granted, I don't care for that either, so it doesn't really matter, and it's not my controller). The matte, like with the Elite controller itself, just looks awesome. Other than the complaints of not going 100% on the accents, the actual looks is superb. I guess the one minor complaint is that it looks a little weird on the paddles and D-pad. I'm not sure why, but just something about them seems slightly off. That price tag is the nail in the coffin for me, though. I couldn't bring myself to throw $115 at this. I'm not saying it's not of fair quality or worth it, but it's not what I'd go for. That, and given that my Elite Controller is already showing signs of breaking down after less than 6 months, I'd be leery on putting another $100+ into the thing when it might not last through the warranty on the paint job. One last question, becuase the pricing mentioned is a bit unclear. Is $115 the price to paint just the front shell, or is that the price for all of it? If the latter, then it would be $180 to do the whole thing, and $220 to add engraving! That's insane!

--Too expensive --Disappointing warranty --Awesome looks of the finished product --Elite Controller warranty is a joke I tried my best.

hey keith, what's wrong with your elite controller? Posted from WC W10 app on my 1520

He just summarized the other commentors's post

The left stick is a bit collapsed in some, and it doesn't engage the sprint properly in Halo. The paddles seem to be on some kind of delay, so if I press a paddle, then quickly press a different button, it registers the second button first. A common occurrence there was I would press to switch grenades, then try to throw, and it would throw the wrong grenade, then switch to the correct one. It got me killed a lot. I switched my paddle mapping in Halo as a result. The other issue resolved itself, but the guide button would get such in the controller at times. I had to smack it a bit to get it loose, but it's fine now.

Good to know, thanks for taking your time to reply. I do play a lot but in my xbox 360 and one the oem standard controllers are enough. Not had any single problem with them so $150 seems like a waste of cash. Posted from WC W10 app on my 1520

What can I say? I don't like to make hot takes and treat intelligent conversation like Twitter.

This particular controller design came to $154 with the other parts factored in and no engraving. Expecting a lifetime warranty on something like this is unreasonable. Imagine a car detailing place offering something like that. Somebody drops their controller from high up, damaging it. The damage is their fault, but ColorWare has to go through the whole process again to repair the nick. They can't just offer that service for free for all of time.

I mean, every warranty has a "normal wear and tear" clause of some sort. Dropping a controller isn't part of that. I wouldn't expect them to cover it in the one year, if that happened. I mean that if the paint just starts rubbing off after a couple of years, that's not a good thing, though we obviously have no examples of that yet (since the process is, what, 3 months old?).

Hey Paul could you make a test video? Take 90% rubbing alchohol and rub around the controller with some force. A microfiber cloth is good. Wondering how the rubber finish and paint will hold.

You know, I can see the value in such a video... But doing that to my controller doesn't sound very appealing! ;)

But when you review products, some of them are purchased by the editors themselves?

It depends. We usually get at least one review copy of a game for free from the publisher. With gaming hardware, we might get a single review unit, or we might not. As far as I know, we all bought our own Elite controllers.

Ok thanks for the response!

Same worry when it comes to paint wear. OEM paint finish (especially rubberized finish) will last much longer. Does not make sense to have someone apply paint to controller at this price when it will wear down.

If I ever get an Elite controller, I'll be sending it to these guys!

Yyyyyeah.. Maybe with the rebranding, you should have had us choose new colours for the site as well.

Holy Crap people! This is a totally luxury purchase. Cost really isn't a factor. I don't hear to many purchasers complaining about the reliability of thier Ferrari (notoriously fickle, and expensive to fix.) And complaining about the color is just silly, it was intended as a product demo for Windows Central. Of course they used thier colors, kind of reminds me of idiots that won't buy a house that meets every need and they like other than the paint color. Posted from Windows Central for Windows 10

I think it looks hot Paul.

Let us have a chance to win this please!

I like the service and attention to detail ColorWare puts into the process but man does that price hit like a ton of bricks. I'm probably not gonna have this done to any of my things anytime soon.

Good read and thx for the pricing and process.

Say what you will, but I think it's cute, very colourful! If I had money for this I would definitely get it, although probably with more pink lmao

Seems like they are doing a great job, looks sweet!
Price is just not acceptable, seriously what are they thinking?

We go over why the price is what it is within the review. Some things just take a lot of work, and that work has to be paid for.
Windows Central Newsletter
Get the best of Windows Central in in your inbox, every day!
Thank you for signing up to Windows Central. You will receive a verification email shortly.
There was a problem. Please refresh the page and try again.