Computex 2018 spotlighted dual-screen Windows 10 PCs — but are they just novelties?
This week, we caught a glimpse of a future trend for PCs, and it's dual displays. But will they really solve any problem?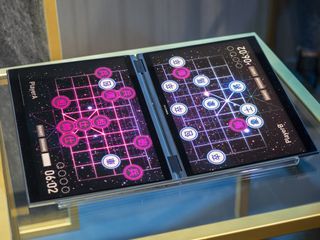 Back in January, I wrote an article predicting that the next wave of innovation around the 2-in-1 PC category would be devices with dual displays. We have seen such devices before, including 2011's Acer Iconia 6120, and more recently, the Lenovo Yoga Book. But there is now a concerted effort to usher in these devices again to the consumer market.
While many dismissed the idea of dual-screen PCs, this week at Computex revealed a handful of forthcoming PCs with two screens. These devices won't be for everyone, but they open the floodgates for new ideas and concepts.
PCs announced at Computex
Lenovo and ASUS were the big pushers of dual-screen devices at Computex, but Intel was pulling strings behind the scenes.
ASUS had two dual-screen devices. One is the ZenBook Pro 15, which packs a 4K display and a smaller, secondary display in the trackpad. That laptop keeps the physical keyboard and is a very interesting deviation from the idea of dual-displays. Expect the ZenBook Pro 15 to launch in the coming months.
The other ASUS laptop is the futuristic "Project Precog". The Precog has two full displays with no physical keyboard, and it genuinely looks like it's from the future. That laptop is more of a concept device but the company does plan to bring it to market in 2019.
Lenovo teases a sequel to its Yoga Book, which is expected to launch later this year. Not much was revealed about version two, but it will be running the latest chip from Intel, and it won't be using the underpowered Atom processor that marred the experience of the first edition. There has been some speculation that its bottom half may use e-Ink instead of a secondary LCD, which leads us to Intel.
Intel is leading the push for dual-display PCs, along with Microsoft. The company previewed a few reference designs for manufacturers to run with. One is called "Tiger Rapids" and pairs a traditional 7.9-inch LCD with an electronic paper display (EPD) on the right. An Intel Kaby Lake processor powers it with an ultra-thin solid-state drive (SSD).
From one of our recent news stories on the subject:
Even Dell is reportedly playing around with a dual-screen mobile device.
The news out of Computex follows months of rumors and patents from Microsoft, which is expected to set the stage for dual screen devices later this fall with its Project Andromeda, which we believe to be a foldable tablet device.
Why this is a big deal
I argued back in January that 2-in-1s, as we know them, are now an established category. In fact, besides gaming PCs, 2-in-1s are one of the only classes that have garnered growth and interest from consumers during the last few years.
But even convertibles are not immune to a stagnant and mature market. As IDC's latest forecast points out, this category is also plateauing with slower sales than previous years. As consumers fall into multi-year replacement cycles (combined with an increasing dependence on larger screen smartphones), the rush to buy the latest laptop is a tough sell.
Ryan Reith sums it up this way in IDC's May 2018 report:
This potential is one reason why companies like Qualcomm are getting in on PCs. The real interest from consumers is around either ultra-light, premium convertibles (with the bonus of LTE and long battery life), or high-end gaming rigs that can let users jump into the latest craze of "battle royale"-style gaming.
Unlike in the past, however, Microsoft and its partners are taking a more proactive stance by trying to innovate around the PC continually. This week's Computex push, where we saw multiple dual-display devices, is a testament to that urgency and shows more of a concerted effort rather than typical random OEM experimentation.
Of course, the elephant in the room is practicality. While these devices look cool, how will consumers take to them when it comes to typing? An analogy can be drawn to smartphones circa 2007 where physical keyboards were the optimal solution. It was that year the first iPhone demonstrated that on-screen keys could be good enough for many users.
The issue this time is we have yet to see what the solution is for PCs with dual displays. Lenovo mentioned leveraging A.I. to help with word prediction, but it is unclear just what that means or how well it will work.
There is also the argument that like 2-in-1s, such a dual-display category for PCs will have some false starts, close calls, hidden gems, and abject failures before finding its path. Most of the experimental designs for convertible PCs in 2012 are no longer with us in 2018.
At the very least, this new concerted effort for re-sparking interest in PCs is welcome. Microsoft looks to have learned and is living by HP's slogan: "Keep reinventing."
Cautious optimism
In and of themselves, dual-display PCs will have to demonstrate true utility to consumers. If not, they will be seen as another novelty. Right now, we're in that stage. It looks cool, but will it make your computing life better? We don't know.
How does typing fare with such designs? How does A.I. help in this area (if at all)? And what engineering solutions can woo the consumer away from physical keyboards?
Most of these related challenges should be solvable – but they require the right engineers, ideas, patents, and execution.
Finally, like all different types of PCs, dual-display devices won't be for everyone. Artists, engineers, musicians, creators, or those who consume data will be the biggest beneficiaries. These are the categories where other input modalities could take precedence over strict typing.
I believe we should embrace the change and experimentation, and see where the tech takes us.
Windows Central Newsletter
Get the best of Windows Central in in your inbox, every day!
Daniel Rubino is the Editor-in-chief of Windows Central, head reviewer, podcast co-host, and analyst. He has been covering Microsoft since 2007 when this site was called WMExperts (and later Windows Phone Central). His interests include Windows, laptops, next-gen computing, and for some reason, watches. Before all this tech stuff, he worked on a Ph.D. in linguistics, watched people sleep (for medical purposes!), and ran the projectors at movie theaters because it was fun.
I'm excited to see where this category of devices goes. I can see myself using this along with an external mouse and keyboard (something small and sleek) to have two screens for researching, reading, & writing.

First, I don't think these devices "look cook". They look ugly, clunky and too big to be convenient like a smartphone and too small to be useful like a tablet or 2-in-1. Second, I have yet to hear a convincing argument to what PROBLEM these devices are meant to solve. Third, particularly in the case of the full-size folding-screen devices, they clearly learned nothing from the failure of touch covers. Giving up that much screen real estate to a virtual keyboard that you can't actually type on with any reasonable accuracy and speed is idiotic. As far as I see it, the technology that would actually make folding/collapsing/whatever screens attractive and functional just isn't there and won't be for quite some while.

So you have already types on this in order to say that they keyboard is bad? Wow must be great to be so in the loop you have used a device that hasn't been release. Or maybe you are just a lgdroid troll.

These devices are not promised to solve world problems or have to be completely revolutionary, at least when these devices don't really exist to know their usefulness. But there will be groups that will make use of this kind of dual-screen devices who do not rely on the physical keyboard most of the time. Sizes will vary from handheld/pocketable devices to laptop-sized and will serve their own specific markets. I can already think of what these devices can be useful, such as music production where dynamic controls will make use of two-displays at once. DJs can have one tracklist on upper display while the base display can have mixing controls and SFX. Artist can have one display use the whole display just for the canvas while other will have all the tools and preview, or artist can choose one for canvas and one for full-screen preview. Even for programmers/developers who rely on the physical keyboard can make use of this by orienting it to portrait, have some sort of stand and wireless keyboard. Having two displays are useful for multitasking. Web developers, for example, can have one display to show their web pages or app developers can have a live preview on their app on one side or something. It doesn't even stop OEMs to provide a wireless keyboard comes with the package to be placed magnetically on top of the base of the laptop. Now for smaller dual-screen devices, they will mostly focus more on notetaking, brainstorming, digital art, or even consumption. I can see them more useful for lateral thinkers which pen inputs and touchscreen would be beneficial on how they work. Lastly, you can't compare them with Touch Covers which just static flat capacitive keyboards that are strictly for typing and maybe use a giant trackpad. But with their zero "key" travel, they are not comfortable to type on. At least with a full touchscreen, they may not be a great keyboard but their modes change that they are more infinite uses than Touch Keyboard will ever dream of.

Whoa whoa...no speculative common sense allowed! People work hard and earn their right to be closed minded and unimaginative!

Lol! Sorry, I will leave their space next time. XD

Good question - "... are they just novelties?". That has been my contention. That these PCs might just be novelties and no more. That is to be determined of course. Like I've stated if anything they would be able to replace my 8 inch tablet but won't add anymore production or special use other than saying I have one. I can't see myself doing any real work. But it would be great to use for reading books, looking at movies when I travel and remote control for my SONOS system. That's what I currently use my 8 inch tablet for. Granted I'm sure there are those out there that would have far greater usage of these types of devices, but for now I'll just have to wait and see. I have owned so many different types of gadgets for one reason or another. Some have had staying power some given away or donated. Some in boxes. But now I'm more judicious with my money so these types of PCs would really have to Wow me.

Yeah, this is indeed a question for now. I think for right people like what Dan mentioned, it can be still useful. One thing for certain is that these dual screen devices are not for writers, programmers, typical office workers doing documentations and constant emailing, anyone who types regulary. This requires a proper marketing which is crucial for its success even being more niche. Actually I have some concerns how these devices gets reviews since they will likely be judged based on their use case which will going to be negative and question its use. Not all reviewers might fall to this but there will some still missing the point. Like how number of pen-enabled tablets misses its pen capability or just don't really reviewing that aspect. Lastly, Microsoft should really make sure that when the time comes, their software is ready and polished. This will be a make or break for these kind of devices.

The one good thing is that there are multiple companies that plan to bring this type of device to market. If that is the case, then it will all depend on style, features, and quality that might determine which device people may flock too. Oh how could I forget price point. In this day and age it seems everyone is looking for something great for a low price. Normally you get what you pay for. Sometimes the less you pay you're going to get something cheap or less capable. And if these companies go to the cheap side then there might be a problem. Microsoft foray into bringing new devices into the consumer market always seem to have issues with their products in the beginning. It's not only software they need to worry about but the quality of their device. Here's hoping there's success in this market, but I'm skeptical until I actually see and use one.

Yeah, and that's the chance of success increases as more OEMs are actually willing to do it also. The more open it is, the more it will flood the market and also find a certain niche. That all depends on execution though. The price point is always a challenge, and I expect that this first gen wave of devices would be expensive. This is typical and it is how it goes in the market. Would be nicer if they make it more reasonable price point or cheaper and sell it at loss, but very unlikely. For now, we only have speculation and leave as wait-and-see. We don't know what will happen. I wish that it will be successful as there is something with these devices that can be really useful. That all leaves to their execution and proper messaging to people for what these devices are for. We can only hope Microsoft will not screw up the software side of things. I can trust the Surface team to make great hardware though. OEMs should just make sure they also make great devices with more accessible price point to fiill the gaps that Surface won't.

The idea is right, the design is terrible. Foldable, flexible, rollable displays are the only way these designs will appeal to consumers.

The problem is that the material to be used so constant folding and folding won't cause wear quickly. As far as I know, nobody demonstrated that to be existed yet. Concept devices that features foldable displays have some flexible plastic that already shows wear and even some bulges. Also they don't really fold like how we fold a paper but it folds like on Surface Book.

I think technology in the pc market has been moving way too fast for its own good. Because it's going so fast people run out of ideas and we get things like this that will probably serve a purpose to very few. Technology needs to slow down and we need to enjoy the things we have now more

If smartphone tech is all about upgrade, enlargement (screen) and addition of 2 or 3 components (camera), why not PC tech go interestingly? It's a longtime coming... Let it be.

These devices designs have to consider people who are left handed. These devices have to be able to switch the inking side to the left side.

I am hoping Surface Andro can handle AutoCAD at least for viewing (pan, zoom), small editing and plotting...

prepare for disappointment

All depends on what processor you put in the device and how much power the screen would consume. Given that a dual screen foldable 6-inch "phone" cassis, you can put a fairly strong battery in the device. It will be thicker than a 6-inch phone, but it is intended for more production of information versus consumption of information. Is it possible you could open the device, review the AutoCAD file and use a pen to annotate? then when you get back to the office with your desk setup, you can incorporate the changes. Or someone can see your annotations and make the changes. Think of being onsite, looking at the file compared to the physical location and then jotting down notes about apparent inconsistencies between your design and how it fits into the physical space.

Only novelties to the lagdroid central trolls that come here with nothing better to do.

Be real nice for Photographers, Designers, photo on top screen all the tools or other linking apps that get used all the time. There should well be a good market for these devices once the public and manufactures get their heads around the potential.

Yeah, and this requires a proper messaging and marketing for this kind of devices and who is it for. These are not for everybody but certain groups will make use of it. I can see mostly on the creative industry may find it more useful.

Am personally solidly in the camp of devices with real, well traveling, soft, supple, tactile keyboards. Why? Because keyboards are awesome! A person who types well can put their thoughts down on "paper" just about as fast as they can think. A blessing and a curse. :0) But mostly blessing. Nevertheless I like the "idea" of the two monitor precog. Would be fun to take it on vacation and play Battleship on it with my nephew, in tent mode. Also, would like to see it in action with a bluetooth keyboard, the device itself sitting up on its side in a slight v-formation as a dual-monitor option when at home or in the office. For some, with a real keyboard waiting for them at home and in the office, perhaps a "virtual" keyboard would be enough on the go?

I agree about the utility of a keyboard. Also a mouse. I also like the idea of note taking with a pen and digital ink. I don't think a 10-12" dual screen laptop/2 in 1 device makes sense. an 8" or below dual screen device focused on inking seems like a better option. I think you lose utility with such large screens and no keyboard. This is what I do with my surface. Get home or office, plug into my dock with a 27" screen, and a wireless keyboard and mouse. But at a meeting, open in tablet mode and jot down notes with my surface pen.

Oh yeah, virtual board gaming would be also nice on this kind of devices, which is now on the consumer side of things. Slim Bluetooth keyboards will at least solve the lack of tactility of touch keyboards. Just have them included in the box, make them slim and magnetic so you can just place it on top of the base and have a laptop-like experience. The only disadvantage is that you can't close with the keyboard still in-place. Even then OEMs can find a solution to make a hinge that can accommodate their keyboard even the clamshell is closed.

Yeah I could even see putting this in tent mode, sticking a couple of game controllers on either side and playing some two-player Forza on this... while at the beach house!

I would love to have that. Its like the return of good-old split-screen gaming, but better since equally have larger wide display and no distraction from other player's screen (and cheating lol).

Absolutely not novelty! It satisfy mass personalized business model

For replacing laptop formfactor Touch typing is the biggest hurdle other than that it is great.
For small devices it makes 100% sense & will take the user experience to another level up. I think this dual screen idea work as temporary stopgap until true foldable displays are ready for use.
With foldable displays they can hide the gap or hinges via overlapping seamless bigger display.

I think its success will come down to proper marketing, delivering a clear message to potential customers and who is it for. These dual-screen devices are not for everybody, especially for writers, programmers or anybody rely on constant typing as their core task. Second, the software has to make sure it is not half-baked, fully polished, reliable and enjoyable to use which will be Microsoft's responsibility to enable these devices really useful. I can see its usefulness to certain groups especially on the creative side, like digital art, music production, video production, etc. Or any that don't fully rely on physical keyboards. Actually, even for let, 's say developers may still find these dual-screen devices useful, you can make these dual-screen devices on portrait orientation and you can have code on one display and a live preview or another code or whatever on another. If the OEMs provided a slim wireless keyboard as part of the package, then it even caters for those who type regularly. This also gives more flexibility to the user. There will be like 2 sub-categories of these dual-screen devices, one is the larger laptop-sized which likely powered by Intel and have higher specs, like what Asus Precog concept. These larger dual-screen devices will serve productivity market.
Another one is smaller devices from 10 inches and below, which mostly will run with ARM SoCs. They will be like a digital de notebook devices and may cater both consumer, students and creative productivity market.

Just as an iPad is positioned by Apple as a companion device for a Mac...I see these new dual screen PCs being positioned as a companion to a laptop/desktop. However, i do not see Intel powered devices as the ones making headway in this category. Imo, only ARM powered Windows 10 devices has the ability to do so. It's ARM that can get their devices light enough, thin enough and with exceptional battery life needed to pull this off correctly.

Just another Windows laptop. Yawn. The Windows PC market continues to shrink, for the last 7 years.

Excellent article, good analysis. I think the intel one is pretty cool and I'll use it a lot as at the moment I have a windows tablet pretty much for it but let's say on my job I'm the only one everyone else use iPads

I'll probably get one, as I do a lot of data management between locations and programs. Also a lot of research comparisons. Cut/copy paste will also be that much easier. Edit: if done right

One plus side I can see is that we won't have to worry about crumbs and dust getting stuck inside the keyboards which is harder to address than smudged screens. To address the tactile feedback, tactus is on the right track but they've been very quiet for the past few years.

My first duel screen device needs to be able to make calls, texts and other basic mobile phone stuff. If it can do that, and replace my tablet (in some instances), and has a continuum solution built in then, yes, here is my wallet. Feel free to take what you need. A kidney? Sure, no problem....

Is it me or this is an entire article about two screen devices and not a mention of the possible Andromeda device from Microsoft?
Windows Central Newsletter
Thank you for signing up to Windows Central. You will receive a verification email shortly.
There was a problem. Please refresh the page and try again.