The ASUS ZenBook Pro 15 has a screen for a touchpad and I don't know why
The rest of the laptop seems perfectly fine...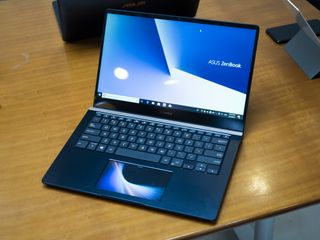 We live in a golden age of laptops. It's hard to recommend one that's truly bad — and the good ones are really good. The processors are fast, the RAM is plentiful, and the SSDs are oh so spacious. So how is a manufacturer to differentiate their product? We've seen plenty of struggles with that, from the Microsoft Surface Book's unique hinge and detachable design to the Apple MacBook Pro's questionable trackpad. But ASUS has taken things to a whole different place with the new ZenBook Pro announced at Computex 2018, replacing the whole trackpad with a touch-sensitive display panel. And, uh, that part's not great. The rest of the laptop is really nice, though.
Before we get to that "ScreenPad" as ASUS has dubbed it, let's talk about the rest of the laptop. It's Beauty and the Beast, all rolled into one. Available in a 15.6-inch or 14-inch design, the ZenBook Pro offers a powerful set of specs. We're talking about up to a hexa-core Intel Core i9 processor paired with a monster GTX 1050 Ti GPU, and a 1TB PCIe SSD with four lanes. ASUS is pitching the ZenBook Pro as a machine for creators, be they artists or developers or video pros, and people like that want speed all-around, especially on the storage drive when it comes to opening large apps and saving large files.
Those designer types also demand a quality display, so ASUS has delivered there as well. The ZenBook Pro offers a 4K display in both the 15.6-inch and 14-inch sizes, both featuring narrow bezels around a panel that offers 132% of the sRGB color gamut, 100% Adobe RGB, and Pantone validation (whatever that's worth to you). There's an optional capacitive touch layer with support for the ASUS Pen stylus. And if that one display isn't enough, the ZenBook Pro offers a pair of USB-C Thunderbolt 3 ports and an HDMI 1.4 port, capable of driving a trio of 4K external displays. (alas, the 14-incher only has one fewer Thunderbolt port.)
Image 1 of 8
ASUS ZenBook Pro 15-inch specs
Category
ASUS ZenBook Pro 15-inch
Display
15.6-inch 4K (3840x2160) IPS touch display
100% Adobe RGB, Delta-E <2
CPU
Intel Core i5-8300H quad-core
Intel Core i9-8950HK hexa-core
GPU
NVIDIA GeForce GTX 1050 Ti | 4GB GDDR5 VRAM
RAM
up to 16GB DDR4 2400MHz
Storage
512GB/1TB PCIe SSD
256/512GB SATA SSD
Wireless
Wi-Fi 802.11ac 2x2, Bluetooth 5.0
Ports
2x USB-A 3.1
2x USB-X 3.1 + Thunderbolt 3
HDMI 1.4
Audio jack
microSD
Power
8-cell 71Wh lithium-polymer battery, 150W adapter
Security
Windows Hello fingerprint reader (15.6-inch)
Windows Hello IR camera (14-inch)
Dimensions
14.37 x 9.88 x 0.74 inches
(365 x 251 x 18.9 mm)
Weight
4.14 lbs (1.88 kg)
Price
starting at $2299
Okay, let's talk about the ScreenPad now. It's not great. Essentially, they've replaced what would've been a simple and acceptable multi-touch trackpad with a 5.5-inch HD display. "Why?" you ask? I'm really not sure. ASUS built a few compact apps into the ScreenPad, such as a calculator, calendar, or music player. The most useful is, in theory, the app launcher, in which you can set a set of apps and tap to open. It's all just underwhelming and confusing, not to mention unbelievably lagging for being attached to a Core i9 CPU. The only vaguely useful aspect of the ScreenPad at launch is a Chrome plugin that lets you send a YouTube video (but only on YouTube.com) to the trackpad screen while you keep doing other things on the main display.
Read: Why the 2-in-1 PC's next big thing will be dual displays
The whole thing can still act as a trackpad, and you can set a custom background in it or turn off the screen entirely — all by cycling through with the F6 key. ASUS intends to release an SDK for the ScreenPad and serve apps through the Microsoft Store and launch a dedicated website to showcase the available ScreenPad apps. ASUS demoed an extension for Microsoft Office, letting you format text via the ScreenPad, though I couldn't see how it was any better than doing so via an on-screen menu. Coming, eventually (maybe), will also be mirroring support from your phone via the ASUS Sync app, but there's no timetable for that release.
Image 1 of 5
Honestly, I honestly don't see the ScreenPad going anywhere. It's a poor experience of questionable value, and it harkens back to the SideShow feature that was released with Windows Vista back in 2006 — a feature that ASUS readily embraced back in the day. At least it has Microsoft Precision Touchpad drivers for when you're using it as a standard touchpad, and at that it was perfectly fine.
Nonetheless, in January we wrote an article claiming that dual-display laptops would be the next attempt at product differentiation. Looks like that prediction is starting to bear fruit.
Don't let my dislike of the ScreenPad turn you off from the ASUS ZenBook Pro, though. It's a feature you can easily ignore, and there's no saying it couldn't dramatically improve. If ASUS decides to stick with it, then there's a big potential opportunity in it. But... ASUS could also do as they've done in the past and decide to pull the plug on a failing experiment rather than keep it around on life support for years (Microsoft dragged Windows SideShow along until 2014 — 8 years after it flopped on reveal).
The 15.6-inch and 14-inch versions of the ZenBook Pro sport nearly identical specs (apart from size and the dropping of one of the two Thunderbolt ports), but notably different designs. Both have the standard ASUS aesthetic, with a circular brushed finish to the aluminum lid, this time cast in a deep blue. The 15-inch is the curvier of the pair, with smooth lines and wider arcs to its corners, along with a polished rose gold bevel around the edges. The 14-inch, on the other hand, is more squared off and loses the rose gold accent edge, though it does have an offset hinge that slightly lifts the base off the table when opened (for better ventilation and typing angle). Both are fingerprint magnets, though rather attractive, as ASUS ZenBook laptops tend to be.
All of this laptop will hit your wallet hard, though. When it becomes available in mid-July 2018 you can expect to pay a starting price of $2299. Don't blame too much of that price on the questionably useful ScreenPad, though — the PCIe 4x SSD and Core i9 processor and super accurate 4K displays don't come cheap.