Lenovo shows second-generation Yoga Book at Computex 2018
Yoga Book 2 is official, but you'll have to wait a while for everything to be revealed.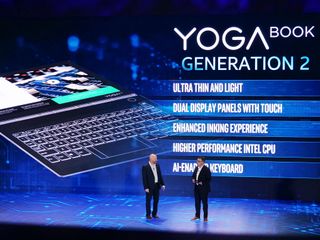 We already knew that a Lenovo Yoga Book 2 was on the cards, and now Lenovo has given us an early peek at the product itself at Computex 2018. At the Intel e21FORUM keynote presentation in Taipei, Lenovo's Jeff Meredith briefly showed off the second-generation Yoga Book on stage.
The updated device promises to retain the ultra-thin, ultra-light qualities of the first version, while boosting performance through faster Intel CPUs, along with a more accurate inking experience. Meanwhile, Lenovo is banking on AI to improve the accuracy of its touch-based keyboard.
Meredith referred to the Yoga Book 2 as having "dual display panels" though it's not clear whether Lenovo will go all-screen for the lower panel, as ASUS has with its just-announced Precog convertible.
No release date yet, but attendees were told to expect the Yoga Book 2 to make its full, official debut later in the year.
Read: Why the 2-in-1 PC's next big thing will be dual displays
Windows Central Newsletter
Get the best of Windows Central in in your inbox, every day!
The first one was great for drawing and inking. It was only pushed back by the terrible performance in the Windows version and the absolute sh*t show that Android is for anything that isn't a phone. If they fix the performance issues as they seem to be aiming at, it'll be a really good little drawing tablet.
Hopefully they won't put an ARM chipset in it, though.

I found a way to reinstall W10 using a guide from a dev site. Works absolutely perfectly. I hope they do a ChromeOS this time around.

"Hopefully they won't put an ARM chipset in it, though."

It won't be ARM.

It was announced at an Intel event. Says Intel in the picture ;-)

Would have been more interesting with ARM tbh. Especially when it comes to battery life. It's nit like this device is meant to be workstation anyway.

Maybe they will release another version with ARM processor later.

* Hope they keep it at 10.1 inches. Free Office365 is a draw for many.
* Hope they go full dual display like the ASUS precog.
* An ARM variant would be nice. All day/multi day battery (with 850 chip) would be sweet.
* Hope they've worked out the keyboard bugs. Problems with haptic feedback on virtual keyboard on YB 1. Haptic feedback is critical on a flat surface keyboard.

Oh yeah...
* LTE! The Yoga Book is a great candidate for LTE.

There's nothing wrong with the keyboard or the haptic feedback per se. It's something to do with Windows 10. Look up xda developers thread on how to create a custom Windows 10 ISO. There's a pre-made ISO you can use to see just how good the Yoga Book's are.
Windows Central Newsletter
Thank you for signing up to Windows Central. You will receive a verification email shortly.
There was a problem. Please refresh the page and try again.