Convert text to spoken words with ReadAloud for Windows Phone and Windows 8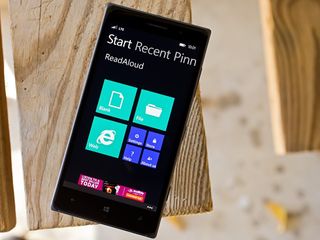 ReadAloud is a text to speech converter for your Windows Phone or Windows 8 device. The app supports conversion of web pages and .PDF files.
You can also save articles opened in ReadAloud for listening to later and control the rate and pitch of the spoken words. While we did experience a few bugs in using ReadAloud over the past few days, it comes across as a handy means of listening to articles and documents when reading them from your Windows Phone or Windows 8 screen isn't practical.
ReadAloud has three main pages that include a Start, Recent and Pinned pages. The Start page is where you launch the reader, the Recent page will list your most recently listened to documents and the Pinned page is where you can find any articles you want to read later.
The Start page allows you to launch ReadAloud for the following.
Blank Page: This is a free-form page where you can enter text that can be saved and read later.
File: Here you can open files stored on your Windows Phone or Windows 8 device as well as access files stored on your OneDrive account.
Web: Enter the URL of an article you want to listen to through this option.
Along with the three sources of documents, the Start page has links to access the apps settings, remove the ad-support and restrictions of the free version (more on this in a second), access the help pages and view the About page.
Settings cover language selection and gender, text settings and a few general settings such as setting your Recent page size, action when a document is shared with ReadAloud and a reset button.
Sharing documents
While you can open documents and web pages directly from ReadAloud, you can also share documents and web pages with ReadAloud. For example, if you run across a web page in Internet Explorer that you want to listen to. Just choose the share option (under the three-dot menu in Windows Phone or from the side menu in Windows 8) and select ReadAloud.
The document will then be sent to ReadAloud, converted and available for your listening enjoyment. If sharing is not available, you can always copy the text from the document you need audio support for and pasting it in the Blank Page.
Performance
For the most part, ReadAloud performed as advertised. The text to speech conversion went smoothly and the audio performance was nice. Sentences of the document being read will be highlight as the audio playback progresses, which is a nice touch.
I did have issues with some web sites and .PDF files failing to convert. The .PDF files may have been too large for conversion in the free version but why the web pages (such as the Windows Central articles) failed is a bit of a mystery.
Overall, while ReadAloud could use a little fine-tuning and the ability to convert more document file types, I can see it coming in handy when reading a document isn't practical or you just don't feel like reading.
ReadAloud is a free app available for both Windows Phone and Windows 8 but there are restrictions. The free version is ad supported, limited to files with less than 200 pages, your Recent page is limited to ten entries and only 5 articles can be pinned. To remove these restrictions it will cost you $1.99 through an in-app purchase.
If you are in the market for a text to speech converter, ReadAloud is an option worth looking into. The app brings home a 4 Star rating in the Windows Phone Store and a 4.4 Star rating in the Windows Store, both of which are in the general neighborhood of where the rating should be.
Windows Central Newsletter
Get the best of Windows Central in your inbox, every day!
George is the Reviews Editor at Windows Central, concentrating on Windows 10 PC and Mobile apps. He's been a supporter of the platform since the days of Windows CE and uses his current Windows 10 Mobile phone daily to keep up with life and enjoy a game during down time.
Microsoft started using the time-stamp at the time of submission of the app as the version for 8.1 xaml apps, developers have no control over it.

is it similar to Share to Speech?

The features of share to speech app is small subset of the features of this app.

Well, as ReadAloud developer found reasons to comment, I would try to be more objecitve. ReadAloud has .pdf support (Share to Speech only on Windows) and (mostly) a little bit more loose restrictions for in-app purchase on the plus side. On the some possible differences that for small subset of people could be useful, it shows the text that it is reading. But give it a try anyway. I am not affraid of people trying other apps, that's how they can compare and find which one is better, and that is a good thing for anyone.

Already have SoundGecko. Wonder if this is better.

Give it a try, I am sure you'll love it.

This reminds me: What happened to the message reading feature in Windows 7 phones? Is it totally removed?

Fahmi, can you tell us where is this feature is available? Thanks.

Go to speech setting and you will find it there

I like this kind of apps. But it might be useless for some people. People like me.

What is Cortana for? F....

This could have been an in-built feature of Cortana, he's kinda right

This sort of thing was cool in 1984 on the c64, the currah speech cartridge.

The store says not for my device. (Lumia 822 with WP 8.0 os).

Yeah you need to update your phone to WP 8.1

Only US English and German; their guide to download other languages leads to a dead end...

To add more language follow ths Settings->speech->speech language https://drive.google.com/file/d/0ByrAfT_4PZXyOFBsQURLMV9OcTA/view?usp=sharing And the new languages will be reflected in the app. In the app go to settings and in the language tab choose your desired language.

I start to feel that the message is that if you are not from US do not bother with WP. It is a bit sad becouse I realy like the OS but now are more and more looking into Android becouse of that UScentric of WP. An example is the swipe like keyboard of WP hasn't got any new languages since it was introduced an half year ago while the two keyboards I checked up on iOS got Swedish within a month of there releases.

Your complaint is off topic. This app isn't made by Microsoft and appears that the developer is working on other languages and already has German in the app. I guess people can always find a reason to be mad, no matter what. EDIT: Reading comments from people who have installed the app, it appears that other languages are available with this app.

Only US English and German. And it's only slightly off topic; it is truly annoying that so few apps, official or third party, have any language support beyond English...

The app can speak only in the languages installed on your phone. So if you want any other language, please install on your phone. Follow ths Settings->speech->speech language https://drive.google.com/file/d/0ByrAfT_4PZXyOFBsQURLMV9OcTA/view?usp=sharing And the new languages will be reflected in the app. In the app go to settings and in the language tab choose your desired language.

I can't se how it is out of topic as I tried to reply to Extraneus comment but failed and made a new commet instead. Anyway I do not blame the makers of one app for this UScentric, that fall on Microsoft.

Y dont cortana have this feature... Extracting text from pdf and read them loud...

I want email reading with Cortana...and I want Cortana tell me what is the time!

I have been waiting for something like this. Will try it out when I get home.

My phone is 1520.3, ReadAloud sensed it out and installed the Spanish sound. One time I have set 1520.3 to chinese language, but I switched back. ReadAloud installed chinese as well, plus Franch. I like it.

Why won't it work on my HTC 8xt? Says not compatible with my phone.

Wished they used a Jen Taylor voice lookalike (soundalike?)

It could be great if the text can set into ringtone..

Sorry I didn't understand. If you are talking about the voice, then the app has no control over it. The app uses the voice (speech) installed in the phone which are provided by the microsoft.

When will Windows have "Dutch" speech?

You can use Dutch as speech langauage. Goto System settings -> speech -> speech language (drop down) and download Dutch language. Then in the app select Dutch in the Language tab in settings, and the text will be spoken in dutch language.

Installed it on my PC (can't for Lumia 929...win 8.0...waiting on Verizon), and I like it. Yes, it has problems, for example, on one site, it skipped over most of the in-page links to bottom before reading. The monotone, however, is the biggest drawback in my opinion. It should drop in pitch at the end of a sentence, or when encountering a comma or list identifier (1,2,a,b,etc.).
All in all, though, I like it.