Cortana beta brings new productivity chops to Insiders on the Fast ring
Cortana is now undocked and ready to go with some new productivity skills.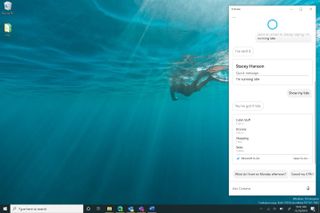 (Image credit: Microsoft)
What you need to know
Microsoft began rolling out new productivity features for the Cortana beta with Fast ring Insiders.
Cortana's new capabilities are part of its transformation from a general assistant to a productivity assistant.
The updates include new calendar, Windows, and email skills, along with more flexibility in how you use Cortana.
Microsoft is embarking on an evolution of Cortana, moving to turn the assistant from a general helper into a dedicated productivity assistant. As part of that evolution, the company rolled out a new set of Cortana features for Fast ring Insiders to test today, and they touch everything from flexibility in how you use Cortana to new skills and beyond.
One of the biggest changes is you're now able to undock Cortana from the taskbar and re-size it any way you see fit. You can also set a preference for whether you want to type or speak when interacting with Cortana. There are also some interesting new ways to use Cortana to send emails, set up meetings, and interact with Windows.
Here's a rundown of everything shipping for Fast ring Insiders now.
To give you an improved companion experience that's more seamless with your workflows, we've undocked the app from the taskbar, so now you can move or re-size Cortana like any other app.
We've made it easy for you to configure your default input to Cortana via Settings > Talk to Cortana, so now you can choose if you prefer typing or speaking.
The improved email skill lets you use Cortana to create and query emails:

"Send an email to [[ name ]] letting them know I'm running late"
"Show me emails from [[ name ]] "

The improved calendar skill lets you create and query meetings:

"Set up a 1:1 with [[ name ]] at
"What's my next meeting?"
"Join my meeting" (Note: This only works for Teams meetings at this time.)

The improved Windows skill lets you use Cortana to open apps and adjust settings:

"Open Paint 3D"
"Change the brightness"

We've made significant accessibility improvements, so Cortana is easier for everyone to use.
We've removed Cortana support for 'connect accounts,' so now your work and personal accounts are two separate experiences based on whichever account you sign in with. If you sign in with a Microsoft Account, you'll interact with your personal information. If you sign in with a work or school account, Cortana will work with that one. Your chat history will be retained on your local device, and if you use a personal Microsoft account your data will still be visible in the Microsoft Privacy Dashboard.
Also, while we're honing our productivity skills, we're temporarily removing a few Cortana skills that were previously released to Windows Insiders. But don't worry, we're giving them a fresh coat of paint, and they'll be coming back soon! These include:

Bing Instant Answers
Jokes and other assistant conversations.
Timers
Cortana is in the middle of a major transformation. Where the digital assistant failed to gain the sort of commercial success seen by Amazon's Echo and Google Assistant on dedicated speakers, Microsoft has opted to instead use the AI smarts behind Cortana to enhance how you use everything from Outlook to Teams and To Do.
This has had the knock-on effect of moving Microsoft to pull its Cortana apps on iOS and Android outside of the United States in January. However, we should start seeing more interesting AI-powered features popping up across Microsoft 365.
Windows Central Newsletter
Get the best of Windows Central in your inbox, every day!
Dan Thorp-Lancaster is the former Editor-in-Chief of Windows Central. He began working with Windows Central, Android Central, and iMore as a news writer in 2014 and is obsessed with tech of all sorts. You can follow Dan on Twitter @DthorpL and Instagram @heyitsdtl.
This seems like a good move overall, though I don't necessarily agree with retreating from the consumer space on Android and iOS. Hopefully Cortana will pick up more user adoption and utilization with these features.

I agree. But, if the consumer space isn't providing traction in the way it should, which I believe MS could have prevented this early on, they have to go a different route. Unfortunately, MS didn't put enough behind Cortana. People claim that it was because MS didn't have a viable mobile option, but that's not true at all. Case and point... Amazon. Yet, Alexa is the go to assistant for many people. In an article written a couple of years ago, MS had the largest userbase over all, according to MS. However, it lacked skills. As I see it, MS was too slow improving the usefulness of Cortana and even with Karman speaker, they didn't develop the skills quickly enough to keep up with Alexa or Google Assistant/Home. In my opinion, I think the issue had more to do with the indecisiveness of MS, as a whole. Trying to figure out what direction to go in and whether or not to compete with Amazon or Google. The sad thing is, MS had the better product once upon a time, when they first introduced Cortana on Windows Mobile and there should have been a smart speaker to come along side it. This would have given them a foothold in the consumer market. With a large user base that MS claimed, they should have stayed the course and improved. People seemed to want to be able to use Cortana on there Xbox Ones, PC and other devices, but Cortana proved to be somewhat limited, compared to Google or Amazon's options. Imagine being able to connect your Xbox, PC or Cortana speaker as the central hub to your smart home. Having those kind of options should have been a good foundation. Microsoft was just too slow doing anything with it. The features they are working towards now, could have still been added to further differentiate it from Google or Alexa. I guess we will see what happens, because the next 6 months to a year will determine if MS has the will to push Cortana and create a space for it. With the Duo and Neo being new device categories for next year, MS will need to make sure Cortana has what it needs to be a true productivity assistant on these devices. So, Outlook, To-do and Office integration and usability need to be on point day one. https://1reddrop.com/2017/03/31/amazon-alexa-big-microsoft-cortana-user-... https://voicebot.ai/2017/03/23/surprise-microsoft-cortana-larger-user-ba... https://www.digitaltrends.com/buying-guides/google-home-vs-amazon-echo/

From an Enterprise standpoint, the Outlook integration is good and I'm looking forward to / hoping it will become fantastic. Cortana 's speech recognition, in my experience, is far superior and nearly always gets punctuation correct, which is both useful for email and superior to Google assistant or Alexa (again, in my experience). However, it would hve been good to remain in the consumer space and have had a better launch strategy with the Kardon speaker.

The problem is that Enterprise users are also consumers. Trying to remember which assistant to use for which task is going to get messy. They should have just built on the existing technology, but unfortunately, they're removing good functionality. My Glas thermostat is a good example of great technology that I used, but is now gimped.

Google PIM integration in Outlook today, and actually useful Cortana tomorrow. All my nerdy productivity dreams are coming true.

I'm curious, has anyone running the latest Cortana Beta checked to see if the Connected Home skill is available? I tested about a month ago. At the time, the Cortana Notebook itself was not accessible from the new beta app and the settings only contained the option to sign-in/sign-out. Is it still possible to add/change/remove smart home devices with the new Cortana beta app? And for that matter, can you control smart home devices via the new Cortana? (I'd check, but I rebuilt my test PC and took it out of the insider preview releases).

I'd like to see Cortana integrated in the your phone app on Windows 10 so that it can read the text messages that come to the computer through the phone app.

It's annoying that Microsoft is trying to deprecate Cortana into a glorified Clippy, which they will inevitably kill altogether. I'm waiting for the day they announce the end of the Microsoft Store--both the digital marketplace in Windows and the physical store--since both are aimed at consumers. Other than that, there's not much left to kill off... maybe Maps and the MSN apps. Everything else that isn't business-oriented is already gone or on the chopping block. Here's the thing: I don't want to use Google or Amazon products. I want a single, unified experience, not one that's fragmented between a handful of brands with incompatible products. As a software and computer engineer, I'm not going to use Microsoft's enterprise products if I can't integrate it with the consumer products I use, and until about 2017 Microsoft allowed me to do that. Now it doesn't, and as a result we're back to the way things were fifteen years ago, where everything takes an extra ten clicks and every task requires going to a different 3rd party program or website that has no interoperability with anything else.