Microsoft's Cortana gets new chat-based experience, Briefing email, and Play My Emails updates
Cortana's new gig as an office assistant for work finally kicks off with the Windows 10 May 2020 update.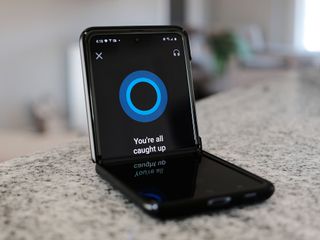 (Image credit: Daniel Rubino/Windows Central)
What you need to know
Cortana for Windows 10 is now getting a new chat-based experience.
Play My Emails has new features; the Android version is coming soon.
Cortana Briefing tells you what you need to know for the day.
Cortana will be getting many new features, expanding to Microsoft 365 markets.
Coinciding with the Windows 10 May 2020 update, Microsoft is finally pulling the covers off the new chat-based Cortana experience. Additionally, Play My Emails is getting new features and Microsoft 365 Enterprise users can now receive an Outlook "Cortana Briefing" email, which provides personalized "intelligent, actionable recommendations" for documents and meetings for the day.
All of this is part of a broader shift in Microsoft's strategy around Cortana, moving it away from a consumer-focused do-it-all smart bot, to one focused on productivity around Microsoft's core Office suite. These are some of the first results of that effort.
Let's talk, or not
Cortana chat-based experienced
Those who are a part of the Windows 10 Insider program have had the new Cortana experience for months now, but it is officially coming for regular users in the Windows 10 May 2020 update.
Situated as a pinned app outside of the Windows Search bar, the new Cortana ditches many of the previous iteration's Alexa-like functions such as skills. Andrew Shuman, Corporate Vice President of Cortana, tells us that the work involved with removing Cortana from the OS was monumental in scope. A lot of this is due to ensuring Cortana fully observes "Office 365's enterprise-level privacy, security and compliance promises as laid out in the Online Services Terms (opens in new tab)."
While it is still early days, the new Cortana has the following abilities:
Check your schedule
Connect with people
Set reminders, or add tasks in Microsoft To Do
Find local information, get definitions, and keep track of the latest news, weather, and finance updates with Bing as a Cortana optional connected service
When connected to a Microsoft 365 account, users can ask Cortana things like "Am I free at 9?", "Find time with Nestor to talk about the budget," "Join my meeting," and "Remind me to review expenses every Friday at 3 PM."
But Shuman tells us a lot more is on the way and that his team has "many great ideas in the pipeline." Much of that does include expansion to other markets, too, especially ones where Microsoft 365 is used predominantly. From Microsoft's blog (opens in new tab) on today's announcement:
There is potential for Cortana to become a real productivity enhancer based on Microsoft's premium work experiences for students, consumers, and business users. Cortana already integrates with Outlook, To Do, and the AI is a knowledge graph from Bing with deep reaches into other products, including PowerPoint.
Windows 10 has seen a massive surge in usage during the current pandemic, and Microsoft sees AI and Cortana as eventually playing a significant role in that market shift.
You have 42 new emails ...
Play My Emails gets meeting scheduling ability
Microsoft's Play My Emails feature (see Microsoft's blog post (opens in new tab)), currently available in iOS and coming soon to Android, lets users listen to their focused inbox messages with headphones or through their car's Bluetooth.
Cortana powers the experience. It reads back your emails, but in natural language, letting users know some images can be viewed later, while also skipping nonsensical things like shipping numbers. Users can also reply if using Surface Earbuds or Surface Headphones 2, delete emails, or skip all hands-free.
Starting today, users of Play My Emails get the following new abilities:
Ask Cortana to schedule a meeting in response to an email
Add an email to your tasks list
New voice commands and touch targets for sending responses to meeting invitations
An option to quickly join an active online meeting or send an "I'm running late" message to the participants
For those with Android phones, or those waiting for Microsoft's Surface Duo, the Play My Emails feature will be available on that OS "in the coming weeks."
Here's what you need to know
The skinny on Cortana Briefing
Another new feature powered by Cortana is called Briefing (opens in new tab). The service is simple and to the point: each day, you will receive a personalized briefing email that lists all your meetings, appointments, and other "actionable" items. Pending requests for response emails, documents, and commitments will all be provided, making these more than just a simple calendar recap.
There is also a "focus time" feature that highlights free time during your busy day and lets you easily schedule that in reminding you to take a break or have some personal time (it automatically silences Microsoft Teams notifications).
Cortana Briefing is currently rolling out in First Release for Microsoft 365 Enterprise users with Exchange Online mailboxes in English. You can read more about Briefing here (opens in new tab).
AI in a data-centric world
What comes next for Cortana?
While there is no new news on Cortana working with Amazon's Alexa, besides the fact that the project is still going forward, Microsoft looks to have at least found a practical use for Cortana in a post-Windows Phone world.
Using Cortana to manage digital information — the kind prevalent on Windows 10, Azure, Microsoft Teams, and Microsoft Office — is needed in the modern workforce. Having an AI that can locate the right "Mike" in your company for an email, finding your relevant documents, and surfacing information proactively to manage your day is a major differentiator. These are actions that Google or Amazon cannot perform on Windows 10 (or Outlook), and never will.
Looking ahead, I'd like to see Cortana integrate into Microsoft Edge to manage my browsing history and collections. Trying to find that news article from days ago on that specific topic is better suited for AI instead of fallible human gray matter.
Another possible usage for Cortana I would find useful is tracking trends of products or topics I am interested in, proactively delivering updates.
With Cortana being a proper Windows 10 app now (it's partially built on Microsoft's UWP), it means it is no longer tied to bi-yearly OS updates. Instead, the Cortana team can now quickly iterate. And while the Android and iOS apps are being put to pasture, Shuman would instead put Cortana where millions of people are right now (Outlook, To Do, Office app, Microsoft Teams), versus trying to force them into yet-another-app.
The big challenge for Microsoft, and all other tech companies dabbling with AI, is can it actually make a digital assistant that feels smart and useful? Time will tell, but this seems like the right start.
Surface Sounds
(opens in new tab)
Back in black

Microsoft's Surface Headphones are back, and they're available in matte black and light gray. The Surface Headphones 2 also bring Bluetooth 5, up to 20 hours of battery life, aptX support, and more.
Hear Smarter
(opens in new tab)
Microsoft's super smart earbuds

Now at a lower price, the Surface Earbuds will undoubtedly turn some heads when you're out wearing them, but you'll be able to make use of gesture support on your PC, iPhone, or Android smartphone.
Daniel Rubino is the Editor-in-chief of Windows Central, head reviewer, podcast co-host, and analyst. He has been here covering Microsoft since 2007 when this site was called WMExperts (and later Windows Phone Central). His interests include Windows, Microsoft Surface, laptops, next-gen computing, and for some reason, watches. Before all this tech stuff, he worked on a Ph.D. in linguistics and ran the projectors at movie theaters, which has done absolutely nothing for his career.
Cortana needs to do more things consumer-wise instead of 99% enterprise.

But that's absolutely not going to happen because we live in a world of Alexa and Google Assistant, who already do all of that. Meanwhile, Google and Amazon do nothing in enterprise, which is where Microsoft makes all its money.

Daniel, do you know if the existing smart home connectivity will still work with the Earbuds (and the headphones) going forward? I assume that if Cortana is kept as the assistant of choice for a user with the Earbuds/Headphones, it will continue, similar to how it is continuing to work with the handful of us Invoke users. Have you heard anything about whether or not that connectivity will be going away at any point? It doesn't make sense to me why the smart home functionality or other connections would just be turned off for Cortana users with the Earbuds/Headphones going forward regardless of the focus on the enterprise.

New Cortana app doesn't even have a way to access skills AFAIK e.g. Notebook is just completely gone. And when I ask it about my ecobee it tells me it can't control my home devices from here, so my guess is it's all gone.

Oh no. That is very disheartening. :(

Why doesn't the read my email work on desktop after the upgrade? Is it only a mobile feature? I have Office 365 at home.

"Why doesn't the read my email work on desktop after the upgrade?"

Play My Emails was going to be called "commute" at some point because MS sees it as something to be used while on your phone either walking, commuting to work, or whenever you're mobile and have BT headphones on (or are in you car and driving). It's supposed to be a hands-free technology. I think the use case of reading your emails when you're in front of a PC is probably quite low. They could do it, but probably not something people are clamoring for.

There was articles about keeping the Invoke functionality through the Cortana App on Android/IOS, is that still true?

I'd have to plug mine in, but yes, I believe that is accurate.

You have one? Did you stop using it??

I have Alexa devices and Invoke, and tbh, I just don't use these at all. I don't play music on them, and at the most it's an alarm clock or a reminder system. I just don't find these devices compelling or interesting.

Enable the new Windows 10 features with an Invoke speaker and suddenly the speaker becomes a useless boat anchor. Where's the story on this issue Daniel? Frankly I think this issue is bad enough to merit a lawsuit since the speaker was marketed with specific features. With this upgrade those features go BYE BYE! Once you install the new version of Windows 10 you can kiss your SmartThings integration goodbye.

I guess I don't understand why they had to rip out so much of all the things she did just to make this work. I work in an office (well at least when we don't have a pandemic) and I work at home, I consume and play at home, I have a life outside work where Cortana worked really well for me.
It just seems if they keep going enterprise only soon they may not even have that in these areas because people don't want to go back and forth between assistants.
MS just seems to give up instead of sticking with something and making it do great things the others can't. There was once a company called Blackberry that no one though could be dethroned. Do something great and the masses will make you king.

So does it now work with enterprise encrypted mailboxes in O365? It was turned off for that a few weeks ago.

So no it can't. It still throws up the message "Cortana access is denied for accounts with mailboxes that have data encryption enabled. You can still use Cortana with a personal account". That makes Cortana totally useless in an Enterprise O365 environment with encryption enabled. It does still allow you to use it from Android at the moment, so they need to sort this out one or the other for it be any use in enterprise at all....

That's plenty weird. We'll see how it develops I guess.

Can Cortana still originate and answer phone calls, especially when using my Surface (Zune) Earbuds?

DO NOT INSTALL THIS UPDATE IF YOU HAVE AN INVOKE SPEAKER! You will need to roll back or lose all functionality if you have it tied to Samsung. All the Smarthome features go BYE BYE! You basically end up with a Dumb Invoke Speaker after the update! This also makes me question the Cortana features lost with the Microsoft Surface headphones. What breaks with them?

Well, I have four of them. What about the functionality through the Android Cortana app? I have multiple PCs so I may not update them all then.

Doesn't it still work via Cortana app on Android/iOS? I can still install it and see HK Invoke setup, usage.

What about this article, https://mspoweruser.com/cortana-app-alexa-devies-and-surface-headphones/ from a while ago? Invoke Speakers would come back??

Based upon the article below this one, it appears most of the functionality for smart home will be coming back? If so, I may postpone the update till that is live
Windows Central Newsletter
Thank you for signing up to Windows Central. You will receive a verification email shortly.
There was a problem. Please refresh the page and try again.