Join the Windows Phone beta for comic reader Cover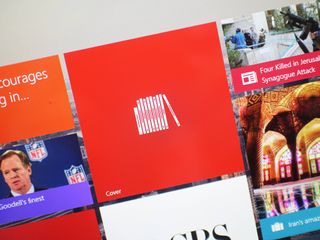 Comics are wonderful things and, to this day, a guilty pleasure of mine. There's a beta starting up soon for a comic reader app on Windows Phone that you might want to join if you too like to read comics.
On Windows Phone, we had some big-name official comic reader apps in the past, but they've since dropped support. DC Comics, powered by ComiXology, was on Windows Phone at one point before support was pulled.
There are some good comic reader apps on Windows 8.1, like Comics by comiXology, POW! Comic Book Reader and others. However on Windows Phone there aren't too many. Comicana is probably one of the better comic readers on Windows Phone, but there's a new app coming that's going to give it some competition.
Cover is a comic reader currently available for Windows 8.1. It's a great app to manage and read your library of comic books in the following supported formats: CBR, CBZ, CB7, PDF and EPUB. Cover presents your comic library in a simple, but elegant, layout. It's a really nice app to look at any DRM-free comic book you've recently purchased.
Not sure where to legally buy DRM-free comic books? Believe it or not, a handful of publishers sell them on their website. For example, Image Comics provides digital issues for a lot (if not all) of their comics. Do yourself a favor and check out their series Saga at imagecomics.com.
Here's a full list of features currently available in the Cover beta for Windows Phone:
Comic book management with shelves (folders), read/unread, page count, current page, etc
Add folders to the library or open standalone files
Supported file types: CBZ/ZIP, CBR/RAR, 7Z/CB7, PDF (beta), EPUB (images only)
Supported image types: JPEG, PNG, GIF, BMP
In-app purchase to unlock unlimited library
Open files directly from Files app
Indexed library for quick search
Customizable page layout: single or dual page, fit width/height/page
Pinch zoom, swipe et tap supported in reading screen
left-to-right or right-to-left reading (aka Manga mode)
Change page background color
Display only recently read, unread, etc
The developer is currently looking for interested users to help beta test an upcoming Windows Phone version of the app. If you're interested in joining, please email your Microsoft account ID to support@frenchfrysoftware.com.
We can't wait to test out Cover for Windows Phone! What about you? Have any favorite comic readers on Windows and Windows Phone?
Don't forget to test out Cover on Windows 8.1!
Windows Central Newsletter
Get the best of Windows Central in in your inbox, every day!
Can't wait to read my Bone Comics, love the tablet version.

I really just want Comixology.

How about a Windows 8 Comixology app that actually works, and doesn't crap out within a day of reinstalling.

Exactly. The windows 8 app for Comixology is horrendous.

I'm really hoping the Amazon buyout leads to a new tech team at Comixology who isn't so hostile to Windows.

Perhaps I could crack DRM on my existing Comixology titles and view them in this app instead?

Have you tried downloading the files from the comixology website?. I do that and read the issues in the Nook app.

You can do that? I never thought about that. I could read them on my SP3 then because the Comixology app is total garbage.

Thanks, I'll try that. Next option was installing BlueStacks.

That will only work with books from publishers that allow back ups. Image being a notable one. The big two (DC and Marvel) don't currently allow that. There are ways around it. 10 seconds of googling should give you your answers.

this app is incredible on Windows 8.1....

Very true, its the only comic reader I use for offline content, nothing really comes close to this on Win 8.1 IMHO!

Problem is, it's not universal, so having the W8 version fully unlocked doesn't get you a full WP app.

Hi, I'm the developer of Cover. I can confirm you that the app IS universal, and once we go out of beta, your purchase on W8.1 will also unlock the WP version. Regards

Just finished reading all of HSDK using it on my Surface. Worked nice

Not read a comic since Jesus was a boy. So I have a question, are there any free comics? Like decent ones?

Depends on whether you want to stay legal or not.

Ah, there's the rub. Yes, would want to remain legal. Didn't know if there were some old free ones.

There are public domain comics : http://comicbookplus.com/

Saga is such a great series. Image Comics has quickly become one of my favorites.

Cover is far and away one of my favorite apps on my Surface. I got the beta on my phone today and it has immediately taken over as my main comic app from Lindy.

I'm not into comics but I have to say Comicana is a great app name. Sounds awesome. Cover sounds kinda dull.

I use Cover on my Surface Pro 3 and its a fantastic app.

Sure thing, y not? I would like to read files from a network though if at all possible but I believe these are often have to be on the local storage...

I use comicana on both my win 8.1 PC and my 8X. It works great and it has Wi-Fi sharing so you could sync the comics manually from PC to phone. Anyways I'll still subscribe for the Cover. I'd like to try it out

This is some pretty cool app.....there need to be update manga reader app

Wow.. When it will release???

Microsoft is the email address?
Like "xxxxxxxxx@hotmail.com"?
Or without "@hotmail.com"?

Nice. Use this on my Surface for manga.

What is a Microsoft account ID?

hi! im new tio this comic book reading apps and never seen or tried one before.. so my question is are there any free comics out there that i can download without purchasing? where can i find one? thanks!

once you receive the "I subscribed you to the beta. You'll hear from us very soon." email from the company how do you install the app/beta?

Hello, You'll receive another email containing information on how to download the app.

Oh ok thank you, I'm still fairly new to this kind of stuff. Can't wait!

Do not sure that it is interest. What you should do if you have some manga or comics in Jped or PDF? Looks like waste of time

Comicana works great on my windows phone.

From where to download comics in your cell?
Windows Central Newsletter
Thank you for signing up to Windows Central. You will receive a verification email shortly.
There was a problem. Please refresh the page and try again.