Cozy is a brand-new Nest-sanctioned app for Windows Phone 8.1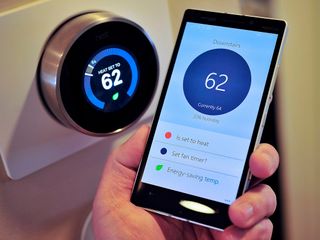 If you are like us, joining the millions with a 'connected' home, then Nest is likely on your list of devices. Nest is a smart thermostat that not only learns your heating and cooling patterns to predict changes, but lets you remotely check in and alter your home's temperature from a PC or phone.
Previously, developer Rohit Rajendran had an app named Nestle on Windows Phone. The app was a Nest app, but due to user limits with Nest's API and naming issues (Nestle was awfully close to Nest), the app was pulled down. The good news is Cozy is an all new app from the developer of Nestle, and it is entirely rebuilt.
I have been using Cozy for the last month and half and can vouch that it is one of the best Nest solutions for Windows Phone. Besides the bright, clean and modern design, the app is very fast and fluid. Here is what's new.
Cozy 2.0 – Nest client
View your Nest Learning Thermostat™or Nest Protect: Smoke + Carbon Monoxide™
Change the temperature, HVAC mode, or fan timer on your thermostat
Support for multiple structures
Set away mode on/off
Cortana integration for changing temperature and changing away status
Individually pin live tiles for each of your devices
Toast notifications for Nest Protect warnings and emergencies (not push notifications, so it is not instant)
The app is free to use with ads near the top. Users should be able to remove ads from the menu, although currently the link to the Store seems to be non-functional at this time.
Overall, Cozy is super fast and looks great. If you have a Nest thermostat or are thinking of getting one, pick up Cozy. Officially, Nest may not have an app for Windows Phone, but this third-party one has their blessing, and it is well worth it.
Download Cozy for Windows Phone 8.1 (Free)
Daniel Rubino is the Editor-in-chief of Windows Central, head reviewer, podcast co-host, and analyst. He has been here covering Microsoft since 2007 when this site was called WMExperts (and later Windows Phone Central). His interests include Windows, Microsoft Surface, laptops, next-gen computing, and for some reason, watches. Before all this tech stuff, he worked on a Ph.D. in linguistics and ran the projectors at movie theaters, which has done absolutely nothing for his career.
How much does a best thermostat cost? (approximately)

It's $250 and pays for itself in about 24 months.

How does it pay for itself? Does it magically reduce the cost of gas?

It improves the efficiency of your heating/cooling system, so you use less energy and therefore save money.

exactly lol. i already have my 4 times a day thermo and my house is from 1893 so no there isn't 500 thermo zones in the house

Though maybe depending on where you live your electric company maybe starting to offer discounts on it

Here in MA, you get $100 credit if you use one of these. That is on top of whatever savings you garner from using the darn thing. Good deal all around, imo.

No Kidding?!?!?! I'm glad you said that. I'm from MA and I've been trying to justify one of these. For a $100 credit I'd say I can easily justify it now.

Very nice and the app looks really good. I would consider the Nest if they had not been bought by Google.

Official apps are great but lets not discredit 3rd party Devs who do brilliant work and encourage 1st party to step their game up or support

Nestle makes me think of Kit Kats and awful coffee, not Nest.

The definition of nestle is "to settle or lie comfortably within or against something" which seemed pretty fitting.

Right! Good thing Cosi (US national restaurant chain) doesn't have an app in the store. Sheesh.

What an awesome app !!! Congrats to the dev :)

Have you made the app compatible with Win 10 mobile?

If anyone has any suggestions or problems, don't hesitate to shoot me an email or reach me on twitter at RohitR_Dev

Is there a possibility that you will be creating a loxone app as well? Haven't got a nest :-)

I'll consider it! Nest made their API public which made it more attractive to develop for.

Hi Mr. Dev. It says my nest is offline but no it isn't... NestWP also works. Is it a C vs F thing? Otherwise app looks pretty.

Hmm that's weird. What does the Nest web app say? Have you tried refreshing the app?

Man that was quick help! It was a dropped wifi connection. Thank you Mr. Dev!

The feature I miss most on Windows Phone us usage history. Schedule updating would be nice too.

Unfortunatly, Nest hasn't opened that up in their API :/

What does "Nest Sanctioned" mean?
Given Nest's lousy attitude, it might mean something similar to "The Eiger Sanction"? :D
Wonder if there other Nest Apps I'm using have been "Sanctioned".
Or does it indicate the App snoops for Google?

Was wondering what that really meant myself.

Means this: Rohit worked with Nest to make some changes so that they approve a user-limit increase for his app.

Why is it most times I see a new app on here or other sites, I can never just go to the store and find it? I search for Cozy in the store on my phone and I get probably 50 results, but none of them are this app. I have to use the links in the article to find it.

Simple: Indexing takes time. We report on apps right when they are released, and it can take a few hours (or even a day) before Bing picks up the link, indexes it for searches. That's how the Store works.

We should support thermostats that aren't owned by Google. They won't give us official apps (Waze, Nest, etc.). Find a product that will and support them.

I hope the dev writes one for Honeywell WiFi thermostat

I second that, and one that works with Honeywell's U.S. servers would be awesome. I'd pay for that :)

There's already a great third party app for Honeywell systems in the store. Look for Evohome

Brilliant!It looks absolutely smashing

I had my Nest(s) before Google... /hipster
Windows Central Newsletter
Thank you for signing up to Windows Central. You will receive a verification email shortly.
There was a problem. Please refresh the page and try again.