Creator of Calculator² reaches 1 million downloads on the Windows Store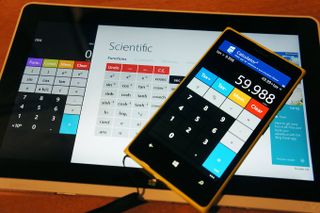 Richard Walters is the developer of Calculator² and Calculator³. You may have used these apps before on Windows 8 or Windows Phone - we've taken a look at the mobile app in the past. It's been announced today that Walters has been able to accumulate over 1 million downloads on Windows Store for his Calculator² app alone.
Entering the DreamSpark program as a student, Walters received a Windows Phone and his journey began. What makes this story that much more unique is Walters doesn't have a development background. In fact, Calculator² was his first app ever developed, released on Windows Phone.
In a rather lengthy blog post over on MSDN, Walters is interviewed and reveals some helpful pointers on how he managed to accumulate so many downloads.
What's also interesting is how Walters states he had to do very little to get the app from 500,000 downloads up to a million. It has taken around 6 months and there's been little promotion or coverage (we last looked at his apps back in February). So how many downloads has the developer achieved on a daily basis? Around 3,000. Not a bad figure.
"There are a few contributing factors to the success of the app. It's now in a variety of languages, including Chinese, French, German, and Russian," explained Walters. "I also use AdDuplex, a cross-promotional advertising network, which has resulted in approximately 300 clicks through to the Store page per day."
It's worth nothing how the apps work well on desktop and tablets, thus targeting a broad audience for maximum exposure. The tl;dr version of the article is for everyone to try out DreamSpark and see if Windows development is for you. There are many resources available for both Windows 8 and Windows Phone to help get you started.
Want to check out his apps?
Source: MSDN
Rich Edmonds is Senior Editor of PC hardware at Windows Central, covering everything related to PC components and NAS. He's been involved in technology for more than a decade and knows a thing or two about the magic inside a PC chassis. You can follow him over on Twitter at @RichEdmonds.
Amazing job. Props dreamspark.

Amazing app. Good looking and it's working great! Congrats to him

Those app names are so original lol

Wow, congrats to him! Awesome app.

What's the difference between 2 and 3??

Well, Calculator3 isn't free (I can remember myself purchasing it)

I have 3 and I didn't buy it. I didn't even know there was a 2 until now.
sorry comment fail

You don't need to feel sorry about my comment; I did pay. http://www.windowsphone.com/en-us/store/app/calculator/80ab181f-e01b-483c-8bca-66b302a77df6.

I have 3 and I didn't buy it. I didn't even know there was a 2 until now.

The guy is making bank and I am sitting here eating a Twinkie and drinking beer. My mom would be proud.

I am sure she is, go up stairs and ask her

What does it do that I can't already? Scientific? Financial?...❔

It always surprises me that most people I know with a WP don't realize that there default calculator is actually is three different calculators, turn the phone right landscape and you get a different calculator, turn it left landscape and you get another calculator, there always stunned when I show this to them, lol

3? I've only seen scientific & normal modes. Just tried it and only see 2 modes (WP7). Is that different in WP8?

Its always been three, even on 7 pre mango, open in portrait mode and its standard, rotate left landscape and its a diff cal. Rotate 180 degrees from there and a third type, sorry I don't know the "types" of cal. Lol but their have always been three types, I've been with the platform from week one, original phone was focus, then 900, then 920, and now 1020

Portrait, Landscape Left, and Landscape Right.

Wow! No Bs! I did not know this..

ain't it great when you learn something new about your phone, you think you know everything about your phone and then you find some small thing and it feels new all over again lol

You're right, i didn't notice it before reading. There are 3 of them, exactly like the Windows deskyop version of cal.
Portrait mode - basic one
Turn right to landscape mode - programmer's
Turn left to landscape mode (from portrait mode) - scientific.
GREAT !

heh Yeah small typo, but changes the comment dramatically.

"It's worth nothing how the apps work well on desktop and tablets"

'nothing' should be 'noting' I suppose? =)

Congrats, a very good app.

It says "Its worth nothing..." in the end para. Changes the whole deal ;)

"It's worth nothing how the apps work well..."
That H changes the whole meaning.

So, how much money did he make?

He never includes a change log and he updates it A LOT. And it has a background task for god knows why. Drives me nuts because I have to disable it once a week.

In Calculater³ , the background task updates the Currencies Exchange Rates.

Wow, that's almost as many as Remote Desktop from ms...
No, wait... that was only for the other ones...

I have it on my Surface RT and it's great. On WP I use the OS calculator.

CONGRATS!!! I am proud to say ibown Calc³ and think everyone should pay the measly price of an extra caramel pump and shot of espresso from one Starbucks coffee to make this guy rich for his awesome calculator!!!

Great app .... Wish him luck

Very powerful calculator app. If I ever get into any kind of mechanical, programming, or scientific hobbies I'm sure to use this. The "Tax" buttons are also really great ideas implemented well. For now, I only use the simplest of functions, so my preferred calculator is Calculate! for its powerful history list which is sorely missing from the built-in calculator.

$$$$$$$ how much did he make???

Couldn't have happened to a nicer guy. Excellent apps!
Windows Central Newsletter
Thank you for signing up to Windows Central. You will receive a verification email shortly.
There was a problem. Please refresh the page and try again.