Cricket Wireless to launch the cyan Lumia 635 on November 7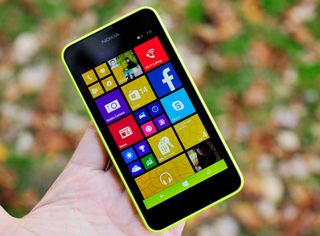 US carrier Cricket Wireless has today announced the company will be stocking the 4G LTE Lumia 635 from November 7. The Windows Phone will be available in Cyan both online and in-store for $99 (with activation).
No-annual contract plans start from $35 a month (after $5 monthly Auto Pay credit), which isn't a bad deal combined with the initial handset fee for a Snapdragon 400-touting Windows Phone. If you've been holding off on picking up a new Lumia Windows Phone and are a fan of Cricket Wireless, you may want to wait until November 7 to check out this new option.
Be sure to check our Lumia 635 review for more details.
ATLANTA, Nov. 4, 2014 -- Just in time for entertaining family and friends over the holidays, Cricket Wireless announces the 4G LTE Nokia Lumia 635, its newest Windows Phone 8.1smartphone from Microsoft. Starting November 7, the Lumia 635 with a fast, quad-core chipset and preloaded Lumia Storyteller app, will be available at Cricket Wireless stores and online in Cyan for $99.99 with activation. New and existing customers will also enjoy increased high-speed data access* allotments at the same low price, giving customers more freedom to surf the web and watch holiday videos.
"Again this season, Cricket helps customers by offering the newest smartphone technology and monthly rate plans at competitive prices. This means customers can get the great devices they want and also have money to spend on holiday parties and gifts for family and friends," said Andy Smoak, head of product for Cricket Wireless. "Our no-annual contract plans starting at $35 per month after $5 credit for using Auto Pay** - all in, including taxes and fees - and competitive device pricing make Cricket's offering one of the best values in the market place."
The Nokia Lumia 635, a step up from the popular Lumia 630, comes loaded with the Qualcomm MSM8926 Snapdragon™ 400 processor and is 4G LTE capable so it can run on Cricket's reliable nationwide 4G LTE network, now covering more than 300 million people--that's more than Sprint, T-Mobile, Boost, and Metro PCS. And with the Lumia Storyteller app, your photos and videos will be effortlessly grouped into stories, making entertaining and catching up with friends and family over the holidays that much easier. Further highlights are:
4.5" ClearBlack IPS LCD display for viewing even in bright sunlight with Corning® Gorilla®Glass 3 for added protection
Cortana, a personal assistant to help you keep your appointments
Kid's Corner so your child can only see the games, apps, music, and videos you chose
Xbox Live for gaming on the go
Premium free services: MixRadio, HERE Drive+, HERE Maps, Microsoft Office
Cricket's Basic ($40/ 1GB), Smart ($50/ 3GB) and Pro ($60/ 10 GB) Plans are $35, $45 and $55 after a $5 monthly Auto Pay credit and offer the same low plan prices, now with even more high-speed data access.
Additionally, with Cricket Rewards*** loyal Smart and Pro Plan customers can get a new smartphone every year for free after receiving a $50 device credit and using it to purchase our $49.99 smartphone.
To check out the new Cricket or find a store near you, visit www.cricketwireless.com and connect with us on Facebook at facebook.com/cricketnation and Twitter at twitter.com/cricketnation. For news, information about events and other press materials about Cricket, visit new Cricket newsroom.
Windows Central Newsletter
Get the best of Windows Central in your inbox, every day!
Rich Edmonds was formerly a Senior Editor of PC hardware at Windows Central, covering everything related to PC components and NAS. He's been involved in technology for more than a decade and knows a thing or two about the magic inside a PC chassis. You can follow him on Twitter at @RichEdmonds.
I really excited to see how the cyan looks
+ it would look great on the 830

Cricket already has the 630 in cyan and green. Same phone pretty much.

Same phone? The Lumia 630 is only 3G (among other differences).

That's the only difference.

Honestly, I'd buy the ATT version. ATT has been better than Cricket on updates, and it works on Cricket just fine. The cyan back will probably be readily available on eBay soon.

Just buy this one and flash it with the ATT ROM, simple

Two things. First, the AT&T version of the 635 is actually cheaper right now, at $79.99, so you could buy it, avoid the $25 activation fee, take that money and buy the Green/Orange backs from MS Store, and still come out $35 better. Second, I tried flashing the ROMs for various Lumia 630s, to my Cricket 630 and it failed each time. The ROMs are signed now, and apparently know which device they are being installed to.

Well I've flashed my Cricket 630 to the Latin America ROM and currently using it with the Australian ROM

It apparently is only AT&T-branded phones that can't be flashed to anything else. At least that is the situation with the 1020.

I thought its locked phone...are you able to use with other carrier or just Cricket/AT&T?

Despite the terrible customer support. T-Mobile's 30$ monthly plan is still unbeatable, with 5 gigs of high speed data.

And? Does that include calling and texting?

Yep, unlimited calling and texting I believe.

I can't seem to find it. Is it an old grandfathered plan?

I think you can only get it in WalMart, when you buy a prepaid phone (they do have some cheap flip phones tho)

T-Mobile $30 plan is Unlimited text but only 100 minutes per minute. 5GB LTE data is also included but the better coverage that AT&T/Cricket have is not included! See hands-on/unboxing video reviews of some T-Mobile devices that Dan did, He does not even have T-Mobile service enough to activate those phones where he lives - I have seen that happen personally as well! That said, AT&T would never have come up with Cricket if T-Mobile did not light a fire under them with their Uncarrier initiatives.

Unlimited text with 100mins of talk

Okay so that still not apples to apples comparison with Cricket's plan

I have a Lumia 630 with CricKet in Atlanta(pointless fact). What does this mean for me? Although my screen IS cracked, its still usable. Would this be worth purchasing again or should I just wait to see what else is released?

You'll get LTE and that's about it. That means your current 4mbps data gets upgraded to 8mbps

Why did I think they already carried it.. Must be mixing them with some other carrier or model.

They already carry the 630

My 630 with cyan works just fine on cricket.

My 630 is just fine. Considering AT&T is horrible when it comes to updating their Cricket phones, I think I'm just going to hold out for something more substantial. Perhaps an unlocked 830 showing up in the Microsoft Store next year? Flashing to get updates isn't always a painless procedure... If someone really wanted this, I'd recommend just buying the GoPhone 635 and popping your Cricket SIM in. They're both compatible, and you're going to get more reliable and faster updates.

Hate to say it but Cricket stores are hard to fine and when you do they don't have very good support. I was going to change from AT&T to Cricket for a no plan deal but after all the trouble finding one I went with Consumer Cellular which was cheaper and they have decent on call support. Got all my At&T locked phones to work with Consumer Cellular. And you still have AT&T doing the updates.

Personally, I'd always recommend buying a phone from ATT and then bringing it over to Cricket. BTW, where are you? I'm in Orlando and can't swing a stick without hitting a Cricket store.

Agree with Ladydias. I've had good luck using AT&T on Cricket and here in Houston there's a Cricket every block or so.

If you need a physical store, Cricket locations are all over these days, just look them up. FWIW, I got my 630 at a Cricket store near St. Louis and the girl at the counter was very helpful and also quite knowledgeable about Windows Phone, as she was rocking one herself! So I was very happy with my experience there.

I would seriously consider Cricket if their international plans covered more countries.. :( Anyone happen to know if any of the other cheapo carriers have better internation coverage?

No cricket stores within 100 miles (or more) from where I am (Central Virginia) :(

Order online on their website. If AT&T works in your neck of woods, so will Cricket.


So they will carry the 530, 630, AND 635?