Cricket Wireless to sell Lumia 530 for just $49.99 starting Friday, October 3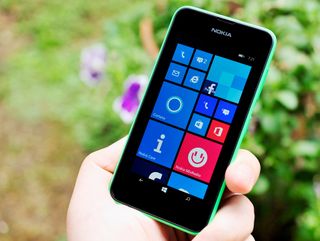 Cricket Wireless, the no-contract wireless provider subsidiary of AT&T, will begin selling the Lumia 530 on Friday, October 3 for the rock bottom off-contract price of just $49.99 in its retail stores as well as on its website.
This is the first wireless provider in the US to start selling the Lumia 530, the successor to the highly popular Lumia 520. Earlier this week, we reported that T-Mobile will also offer the Lumia 530 for $69 sometime later in October.
Just a reminder: the Lumia 530 has a 4-inch 854 x 480 screen, a 1.2 GHz quad-core Qualcomm Snapdragon 200 processor, 512MB of RAM, and 4GB of onboard storage, with a microSD card that supports up to 128 GB of additional storage It also has a five megapixel rear camera.
Do you plan to get the Lumia 530 at this super low price?
Source: Cricket Wireless
Windows Central Newsletter
Get the best of Windows Central in your inbox, every day!
That beats T-Mobile by date and price

Will this be locked or unlocked?

I got the 630 for 50.00 plus a 50.00 mail-in rebate. And the 630 has the same specs just with a bigger sceen

The 530 and 630 dont have the exact same specs the 630 has a better processor 1.2 quad core 400 compared to 1.2 quad core 200 and there are alot of people that think the 530 has the same specs as the 520/521 but not true the 520/521 has 1ghz dual core snapdragon processor not a quad core like the 530/630 but of the three the 630 is deal for the money but its still good to see cricket selling more WP products that's three Lumia phones they sell now

Not the same specs, the 630 has a better CPU and FM Radio. Posted via the Windows Phone Central App for Android

It is locked. I work for Cricket and I really don't see this selling too well since we have the L630 for the same price, and it has a mail in rebate. Whereas there has been no indication that the 530 would receive the same treatment.

Is this possibly meant to replace the 630 once stock runs out?

How hard is it to unlock? Or how secretive is it?

4 months of cricket service then they unlock it

I remember hearing that you can call to unlock with at least 4 months of paid service.

See my question below, would appreciate if you can advise. Regarding price vs 630, I gather they may pump up the 630 price a bit after 530 launches. In any event, I doubt they would keep selling both at the some exact price.

The actual retail price of the 630 is $99.99 but we have a new activation discount that makes it $50 up front before the rebate. The 530 could be a viable option if were low on 630's or if someone needs a replacement phone in a pinch if they don't have insurance. But that's very niche and almost cannibalistic by Nokia/Microsoft imo

Would not be surprised if that activation discount goes away when 530 launches, or the rebate. Point is - I would be willing to bet they will make sure that 530 will sell and that they can squeeze a bit more money for the 630. Any answer to my question below? :)

Was wondering as to how L630 is selling at cricket. That's one carrier which at least places a win phone before customer

Speaking for myself at my store, it is by far the best selling phone that we have. Such a good deal. And since I'm familiar with the OS, very easy to sell.

Why would anyone choose this over Cricket's identically-priced Lumia 630?

Aside from wanting a smaller screen I have no idea.

They already sell the 630 for that price. Who would choose the 530?

My 630 is doing just fine and faster then that so no.

The best worse budget phone ever.

No contract but must be activated.

This would make a great mp3 player. This plus a 64gb sdcard would be a great device.

So as an AT&T customer, can I just walk in and by one, walk out and use with my AT&T sim? I.e. what is the small print? Need to sign up for their plan for a bit or some such thing?

Good question, I have a friend who has a iPhone 4 on a att family share plan that he hates because its so slow. I told him to get a cheap Lumia to try but didn't know if it would work since its from cricket.

Cricket phones are locked to Cricket. AT&T can be activated on Cricket but not the other way around. We will provide an unlock code for a device to you if you have the device for four months without interrupted service.

Thanks. So you are forced to pay for Cricket's plan for 4 mo before you can get it unlockded? So that would be $120 or more.. there goes that idea. :)

You could always buy the phone straight up and get it unlocked from a third party service. But realistically, the 635 on AT&T is probably a better bet for you if you want to stay on AT&T

It will be a great phone for "rugged" use. It will slip in my pocket or backpack easier than my daily driver . Disposable if damaged.

Hopefully they don't bump the 630 price up because of this.

Maybe not the ticket price, but they will change its net pricing somehow. There is no way in hell they will sell the 530 and 630 for effectively the same net cost. :) Perhaps the 630 rebate will be ended.

It sounds like the 630 will be $100 again soon instead of free

Crickets' website is down, is everyone going there to check the 630's price? *snicker*

Check http://www.theunlockingcompany.com give them imie number & you'll see how much to unlock it...code for 520 took couple days bit when I entered the 20 digits phone was unlocked to work on any carrier

What the....you guys are so lucky! You can get Lumia 530/630 for that price (around $50-80). In Indonesia, well, when I bought my Lumia 530, it was around $130! (Rp. 1.400.000) and it is indeed the cheapest Lumia I can get here, also Lumia 630 is around $180-200 (Rp. 2.000.000), twice as much from you guys have! Yeah I know it has that price plus tax etc etc but still it sucks to know that I can get Lumia at much cheaper price or get 630! And now I'm sad..

The more WPs on different carriers, the better. More market share means more developers will pay more attention. Even though we are doing well with what we have :) its always nice to see more people with them.

Hmm should I get this for my father? Poor guy still uses a flip phone

Nah get the 630 it's the same price on cricket and better phone overall.

No, I don't plan to get the 530 at this super low price. I think the better idea is to go and get a 630 for the same $49 right now before they jack up the price! Not to mention that there's a mail-in rebate that would make it free in the end...

I've been seeing Cricket Wireless TV ads quite frequently and they're advertising a Lumia for free with new service; can't remember if it's a 530 or 630 but the fact that it isn't an Android is surprising and welcome!

Longtime reader, created an account just to ask this: Isn't the latest law on phone unlocking going to allow 530 to be unlocked to other carriers? If so, if I buy the Tmobile $70 version, then I will be able to use this with both Tmobile and ATT?

$30 with activation; I doubt that will change.