T-Mobile's Lumia 530 Windows Phone expected to land mid-October for just $69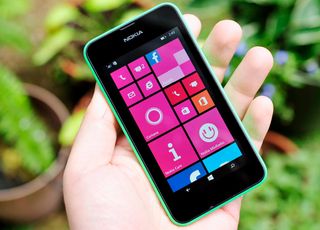 The Lumia 530 is being position as one of the most affordable Windows Phones available, despite growing completion from the likes of BLU and others. T-Mobile announced back in July that it would be stocking the ultra-budget phone, although no pricing or release date was given with only a generic "later this year" promise.
Windows Phone Central now expects the phone to launch in mid-October at a $69 off-contract price.
T-Mobile has not announced the release date or pricing, so this information is unofficial, though we believe reliable.
The Lumia 530 starting at $69 is certainly a great price. For comparison, when the T-Mobile Lumia 521 launched back in May of 2013, it sold direct for $149.99. In the following year, the Lumia 521 dropped down to $59 or less through various third-party re-sellers for T-Mobile. With the Lumia 530 reportedly starting at just $69, it can only go lower in the coming months, making this a significantly cheaper Lumia for those on a tight budget. Indeed, we expect some retailers to sell below that $69 soon-after launch.
The Lumia 530 comes off as a sequel to the venerable Lumia 520 and Lumia 521 (T-Mobile variant; see our full review). However, while it gains some impressive internals like a quad-core Snapdragon 200 at 1.2 GHz, it continues to omit other features including a front-facing camera, ambient light sensor, and more. Instead, the Lumia 635, also available on T-Mobile for $168 direct, is the most natural upgrade path for Lumia 520 owners.
Windows Phone Central compared the Lumia 520 to the Lumia 530 for benchmarks and found a significant performance bump due to the newer processor and GPU found in the Lumia 530. We also compared the Lumia 530 to the Lumia 635.
The Lumia 530 features a 4-inch display LCD FWVGA (854 x 480), a quad-core 1.2 GHz processor, 512 MB of RAM, 4 GB of onboard storage (micro SD expansion) and a 5 MP fixed-focus camera. The Lumia 530 also supports Cortana since it is launching with at least Windows Phone 8.1 (although it may come with 8.1.1 out the gate build 12400 is currently shipping on the unlocked version).
You can see our above hands-on video tour of the unlocked Lumia 530 above to get an idea of what to expect.
Although the Lumia 530 comes in a variety of colors, T-Mobile is expected only to stock it in their favorite matte-white color. Luckily, users can buy alternative color back covers to customize.
Windows Central Newsletter
Get the best of Windows Central in in your inbox, every day!
Daniel Rubino is the Editor-in-chief of Windows Central, head reviewer, podcast co-host, and analyst. He has been covering Microsoft since 2007 when this site was called WMExperts (and later Windows Phone Central). His interests include Windows, laptops, next-gen computing, and for some reason, watches. Before all this tech stuff, he worked on a Ph.D. in linguistics, watched people sleep (for medical purposes!), and ran the projectors at movie theaters because it was fun.
Yep I mean I get why they keep churning them out but for my phone addiction I have been forced to get android high end phones since tmobile is in a dryspell

Understood. T-Mo is getting the One for Windows as their high-end, although I have reason to believe they won't be giving it a grand-featured launch, mostly due to it technically being a 5 month old phone. With Microsoft cancelling 'McLaren', all the carriers were left with a gap in their offerings for a flagship Windows Phone. The One is basically Plan B, albeit a very nice backup plan.

Totally will get the one and then the one should tide me over for another 6 months

Too bad you have to settle for the one and there are no high end Lumia options for you.

So Daniel, what are you hearing on replacement for the dropped McLaren. SURELY (please please please) they MUST have had a plan B model almost ready? :) ps. I realize you may not be able/want to comment or even have any info

What happened to all these supposed super phone's for the holiday season from Microsoft?

McLaren cancelled, now it seems likely that the 830 is the only higher end phone coming out... I do hope I am wrong though.

730,830,530 there has to be something more than this.HTC brought over the One,but does Microsoft have anything in works in the high-end area?

Of course they do - the problem is that they are most likely only coming out in Q1 2015, at the earliest. What I am disappointed at is that they knew McLaren was a risky proposition at a break through in interaction models, but seem to not have had a ready to Plan B for when/if McLaren did not work. Heck, perhaps they could even have released it with the 3D "gimmickry" disabled, no?

When you cancel your custom, innovative flagship phone, no you do not have a 'backup' Flagship waiting to be rushed into development. You go back to the drawing board. Phones take about 9 months from conception to release, so... As I've said, the HTC One is their Plan B.

well, I don't think it works quite that way either. There are phones in the pipeline, with overlap in development timelines, and more models are in the pipeline than end up on store shelves. And given how "innovative" McLaren was apparently expected to be, one would think that it would have been prudent to think of "oh damn, its not ready, now what" scenarios. :) And MS is now also an OEM/owner of ex-Nokia devices - for the sake of that investment I hope their Plan B is not always going to be relying on another OEM, let alone a bit of a recycling of an Android model... :P

OK, I'm glad there is another affordable windows phone on T-Mobile. But I have to say, for people like myself, whose 2 year contract for my Lumia 920 is about to expire, there is no compelling flagship phone to move to - on ANY carrier. I've been with Windows Phone from the beginning and have been really pleased by the progress they've made with the OS - but I think it is a major blunder on Microsoft's part to not have a new flagship ready for market right at that 2 year mark - when many of their customers will be looking to upgrade. I sincerely hope that MS will be announcing a new flagship phone coming in early 2015. My 920 has been a great phone and is still in mint condition - but after 2 years I'm ready to upgrade and MS currently isn't offering anything that is compelling.

All in on one phone that might not go into production sounds like good ole Microsoft. Surface Mini and McLaren,what's next? WP?Lol;)

The plan b screws over the majority of us who are not here for that five month old phone....i wish they would launch the 935 or 1525 :/

Nope, sorry to correct you on this but Nokia always said in the years past that the standard cycle for phone development is 18 months from conception to release. Elop was always saying that he wants to make this shorter and maybe they even succeeded with some phones but even then i doubt they amanaged to go lower than 12 months. As for this flagship with the 3d touch, nokia was teasing this technology in 2013 when they launched the 720 and 520, via Marko Ahtisaari in interviews describing what they were looking into and researching. So this is a lot of time in the making

Is there any word on the 1525 that was reported to be coming out on mobile?

Where's the freaking review man?lol

I agree.. The lack of flagship WP devices is pathetic!.. MS really has hindered the Lumia brand by not having a plan B... I mean we could be at least getting some GS5, Z3, and G3 variants... WHERE IS SAMSUNG, AND LG? ....... SONY❓ LENOVO❓❓❓❓
.........
WP market share is screwed in the US for the foreseeable future❗

I don't understand these US Contract/ Off-Contract prices...is $69 ALL you have pay for the phone, or is there more that id paid in installments. We don't have this carrier Contract system in my country so I don't really know how it works. Thanks in advance.

T-Mo and AT&T have contract phones and non-contract phones with a pay-as-you-go systems. The Lumia 530 is likely to fall into the latter, although they may have it with their Jump program too. Details are scarce at this time. Buying a non-contract phone is just that, you own it. However, T-mobile has unique cellular bands, making it not ideal for taking it off network. Since we do not know what bands the T-mo 530 has, this is all that can be said at this time.

So if buy the 530 from T-mobile and pay $69, i don't have to pay anything further? That's incredible! Its half the price of what you have to pay in my country. I think the pricing here is $145.

This appears to be the case, although we await further official details from T-Mobile when they give it a formal announcement. Considering the Lumia 635 is $168 off-contract (T-Mobile), I can't imagine the Lumia 530 approaching it for price, especially considering the hardware differences.

Do note though that the phone is locked to T-Mobile. You cannot just buy one, and plug in a SIM for any carrier you want. However, typically after a certain period on e.g. T-Mobile pay as you go service, you can/may be able to unlock the phone.

You would need to check with T-mobile, but generally low phones CAN BE pruchases pay as you go. $0 down then cost of phone is paid over 24 months. In this cas $2.88/mo, after 24 months you stop paying the the $2.88. More expensive phones have an initial cost and higher monthy fee. It is all quite transparent.

This phone is LOCKED to T-Mobile, you are comparing locked phone pricing with unlocked ones.

ATT has spectrum on AWS as well as 1900mhz, what are you talking about?

700 MHz A Block LTE, which is only also used by US Cellular would be the only unique band T-mobile uses T-mobile variants are occasionally missing some HSPA+ or LTE bands that the AT&T models have but generally if you keep the phone in the US it's ok to switch between the two. AT&T model is preferable for international use.

Just keep reading WPcentral you will understand all these things.

Lol. I must say yes. After reading WPCentral, I became a source of US and international mobile scenarios to many of my friends. I'm from India. Thanks for all the knowledge WPC Team.

Well the low end is where the growth is in the smartphone market

Hey, I know this is totally unrelated but I can't help thinking Brent Zaniewski is the loneliest writer around here..I mean, nobody comments on his articles!

Comments are disabled for those articles and he is not a staff writer.

Just realised most posted comments are wtf/ wtf Nokia / wtf Microsoft

That's a great price for a very decent phone!! If they can market it well, it should sell very well and increase the market share for Windows Phone in the US.

Another great low cost option. Now I'm torn between this and Win BLU Jr. as my backup phone.

And the Lumia 520/521 too! From what I understand, they are slower than the 530 (but may be still fast enough for you as a backup), but has 8 GB internal storage, camera button, auto-focusing camera, double-tap to wake and super sensitive screen (for use with gloves), and available red and cyan back shells---all things that the 530 lacks. Plus, they are selling for <$50 in the States!

Says the person not in business selling smartphones...lol

I have the Herbert Snow W8 on at&t 4.5" screen (420p) dual core snapdragon 200 with 1gb ram and 8gb internal space, ffc and flash...... I'm sorry, I'm sorry I couldn't help myself :D

i still think the 630/635 is the better deal.

Not if you can only afford to spend $70 on a phone. Think teenager or tight budget. Most real world people just want a cheap phone - most especially if you're not on a contract. At least this is a Windows option as opposed to Android.

but 4gb is too crippled, just wondering how much of usable space would be there

yeah I have a 520 I play around with a bit always complaining it needs more space and that has 8 GB

I have a 635 and like it. BUT, it is still a low end phone. Needs front facing camera and flash to be mid range. It will have to last me untill Windows Whatever in April or May. To much uncertainty to by a high end phone, even if T-mobile lands one.

Ah t mobile, you sly motherfuckers.

Not when cricket is almost literally giving the 630 away.

Cricket could care less what phone you buy they want their inventory cleared. Sell low end devices for free and you'll get people paying for the monthly service.

I don't like how I only found out about Windows phones through pure chance these days, the highly anticipated 830 isn't even showing as coming soon on most of the websites that I've checked (UK) Samsung and apple do a terrific job of announcing products, can Nokia and soon to be Microsoft follow suit?

Nokia/MS need to put out a budget phone with a front facing camera. Not sure why the 635 didn't come with one.

i love 521 but the way you hold it is awkward. its nice to see the sides bulge out a little for 530

Okay, let's Rock and Roll!! What I'd really like to see is this one selling at least twice as much as the 520 did!

Hmm although one would expect it to, there are chances of it unlikely to equal the 520. The 520 had everything going for it backed by sound Nokia marketing. MS needs to amp up their marketing efforts to see this phone fly off the shelves.

Great price and I DO so hope people who keep saying 521 is better note the massive difference in the initial release price point.

I'm actually surprised Tmo released the 635, instead of just releasing the 530. they seem to keep low inventory of windows phones, so having essentially 2 low end winphones seems odd. They don't really have a good track record for supporting updates to windows phones. that said, i'm on tmo and quite happy with my unlocked 1520.3 which had updates faster then at&t. I hope that "country variant" 830 phones come to the US sooner.

Can they update the 521 and 925 to Lumia Cyan?

My thoughts exactly. They're chucking out these inferior devices and ignoring the mightier 925, which is what I currently own. They probably figure their customers will be rushing to get the more affordable phones. The 925 is not even available on their site anymore. It turns my stomach to know that my 925 don't have the cyan update and the other inferior devices will be released with it. Pathetic!

If they could include flash on these devices I think they'd have an even better "win" but I know so many that like it, but hat the lack of a camera flash. (and some hardware stability, for the 521 my gf has had so much trouble at times, speaker feedback, antenna drops etc).

If this can get the "cheap prepaid phones" crowd into WP I'm all for it. I just hope it doesn't leave a bad taste in their mouths about WP due to underpowered hardware.

Most people loved the 520/521 lack of updates is a concern for some people not many though.

With the 635 already at ~$100 this 530 will end up in the cheap mp3 player range.

After over 9 years with TMO I quite em. Now on AT&T with a 1520 and lovin it. AT&T is acctually only $5 a month more for the same plan and much much better coverage. I thank TMO for without them these low prices and no contracts on AT&T and Verizon would not exsist. AT&T has the most WP's and updates them faster then the others.

I guess the HTC one is in my future.

Throwaway society, these mobiles aren't made to last, unfortunately. I'd buy a more expensive phone of it was guaranteed to last 5 or more years.

With its FFC and camera flash the Blu Win Jr......wins!

The only thing is a do not trust BLU as much as I trust Nokia. Most BLU phone reviews are too mixed for my tastes

What about regular software updates and customer support?

I really like this phones size but im disappointed with the specs. Can't someone make a windows phone with a 4"-4.3" screen with at least midrange specs. (ideally I'd like high end specs, but almost given up on that). The smallest phone with midrange specs is the Lumia 730 and that thing is huge!

Im afraid things are only gonna get worse lol Industry wide, mid range devices are now at 4.5 inches or higher :| its a growing trend n i hate it too

Another exciting announcement from TMOBILE! Now I know I have no hope of getting a decent Lumia on tmo and will get the HTC M8 as soon as is available. Hopefully soon as this Lumia 635 is not ideal!

Daniel, any scoops on the 830? Seeing as how they also announced that around the same time as the 530. Tmobile needs to at least provide a higher tier phone for their 925 users

Lost me at 4", and yes, that's what she said.

What about the 830 or the m8?...

Well, I think yuo know the answer, but e.g. price, size and camera.

So how does it differ from the 630 exactly?

Fuck T-Mobile and their 530. I need the 830 damn it

People please realize that they are remarketing some of the phones with the new brand. There are plenty of "High end" Windows phones. The specs along with the software challenge both of the largest phone companies in the world.

Great another phone that T-Mobile will half-heartedly support until 6 months down the road it's EOL'd. Also, where's my Cyan update for both my 925 & 521, T-Mobile?

My 521 is waiting and no update to 8.1 yet.Damn sure not pissing away anymore money on a 530 from T Mo.No support from T Mo on WP and I will go elsewhere soon:/

if u know what they mean :P

And cricket has the 630 for less.
T-Mobile fail.

What........
I don't need another budget phone. Pls listen to the crowd T mobile or else a lot of us will transfer to other carrier...

If T-Mobile doesn't get a true upgrade for the Lumia 925 soon, they will be losing a customer.

Anything new on the 1525 rumors?

Another low end T-mo WP nothing to see here folks

Tmo has a few wp8 devices but they dont get updated.

Tmobile is seriously killing me by not giving any info on the One's release date. I'm trying to leave the big red mother ship and all we keep getting are burners that no self respecting WP owner would get unless they use it as a batphone.

The info released was "This holiday season" Mid November-Mid Decemeber likely launch date.

Is the 530's screen readable in sunlight due to its LED display or can I not take this phone outdoors?

No LTE on this one right? eh might as well wait for sales on the 635.

No point in getting this or the 635 if your on tmobile because you can get the LG optimus l90 for only a 100 dollars. That's a really good deal. Just saying not hating.
5mp camera
1gb ram
8gb internal
Microsd up to 32gb
4.7 inch display
234 ppi
Windows Central Newsletter
Thank you for signing up to Windows Central. You will receive a verification email shortly.
There was a problem. Please refresh the page and try again.