Customatic will add many new features to Windows 10, seeks funding on Kickstarter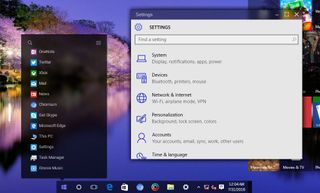 A three-person development team is seeking funds on Kickstarter to help support the creation of Customatic. It's an upcoming add-on for Windows 10 that is supposed to add many new features to the OS, along with ones that have been requested by hardcore Windows fans.
The Kickstarter page has the details of what the Customatic team has in mind. One of the planned features is the addition of themes:
Other new features planned for Customatic include adding showing Live Tiles on the Windows Desktop, ustomizable App Launchers, theming on UWP apps and more. The team also explains why they are using Kickstarter to help fund their project:
The first copies of Customatic are scheduled to ship to backers in September. The team is looking to raise $4,988 to fund their project. Backers can get the final version of Customatic for as low as $10. A $20 pledge gets users access to the beta version ahead of the main release, and a $40 pledges throws in a free Theme Editor.
Windows Central Newsletter
Get the best of Windows Central in in your inbox, every day!
Probably going to be tons of software like this soon the way Microsoft is dumbing down and restricting the OS.....

They are not dumbing down anything, the average user doesn`t want to fiddle with 2131321 options and updates to make things work, they want it functional out of the box. I have tons of friends that shout at me why the hell do I update their devices and such ... Tough, us, the users that want customizable things are here, we are not the majority of users and MS knows this.

From what I remember (looking at theme options):
- Redmond = for Win 95 until Win 2000/ME
- Lagoon & Lagoon Dark = Win Vista
- Aero Glass = Win 7
- Atlas = Win 8 and Win 8.1
- Windows 10 Default = obviously Windows 10
- Material = mix of Windows Phone 8 and Google UI

Maybe you're too young or you just don't remember that there was A LOT OF TONS OF sofware like this in the xp-vista era. and then they disappeared because users are not intrested anymore in that.

I had several programs like this for Windows 95 and 98. The seemed to disappear with Vista (or I didn't care enough to look anymore!). Yeah, this isn't new at all, nice to see the Win Modders are still active out there.

No thanks. I've had too many issues with theming tweaks in the past. Several times I had to reinstall the OS to get things back to normal even after uninstalling the software. For those interested, have fun. I'll be sitting this one out.

Thats the beauty of choice, and why software like this exists in the first place.

It's probably bundled with 3 other 'free sponsered' software that is actually a virus or similar and nags the hell out of you to register it just like the last round of windows tweakers and such.

Looks good, reminds of the XP days when I tweaked the hell out of my PC back then :-)

Will be useful until MS catches up

Thats why they are asking for payment. Let them work the bugs out.

Problem with these is because Microsoft is updating Windows a little bit faster than before, and that Windows is more of a service so it should be getting continuous updates, these updates can break all these types of things. If the dev just gets lazy and goes "screw it too much to fix" you'll be with broken software. I'd just learn to use Windows for what it is, or just move on to something else like what I did and learned to love that much more.

This is true, but it's still worth a try - even if it only works on one 'release' of Win10. Sometimes, if you analyze every future possibility, you would probably not ever do anything because there's always something that might go wrong.

I'm intrigued by the material theme. For $10, seems like a good deal.

If it'll just let me boot to start screen on my desktop and laptop PCs without needing tablet mode enabled all the time I'd pay. If it adds in an easy method to switch to and from tablet mode that I can link to ie. a mouse button I'll be over the moon. If it just makes things look a bit funkier then I'm not so interested.

settings-personalization-start-check use start full screen

That's not the option, he wants a behaviour that every logon will boot straight to Start screen like from Windows 8.X. Making Start screen as a home screen like on tablet mode for desktop mode.

I gotta admit, I just backed it. It was the Live Tiles on the desktop that did it, I have been asking for that since they announced win10.

It is not only about themes, these guys have other changes and it looks good. I know most of my fellow WC followers stated "No" without even looking at what these developers are offering. There is a reason why @John posted a link :)

I'm not a big fan of Kickstarter, but at least these guys are only looking for a small amount. I know people who buy products on there and wait years to get them at times. I know that doesn't happen with everything on there of course.

I don't need custom features. I have the feedback program. What I want gets added lol

I like it basic myself, themes sound like bloat to me and something else to slow it down, although further MS inbuilt animation would be nice, rather than bolted on.

From the first picture in the article, it looks like a windows themed macOS, and it looks really cool. I love the windows style tho

While admittedly pretty, it's nothing more than a waste of resources. Even on a powerful gaming computer, this just means wasted CPU/RAM/GPU power

Oh yeah, let's make windown's half decent design look as ugly and unprofessional as every linux distribution ever.

Well, if Windows 10 looked like you described, it would still be better than what we have today. Current "modern design" is so bad - it's just rectangles everywhere and a text on them. Just look at the "dark" theme in Settings app - the whole app is just a big black rectangle with some text on it. There's no design at all - it just looks like a template, that someone forgot to transform into real product.

That Redmond theme looks sweet. Hoping for a Windows Mobile port.
Windows Central Newsletter
Thank you for signing up to Windows Central. You will receive a verification email shortly.
There was a problem. Please refresh the page and try again.