Cut the Rope for Windows Phone gets three new level packs at last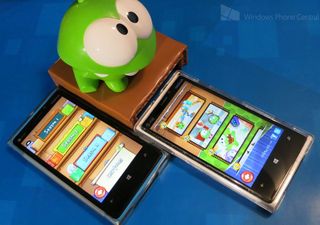 When Cut the Rope: Experiments arrived on Windows Phone last month, fans of the Cut the Rope series were of course pleased to see another installment on our platform. But the sequel's arrival also reminded us that the first Cut the Rope had yet to receive an update since launch. The original game on Windows Phone had only 275 levels - 75 less than other versions.
As mobile Xbox gamers surely know, Rovio has been busy updating several of its Angry Birds games lately. Now it looks like Russian developer ZeptoLab has decided to join in the fun, because they've updated Cut the Rope at last! The update brings our version up to par with the iOS and Android games and gives players a great reason to rejoin Om Nom on his quest for candy.
Moar levels
The key feature of the update is the addition of three new level boxes:
Spooky Box – iOS release date: August 23, 2012 – Adds ghosts to the game
Steam Box – iOS release date: January 10, 2013 – Adds Steam valves to the game
Lantern Box – iOS release date: February 7, 2013 – Adds Chinese lanterns to the game
Each box contains 25 levels, so Cut the Rope on Windows Phone now has 350 levels – just like every other version. Nice!
iOS promo screens (all other images from Windows Phone)
Interestingly, the level packs are now divided up into seasons instead of one long list like before. Players can jump between seasons at any time, regardless of a previous season's completion. The first box in every season starts out unlocked by default. However, stars from one season don't contribute to unlocking level boxes in future seasons. So you'll need to put the 11th level pack, DJ Box through its paces before you can unlock the new boxes, even if you already have piles of stars from earlier boxes.
More cartoons too
At the bottom of the new season selection screen, you can also jump to the Cartoon menu. Previously, the game only linked to the first episode of Om Nom Stories via an option on the title screen. Now, players can easily access and enjoy the cartoon series' first 13 episodes (14 and 15 are MIA). Kids and the young and heart will certainly have fun watching the game's protagonist Om Nom get into trouble.
Experiments next?
It's fantastic that ZeptoLab released these new level packs and revised the game's UI with this update. We know that updating games through the Xbox Live certification process can be time consuming and costly for developers. Perhaps those factors inspired this dev to hold out until they had a sizable amount of content to add before working on the update.
That begs the question though - what about Cut the Rope: Experiments? ZeptoLab's follow-up game launched with 150 levels on Windows Phone, whereas other versions have an extra box (Ant Hill) for a total of 175 levels. Check out our review for more details.
The developer might just choose to hold out for another level box to release on other platforms before they choose to update Experiments on Windows Phone. But we can hope it comes sooner, just as many of us hope for Cut the Rope: Time Travel to hurry up and come over!
Lotsa gameplay for ya dolla'
Cut the Rope – Windows Phone 7 and 8 – 99 cents – 37 MB – Store Link
Cut the Rope: Experiments – Windows Phone 7 and 8 – 99 cents – 29 MB – Store Link
Thanks to Dome85 and Guilherme for the tip!
Windows Central Newsletter
Get the best of Windows Central in your inbox, every day!
Paul Acevedo is the Games Editor at Windows Central. A lifelong gamer, he has written about videogames for over 15 years and reviewed over 350 games for our site. Follow him on Twitter @PaulRAcevedo. Don't hate. Appreciate!
Why didn't they add another 50 points of achievements?

They can't do that without adding a paid DLC expansion pack. And that's apparently a hassle on Windows Phone as only one or two games have ever done it.

Not sure if it applies to Windows Phone but I know there is a rule in place on Xbox where any added achievements must be tied to paid DLC, so then we would have had to pay for the new levels.

Got 200 gamerscore already .. Don't care :P

lol....was kind of thinking the same thing..

Oh wow. Yeah I didn't even know what the update was all about this morning. Thanks Paul.

I'm still not going to buy it. When they will add HD Graphics I will buy their apps, until then I don't care.

Again, you're shooting yourself in the foot if you only buy WP8 games. That limits you to what, like 16 games instead of the more than 150 Xbox WP7 games available.

Hi Paul, just out of interest what are these 10 or so games. I know of Asphalt7, MC:ZH,Spiderman,Batman basically the Gameloft releases bar RF2013. So what are the others. Thanks

I counted wrong. 8 Gameloft games, 6 Rovio games (5 Angry Birds plus Amazing Alex), Gravity Guy 2, and Nokia-exclusive Monopoly Millionaire makes 16 games so far.

Amazing Alex, Angry Birds Classic, Angry Birds Rio, Angry Birds Space, Angry Birds Star Wars, Angry Birds Seasons, Asphalt 7, Ice Age Village, Dark Knight Rises, Amazing Spiderman, Modern Combat 4, Real Soccer 2013, Gravity Guy 2, Shark Dash and Monopoly Millionaire on 1GB Nokias only. Probably missed one.

Thanks Paul/Jamdot. Having played AB:SW, i felt it wasn't crisp looking it could have been on my 920, same for RF2013. Anyways visuals are only part of a game, it doesn't define it.

It could either way. I got Angry Birds this month and I still haven't finished a single word (1 level left in Poached Eggs), so Angry Birds will keep me entertained for a while. And wether I get bored of it or not I'm just going to buy Shark Dash. It might be just me or I don't really know but I seriously don't understand why would I pay for a game that has got well bad -> decent graphics. It's like you're buying a new T-Shirt. Why would you get a stained one when you could get a fresh & cool one?
I would support the devs... I just hope Time Travel changes the game. Rovio might have more $ but I'm sure Zeptolab isn't poorer at all. They could release 2 versions...

Nevertheless, it is Microsoft who is the one to blame. While our games have to have different graphics, Android versions can run just fine on different resolutions.

The achievements are HD...

I appreciate the updates and packages, but feel slighted paying premium prices for 3 year old games while the "other two" get the version of the game and we will pay 3x the amount in 24 mos. I thought Microsoft had it set up to easily port the simpler games like this? What happened to that game plan?

It only costs 99 cents - that's the same as the iOS price. Yeah, Experiments launched at $3 by mistake, but they corrected it decently quickly.

Do you know for a fact that experiments was released for $3 by mistake ? I think the feedback on the app showed how people feel anout the price (it was only 3 stars). If it was a mistake, did they refund people money ?

Yes, according to the devs it was a mistake. People who asked Microsoft for a refund received it.

Premium price ?? Dafuq ??
Both Cut the rope and Experiments cost 1USD

Calm down...i saw it at $3 like Paul stated above. But what happened with the easy porting Microsoft was touting so we could get the latest versions of games?

That would apply to WP8 since it supports native code and multiplatform game engines, and even then it doesn't take the Xbox Live certification process into account.

Now just bring the newest Cut the Rope game! I think it's called time travel or something like that.

This is great. Already got the achievements though.

Well this sucks, I already uninstalled it as I got Experiments. No game save...

That actually won't impact your ability to play the new levels unless you had played the 11th box before. The article explains the slightly weird new requirements for unlocking levels.

I already deleted this stupid game after it deleted all my progress when I got all the stars...

This really is great. I've had this game since December and am only on the Foil Box level! I will install the update - I'll get to those levels eventually :)

Good new for our OS. :)
Paul are there any oficial news about Cut The Rope Time Travel for WP8?

No word yet, but it sounds likely (not sure if it'll be WP8 or not).

It better be. I'm seriously tired to watch my friends play Cut the Rope games w/ HD graphics...

And also if a game is WP8 only it's much easier for the devs to port all the new updates!

ok when i try to update this i get the c101a7d1 error, and i dont want to delete the app and reinstall due to loss of progress, does anyone have any clues on how to resolve this issue? thanks everyone

Bad news. That error means the WP Store has forgotten that you own the game and will not allow you access to future updates. The only solution is to ask Microsoft support for a refund and then repurchase the game.

Played 3 new levels, left game. Loaded it later to resume, now all stars are gone and locked levels reset. I had all complete :/

Got that bug too. All progress reset. Damn ...

Same here, now the game is just unplayable.

Great! Finally we have all level pack!
Why Xbox Live update cost so much or developers?!? Microsoft must change many things to its Windows Phone platform...

XBOX Live must be more lax with their rules when it comes to WP games.I undestand to add achievments only in paid DLCs when it comes on Xbox360 games.But for WP games they must be more lax and give more freedom to the developers. P.S And if they realy want to catch up the other competitors i think they should release more than 1 or 2 (xbox branded) games per week!

Did they fix the stupid progess reset bug yet? Until then I don't care.

I was just telling my wife there was an update for it but I had already beat it moved onto Experiments. Looks like I have to put Experiments on hold! Nice!

Experiments is pretty short. That one really needs more levels!

Wiped all my progress -.-

What case is shown in the picture with phones?

Cimo S-Line case (which we reviewed) on the blue one, and some clear hard case on the white one. Don't remember where we got that one.

I also have this anoying progress reset bug and it woudn't be so strange if it happened only once, but it keep reseting while playing.