Dare to be scared with some October-friendly fiction from Audible!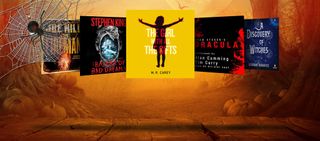 Audible (opens in new tab) is the premier online provider of digital audiobooks and more. It's the perfect companion for long commutes, while doing errands or chores, or just relaxing at home on a dark and stormy night. You can listen to spine-tingling stories from your favorite authors, revisit thrilling classics, or discover new authors and titles fit for a frightfully fun fall.
Some of our favorites for this time of year include The Shining and Pet Sematary, both by master of horror Stephen King, the timeless Dracula written by Bram Stoker and performed by narrators including Alan Cumming and Tim Curry, and Washington Irving's The Legend of Sleepy Hollow. Also be sure to check out the new Channels feature in Audible, where you can experience a wide variety of original programming and playlists, including plenty that will fit right in to the feeling of the season.
Audible is free to download (opens in new tab), and content can be accessed through a subscription or individual purchases.
And don't forget to enter for a shot at up to $100 in Windows Store gift cards! Enter below right now, and come back every day through the end of the month for more entries. Due to sponsor restrictions and limitations on the gift cards, this giveaway is only open to residents of the US. The giveaway ends on October 31st. We'll announce the winners right here in the widget shortly after the closing date.
If you are using the Windows Central app, you will need to click the button at the bottom of the page to access the widget.
Join us for Microsoft's Shocktober celebration and you could win up to $100 in gift cards!
Not a chance I am spending anything on audible when amazon have pulled the kindle app.
How long before audible gets pulled too.. Lost trust in them now...!!!

Kindle for phone is still there.

It is for now but its being pulled imminently: http://www.windowscentral.com/amazon-removing-its-kindle-pc-app-windows-... While I can keep the app on my phone the next time I need to reset it I will have no more kindle app. This seems a ridiculous move and I ewill not be buying any more books from them unless I hear they are creating a UWP app, the only way I will have of readning books I have already bought on holiday will be to buy an actual kindle. Certainly not going to happen!!

I was going to say, try reading these on your Kindle app while you can.
Windows Central Newsletter
Thank you for signing up to Windows Central. You will receive a verification email shortly.
There was a problem. Please refresh the page and try again.