Dark Way Down, find the light in this totally free puzzle game for Windows Phone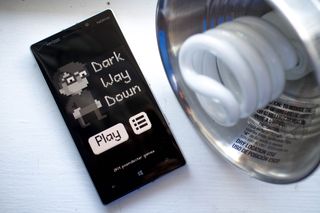 We love discovering fun games from indie developers. Here's one you might like. It's called Dark Way Down, a puzzle game from Daniel Fairley. It has been released recently for iOS, Android, and Windows Phone. Want to see how it looks? Head past the break to watch the gameplay on the Nokia Lumia Icon.
Dark Way Down is very simple. The goal is to light up all the tiles without running out of moves. To move, just swipe on the screen. If you land on a tile that's already lit, it will turn off. As you progress into further levels, more tiles are introduced. Some levels also have barriers, which don't allow you to go certain directions. If you're on the left edge of the board and swipe left, you end up on the right side.
Instead of numbers, each level has a name. Some examples are Lost, Shunned, Lucid, Drowning, and Conformity. Dark Way Down contains 25 puzzles in total.
If you find yourself taking the wrong step in the middle of solving a level, click on the retry button on the top left corner. The options button on the top right corner lets you switch on or off the music and special effects.
The graphics in Dark Way Down is really simple. It's two-dimensional and uses monochromatic colors. It works well with the story of finding light in a world of darkness.
In a blog post, Daniel says he started developing the game after being challenged by a friend. He says he's not particularly good at puzzle games, so designing Dark Way Down was difficult. He's satisfied with how the game has turned out, but says he will steer away from the category for the time being.
Dark Way Down is a free download from the Windows Phone Store. There's no catch, either. There are no ads or in-app purchases. It also supports devices with low memory. Go download it now if you have some time to waste and share with us what you think!
Windows Central Newsletter
Get the best of Windows Central in your inbox, every day!
Dark Way Down Complete Solution here
http://www.therdnotes.com/2014/07/dark-way-down-complete-solution.html

Cool. Downloading now just to support the guy for developing for all platforms. That's the kind of developers we need!

Same. Devs like this need to know they're appreciated by our community.

Fun game. I like the old school feel of the Atari-style graphics.

Sometimes simple is best. No muss no fuss. Similar to Light Glide. I like it. Oh BTW... Make sure to go into settings and make sure you opt out of google analytics. Unless you would care that data would show google that WP is alive and well.

Not bad for first in puzzle field. Gets more challenging at LV 16. Might need to fix back button not exiting but otherwise its not bad.

Looks good,will probably download later :)

Shoes in background blinded me from viewing the actual game hands on...this was more if a shoes on...will dl though as soon as sight is fully restored

God the soundtrack is phenomenal

Argh, all these great games and so little storage space. I just cleaned house on a lot of games. Well well, will have to download it still.

I used to have that problem. Now is history with my 32gb 1520 and SD of 64gb. I feel almost like having a computer, plenty of space. I highly recommend all OEMs to produce handsets with SD as priority number one.

Niice. 32GB on my L 1020, but i have fotos, music, apps and games so i am constantly out of space.

I have the 32 GB of my phone almost full (4gb free). Almost all my apps are in the sd, videos and photos.

Why does this app still needs a google account to unlock achievement !! C'mon developer this is Windows and this community breathes and eats something that is microsoft's

WP has an over abundance of puzzles, how about some street fighter to be diverse for a change...

I can't get past the lost level.. Help?

Beside the game have anyone seen the leaked dynamic lockscreen 8.1 video! Check on youtube...Writers please post the news soon

I can't even finish the 3rd puzzle with 2 tiles a firewall and a tile. How the hell do you cross the firewall?
Edit: Nevermind you can magically jump through space and end op on the other side..

Dark Way Down Complete Solution here
http://www.therdnotes.com/2014/07/dark-way-down-complete-solution.html