Dawn of Steel breaks through defenses to launch on Windows Phone and Windows 10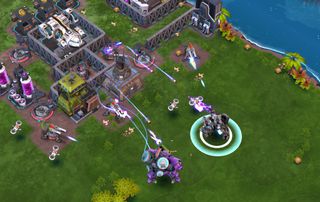 Superweapon and Flaregames have announced that their hit new strategy title Dawn of Steel is now available for download on both Windows 10 and Windows 10 Mobile. Dawn of Steel allows players to build up and develop their own base while controlling raid parties to overcome enemy bases. Think Clash of Clans, but in a sci-fi setting and with the ability to actually control your units on the battlefield.
As previously covered, Dawn of Steel Some takes place on the planet Leviathan where humanity has discovered a precious resource called plasma. That's essentially what you're fighting over. Rights to mine this incredibly valued resource. Here are some highlighted features:
A gorgeous world with stunning FX rendered in full 3D
Fine-tune your attacks with direct unit control
Intuitive swipe mechanics for devastating special attacks
Four powerful Rigs with wholly unique abilities
Hundreds of different customization options
Unlock and conquer new territories across a dynamic world
Build the perfect base, balance your defenses, and crush your opponents
Grab the universal game from the Windows Store and let us know your initial impression of Dawn of Steel. The title will work on Windows Phone, Windows 10 Mobile and Windows 8.1/10. It's also worth nothing that while this is a free title to download, there is a collection of in-app purchases.
Rich Edmonds is Senior Editor of PC hardware at Windows Central, covering everything related to PC components and NAS. He's been involved in technology for more than a decade and knows a thing or two about the magic inside a PC chassis. You can follow him over on Twitter at @RichEdmonds.
Star Wars Commander FTW!!

Really like strategy games ! Hope it will be interesting

Me too. So much that I had to forcibly uninstall CoC as it had taken over my own life....

Looks good. Going to try Posted from Lumia 638 Windows 10

Is it PvE or PvP? Because I am completely done with the Clash of Clans style -build a base just to get smashed by randoms 6 times daily, have all your resources stolen, and spend what remains on repairs so you can never get ahead- game. Done with AoE Castle Siege, SW Commander, Royal Revolt 2, Imperia Online, Total Conquest, Cloud Raiders, World at Arms, etc. It's fun building bases, but it's not fun at all getting raped 6 times a day for 90% of your resources.

Freemium has ruined gaming. Games are built based on greed now, not by people that want fun games. Didn't you get the memo?

Still waiting for clumsy ninja and real racing 3

They need a good OS to optimize. And I don't see W10M a "good" OS just YET.

I dont think that clumsy ninja needs super duper OS, there is games with more intensive graphics than clumsy ninja or RR3 that works great with "not good" OS

maybe XBOX in the summer with universal apps :)

Clash of Clans??? Oh yes... Never.

Looks fun. Glad more games are being made for Win10 Mobile.
I am not a fan of pay to win. Game developers know P2W makes them much more money. Some peeps shell out thousands of $$$$$ to get that one elusive item or hidden character that makes them god like. Or pay for more resources to rape everyone else. Otherwise its a tough grind to make any meaningful progress. Either you do it through hard work and waste 4 months of grinding or pay $50 to instantly get what you want. I avoid those games because there's always that one player who pays for everything and rapes everyone. I am not against the developers methods, after all it's all about making money. I just choose not to play those P2W games. The only winning move is not to play.

Why it is not "Built for Windows 10"

This game is pretty good! my first five minutes are not bad!

THIS.LOOKS.AWESOME! Hope it isn't super buggy. Downloading it now. Tired of Mobile strategy games where you deploy troops and then just watch. Lame. Posted from Windows Central for Windows 10

I've been looking forward to this one, downloading now.

unable to download data files- stuck at audio_mech . what to do now?
Windows Central Newsletter
Get the best of Windows Central in in your inbox, every day!
Thank you for signing up to Windows Central. You will receive a verification email shortly.
There was a problem. Please refresh the page and try again.