Day 0: CES behind the scenes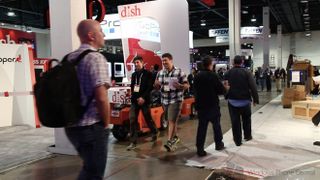 Monday was our first day at CES, but the conference does not officially start until Tuesday, January 7th. The show floor was still being prepared, but we walked around for a little preview. Want to know what it's like? Watch the video after the break for a quick look behind the scenes.
We're going to be here the next few days, so make sure you tune in. You can follow our CES coverage at wpcentral.com/ceslive.
Windows Central Newsletter
Get the best of Windows Central in your inbox, every day!
Where's Mark? :P
Daniel looks excited :D
Sam seems bored :P
Hope there are some good surprises waiting for WP community in the coming days :)

Mark is behind the camera =)

The best from CES must surely be when Michael Bay walked out of the Samsung show :P http://www.liveleak.com/view?i=6eb_1389050105

That's already a classic. :P

So excited for CES 2014, the announcments already are pretty great, hopefully something Windows Phone releated is coming! :)

The link at the end is for a live webcast,right?

Hey Guys, Have fun and also please take a look at the Kreyos stand that should be there too. :)