Day 1 of the Mobile Nations 2013 CES Experience a HUGE Success!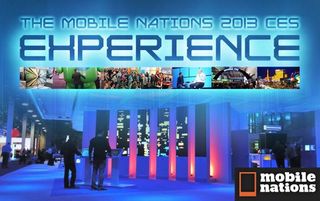 Thought I'd pen a quick roundup for you all this evening (or is it morning!?). Yesterday was a LONG but VERY enjoyable day here on the 2013 CES Experience. Long travels for many, a shorter distance for others… but we've all made it and we're all having a great time!
The day started for most of us by hopping on a plane (or 2 or 3), to make it to Vegas in time for a casual meet and greet with NVIDIA and Mobile Nations. As a special surprise, NVIDIA opened a box and handed each of the 'experience' participants a brand new Nexus 7... to keep! How cool is that!? After the excitement of a new tablet in-hand calmed down, we all took part in the NVIDIA press conference that took place at the RAIN Nightclub in the Palms Hotel and Casino. Front row seats were enjoyed by all, and the announcements (namely the Tegra 4 processor and Project Shield) blew the group away.
NVIDIA CEO Jen-Hsun Huang announces the Tegra 4 processor with 4G LTE
Now that we've got day 1 under our belt, it's time to hit the town a little bit tomorrow. If you'd like to follow some of the great folks on the CES experience to check out their pictures, Rich Cermele (pkcable on CrackBerry), Martin Reisch (safesolvent on iMore) and Robert Brown have been hitting twitter hard thus far. You can find them @pkcable, @safesolvent and @SunofaBob. Give them a follow, as they'll be tweeting out lots of good stuff from Las Vegas and the CES show floor on Tuesday.
Michael, Rich and Marques enjoying their evening
I wonder what day 2 will have in store for us? Hmmmmmm, me thinks NVIDIA and Mobile Nations has much more in store. Check back tomorrow for another update!
A HUGE thanks to Will and everyone @NVIDIATegra for the front row seats and warm hospitality.
Get the Windows Central Newsletter
All the latest news, reviews, and guides for Windows and Xbox diehards.