DC Universe Online will bring its superheroes to the Xbox One this spring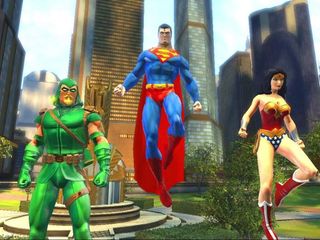 Xbox One owners will finally be able to get a version of DC Universe Online. Developer Daybreak Game Company announced that its free-to-play massively multiplayer superhero game will make its debut on Microsoft's console this spring, over five years after its debut on the PC and PlayStation 3 console, and over two years after it was launched for the PlayStation 4.
Details about the Xbox One version have yet to be announced by Daybreak, which was previously owned by Sony under the name Sony Online Entertainment. Sony sold off the developer in 2015 and at the time Daybreak stated it planned to release many of its games to platforms other than the PC and Playstation consoles. They include the sci-fi first person shooter MMO Planetside 2 and most recently the zombie-based survival game H1Z1.
Source: DC Universe Online
I'm particularly a Marvel person, but nice, more games.

The famous 'Injustice' game is still awaited for Windows... I don't know if it'll ever happen

It is available through steam though.

prefer marvel as well. marvel vs capcom need to come to xbox one as compatible with 360.

I wanted champions online, which was based on marvel. Not a DC fan. But I guess this will do for my superhero mmo fix,

Most of the Marvel fanboys here are cinema buffs, not the authentic comic readers. DC is way darker and gritting... Marvel is not for mature audience

Darker and grittier doesn't mean it's better.

Google marvel dc copycats ,, you'll got your answer..

You'd probably have a better shot requesting Marvel Heroes 2015. Surprised that game hasn't made its way to consoles.

I forgot all about "Champions Online." That would be great if that were to make it to the One. This will be a fun time-waster though.

Not a massive surprise as they block cross platform play but hey new games are new games

Your argument is invalid, because Batman. ( :

Looking forward to this. I think it's still set in the previous DC Universe before they f---ed their continuity with the New 52. Like old friends you haven't seen in a long time.

You know comics, its a generational thing... =p

Marvel vs DC comments in 3, 2, 1, and here we go

Uh, hu...huh, hah hominna hanh....gasp, wheeze. *faints*

I wish Injustice was remade for Xbox One. Posted via the Windows Central App for Android

and here comes the "I am not a DC comic person" but you were fast clicking the article right and giving your "marvel" comment right? totally makes sense. Maybe people who do that should go and read Marvel's comics instead of checking on an apparent crappy game since it's not with Marvel characters.. oh wait, most people just watch Mavel movies and then forget about comics, and because of the movies they think Mavel is better than DC comics, you know, Marvel movies with 90182390 visual effects to make them interesting, it doesn't matter if the storyline is crap, "it has nice visual effects". ​Batman and Joker and one of the many reasons why DC is superior. even the DC comics animation productions are nice to watch. Don't really watch live-action movies, like the boring make up crap like Nolan's triology with terrible joker, and while Christian Bale is my favorite actor, it was probably a boring role for him since Nolan made batman boring... we can also mention the new batman vs superman actors... meeh actors so I would rather stick to animation ones and compare them to the comics or graphic novels, like Dark Knight Returns, it was nice to see it on screen without actors ruining it or directors, etc, crappy made up stories, or heavy visual effects that like I said, sometimes seem to be like a way to brainwash people into thinking the movie is actually good. And even if we remove Batman (and Joker), and superman which is a nice comic to read but some parts make my eyes roll. but we still get amazing comics/graphic novels like Shazam, Watchmen, Jonah Hex, The Spectre... and then the other obvious ones, Flash, Wonder woman, aquaman, green lantern etc. Anyway, talking about this game, the game is okaish, not that great like most mmorpg but I bet it has improved so much after the years, so it's nice to see it coming to xbox one. it was a fail of sony that DCU was never one server for PC and PS3, I always thought I would be able to play with my friend who has a ps3, but nope, one reason why I got bored. I really don't think they will update the PC version to be multiplayer crossplatform with xbox one, but it would be a nice dream to have.

Hum no. I just open to read because I have a Xbox One and comment about it to support more games. I'm not a kid, just because I prefer one comic world doesn't mean I can't post about our console platform gaining a new game (which was a exclusive one before) and how that's a good thing.

The Dark Knight was crap? Wow. If you are gonna judge movies on the basis of their VFX, then I can only but laugh on your comment! Humanity is doomed.
Just as a side remark, if you really love Marvel's CGI porn, then I suggest you watch Nolan's filmography and look at those practical effects which are 'real' and not just 'realistic'. He flipped a goddamn 18-wheeler on the streets of Chicago.

Nolan's Batman Trilogy was a successful finale for the Batverse/DC Universe. Ledger's Joker was exceptionally good... Cinema should be altered from the source (comics) for good.

Marvel. DC. Both have some really good heroes, villains, and stories even though I gave up on comics back in the 90s.

2015 and superman still exposing hid briefs??? Posted via the Windows Central App for Android

I forgot all about this game. I may give it a try.

I've yet to see a Marvel film come anywhere close to the Batman films with Christian Bale.

will there be a boxed release of download only
Windows Central Newsletter
Get the best of Windows Central in in your inbox, every day!
Thank you for signing up to Windows Central. You will receive a verification email shortly.
There was a problem. Please refresh the page and try again.