Dead Clicker for Windows Phone 8, the undead meets whack-a-mole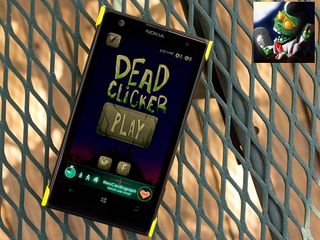 Dead Clicker is a Windows Phone 8 arcade game that calls upon you to protect the gates of a cemetery from an army of zombies.
To do so you must smash the zombies into the ground, much like you would do in a game of whack-a-mole. The more zombies you smash, the higher your score. Should the zombies make it out of their graves and reach the cemetery gates, they will escape ending the game.
Dead Clicker is a fast-paced Windows Phone game that has decent graphics, challenging game play and is a fun way to pass the time.
Battling Zombie Hordes
Dead Clicker's main menu holds options to mute the sound, visit the game's Facebook and Twitter pages as well as jump into game play.
When you jump into game play, you will get a courtesy "3,2,1" countdown and then the zombies start to move towards the cemetery gate that sits at the bottom of the screen. Zombies will come out of the ground where the tombstones are or meander down the paths between the grave markers.
To defeat the zombies and keep them from escaping the cemetery, just tap on them. Tapping on the zombies trying to get out of their graves will send them back into the ground. Tapping on those walking down the paths will shatter them into tiny little pieces. Should a zombie make it out of the grave, they will head towards the cemetery gate.
The goal is to survive as long as you can. The longer you survive the faster the game pace becomes and the game ends as soon as the zombies break down the cemetery gate.
Some zombies move faster than others and some will require multiple taps to take down. To add to the challenge, periodically a lost miner will surface from one of the graves. If you tap on a miner, the game ends.
To help you defeat the zombie incursion, Dead Clicker had six mojo boosts that will appear occasionally throughout the game. Mojo's include one that will unleash an alien ship that takes out the zombies, one that will unleash an Elvis impersonator that runs the zombies off, one to set off a series of lightning strikes and more.
Overall Impression
While Dead Clicker may not stand up to lengthy gaming sessions, it is a fun Windows Phone 8 game to pass short bits of time with.
I wouldn't mind seeing an online leaderboard with Dead Clicker but as a consolation, your best score will be displayed on the main menu. The ad-banner that runs across the bottom can get in the way when you are dispatching any zombies that have reached the gate. It's nothing detrimental to the game but it is something you'll need to be careful with.
All in all, if you are looking for a fun, fast paced arcade game for your Windows Phone 8 gaming library Dead Clicker is a good choice. The game is a free, ad-supported title that is available for Windows Phone 8 devices (including low-memory devices).
You can find your copy of Dead Clicker here in the Windows Phone Store.
George is the Reviews Editor at Windows Central, concentrating on Windows 10 PC and Mobile apps. He's been a supporter of the platform since the days of Windows CE and uses his current Windows 10 Mobile phone daily to keep up with life and enjoy a game during down time.
lol we all are so impatient for build :D

+720 I cant even watch. I will be in the remote areas of India and network wont be there

Y'know, WPCentral, every time that counter on my WPC Live Tile jumps up by +1 or so I pee my pants a little, thinking it's some juicy and fresh news, some pre-Build hot, roasting rumor begging to be proved right in about 2 and a half hours. And when I open the app I read this. But, of course, I bet those numbers on your site visit counter are going through the roof today. :) I'm kidding, of course, Build is pretty important but there are other news to be covered.

Really need Dead Trigger games on windows phone. High quality games are few on windows phone.

Agreed. Ironically we have the best gaming mobile on market, the 1520. We need games like Injustice, Cod, RR3 to fully utilize the hardware.

But it is all about the numbers. The amount of actual people who own a 1520 are few and far between so what incentive do the developers have in releasing their games for this model?

I was just pointing out the irony of having the best gaming device but not having much (graphic intensive) games to play with.

Also, Little Empire !! A 4x game on Android..

All of that is true. But I am sure all those games would work perfectly on all the other wp8 expect maybe the 520 and 521. I can see that asphalt 8 runs smoothly on my ativ s neo were I need for it in order to run somewhat decent on Android the best spec devices and even then it can run everything else then Smooth at times.

Dead trigger 2 runs super smooth even on the dumbest android tablets (my bro played it on high on his cortex 1ghz, 512 mb ram useless tablet), so i should think it would give stunning frame rate on the 520 even. Also, my 520 runs (a slightly less intensive version of) asphalt 8 quite well !

I believe WP is a better OS than others in running games smoothly. Since it pauses other apps when not active and limits apps in high background tasking the current app/ games can perform to its best.

Yeah right, that's why lagdroid tabs with the same specs as my 520 cant even come CLOSE to running even asphalt 7 properly (5-7 fps isn't close to playable) even when the graphics have been downgraded to shameful levels.. (tried it on the above mentioned tablet)

Dead trigger 2 is much better optimized for lower spec devices with sacrifice of graphic's. I wanna play it with best graphics and then there are only the quad core devices that handle that and even then there some that still struggle. I have a Sony Xperia Z2 obviously Android. But that is pretty much the best spec Android around.

Oh really ? My bro played the non-tegra version on his single core processor tab, and it worked very well even on high graphics ! And the graphics were stunning too !
Then maybe they really put a lot of juice into the game, if the optimised version looked so good, the tegra one must be amazing !

Yeah there is a difference in the in the graphic's. In setting u can choice between low medium and high details. You will see a difference and on high it should be pretty sluggish. But that isn't always the case though. But when my fiancé plays it in her dual core Samsung skyrocket it will only play acceptable in low performance even then there is stutter. In high it is pretty much a stutter fest. I like android don't get me wrong but WP is the much better optimized OS that needs less resources.

As far as i remember, he used to play it on high most of the times, though i might be remembering dead trigger one. And i dont remember seeing any lags either on one or two. But it maybe because you might be having the tegra version, while my bro would've got the non tegra one.. Still the graphics were very nice !
And yeah you're right, wp is much better optimised ! (i like to call android as lagdroid :-P it isn't optimised at all :)))

Yeah just saying that asphalt 8 doesn't run smoothly on basically anything less then quad core and even then it can lag. It runs with no issue on WP devices.

Hey George where is Daniel?

Didn't you read his post ? He was somewhere 32000 feet above usa last night (by ist), so he must be in sf now :-P

It seems like another Flappy Bird that'll make you wanna throw your phone away XD

Keep calm and shiv clickers.

Sadly isnt available here in Brazil. Developers, I can help you.

We couldn't get DEJUS for the game. Can you help us? It would be great!

Hey Olga. You dont need the DJCTQ certificate anymore. Since November 2012 you can use PEGI or ESRB certificate to do that. Just upload one of them in the place of the brazilian one, select a age rate that matches your certificate, select Brazil as a country of distribuition and its done.
Anything you can contact me on Twitter (@guilhermemanso) or via email: guilhermemanso at outlook dot com.

Thanks a lot. We try it right now. If there is any questions, I will contact you. Have a nice day!

And I thank you for pay attetion to my request. :) Ahh, you can use the same method to publish in the Windows 8 Store. Have a great day!

Is this creature in the video speaking French? Les enfant terrible..

This is creature in the video speaking Zombish Dialect)))

Now if only this was plants vs zombies 2 sigh

Hello! Sorry fot the off topic remark, but asphalt 8 just got an update! :)

Why is Bob the Builder roaming around the grave yard? :\
Windows Central Newsletter
Get the best of Windows Central in in your inbox, every day!
Thank you for signing up to Windows Central. You will receive a verification email shortly.
There was a problem. Please refresh the page and try again.