Deadlings, a side-scrolling puzzle game full of zombies for Windows Phone 8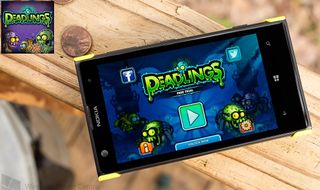 There are plenty of zombie games available for our Windows Phone and Deadlings is one of the latest offerings for Windows Phone 8. Deadlings is a platformer styled game that has puzzle game elements.
Graphics are well done, game play simple and the levels are challenging enough to keep you on your toes. Deadlings offers over one hundred levels of play giving the game a little longevity as well as entertainment value. We covered the game's announcement, now we'll take a closer look at things.
Story Line and Main Menu
The story line with Deadlings has Death feeling a little on the lonely side so he begins "Project Deadlings" where he buys a local factory and builds a lab where he can begin training an army of zombies. Death trains his zombie minions by running them through various mazes filled with deadly traps, obstacles and brains.
Deadlings Main Menu
The main menu for Deadlings contains options to access the game's Facebook and Twitter pages, view the About screen, access the game's settings and jump into game play. Settings are minimal and includes turning on/off sound effect and music.
The game lacks a help section but Deadlings does a nice job of providing pop-up windows that will illustrate game play. Still, it would be nice to have a reference section to explain each zombie type's skills and some of the rewards are.
Deadlings Map
When you are ready to jump into the game, tap the "Play" button on the main menu and you will be sent to the game play map. Deadlings has over one hundred levels of play that are progressively unlocked and re-playable. Levels currently span four phases, each offering unique challenges.
Game Play
As you play Deadlings, pop-up windows will appear at the start of each level detailing game play for that particular level.
Deadlings Game Tutorial
Each level of play with Deadlings begins with an overview of each level. Your start point is a green tower with a golden gear circulating around it. The exit point is also a green tower but has a green gear circulating around it. In between these two towers will be dangers such as spike pits, circulating saws, triggers to open walls, and more. The goal is to make it to the exit and consume as many brains you can along the way.
Launching your Zombies on the Level Map
To begin play, tap the starting point and depending on the level you will need to choose a direction your zombie will exit. Some levels utilize different zombie types and in these cases, you will need to tap the icon for whichever zombie you want to send out into the maze.
The four zombie types include:
Bonesack zombies who can run and jump across the levels
Creep zombies who climbs on the walls and ceilings
Lazybrain zombies who moves slower
Stencher zombies who uses powerful gas clouds to fly across the levels
You will need to evaluate the overview map for each level to see if you need to deploy a certain type of zombie to reach triggers or if exiting left or right gives you a survivable path to the exit point.
Deadlings Game Screen
The game screen has a toggle switch that will send you from the game screen to the map view, your brain count, your game timer and a pause button running across the top of the screen. In the bottom left corner of the game screen this is an acceleration button to give your zombies a burst of speed.
Your zombie will begin running in the direction you choose right out of the gate. To have the zombie perform an action (jump, jump onto walls, release a gas cloud, etc.) just tap the screen. Because the zombie starts moving non-stop, Deadlings does have a fairly quick pace that will test your reactions and timing.
Deadlings Creep Zombies Climb the Walls
If at any point you need to re-evaluate your plan of attack to make it to the level's exit, just tap the directional arrow in the upper left corner to view the map overview. As you advance through the levels, zombie management comes into play where you may have more than one zombie in action at a time.
At the completion of each level, your performance will be graded on the number of brains consumed and your time. You also can earn rewards and the skulls can be used as currency but it isn't clear how you can spend them (hence the need for a reference/help section).
Overall Impression
Deadlings is a nicely animated Windows Phone 8 game that has plenty of gaming levels to keep you busy for a while. Game play has plenty of variables keep things interesting and overall, Deadlings is an appealing addition to the Windows Phone 8 gaming library.
Deadlings on Windows 8
My only nit is that the game needs a help/reference section. I don't think it is detrimental for the game's success but it would take some of the guesswork out of things. Otherwise, Deadlings is a fun game to pass the time with.
There is a free trial version available for Deadlings that will let you play the first several levels to get a feel for things. The full version is currently running $1.99 and is available for Windows Phone 8. You can find Deadlings here (opens in new tab) in the Windows Phone Store.
There is also a Windows 8 version of Deadlings with the same layout, same game play, just a larger screen. Deadlings for Windows 8 is running $1.99 (trial version available) that can be picked up here in the Windows Store (opens in new tab).
Windows Central Newsletter
Get the best of Windows Central in in your inbox, every day!
George is the Reviews Editor at Windows Central, concentrating on Windows 10 PC and Mobile apps. He's been a supporter of the platform since the days of Windows CE and uses his current Windows 10 Mobile phone daily to keep up with life and enjoy a game during down time.
I love puzzle platformers so this should be great :D

Artifex mundi rocks.... One of the best dev for wp...carry on the good work

Artifez mundi,AE,Gameloft

XBox live is better for games of gameloft and Rockstar and EA and Othr biggies

With just a smidgen more work this would've been a cute Xbox Live title. A missed opportunity. #SaveXboxWP

I can see it coming, the "No XBox, No Buy" BS.

Microsoft needs to merge those stores fast so I buy once, run anywhere (BORA).

excuse me for my noobness, what does BORA means?

I first thought they work this way hahaha

Tried on my Surface, like the game but the touch controls are not responsive enough. I find I have to tap more than once at times, even in the menus.

This article was already covered by Paul Acevedo on 20/2/2014.

My article was an announcement post, whereas George's is a review. His reviews aren't as long as mine, but it still provides a more detailed look at the game than in my original post.

I ponder you ponder every one ponders that George does ponder that's why George Ponder ! What a Ponderful life !

app social for windows 8 released by nokia !

Cool game, nice graphics...fun to play even without Xbox live
Windows Central Newsletter
Thank you for signing up to Windows Central. You will receive a verification email shortly.
There was a problem. Please refresh the page and try again.