Dedicated Windows Phone earphones, a-JAYS Five now available for pre-order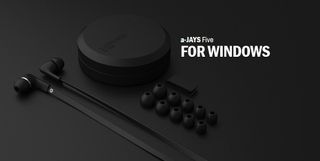 Swedish accessory manufacturer Jays has started the pre-orders for the a-Jays Five series of earphones. Sporting a version for each mobile platform supported - iOS, Android and Windows Phone; flat, tangle free cabling; handy clip and MEMS microphone, every Windows Phone owner will find the new kit useful when out and about. How much are they going for? €89.99 ($120).
As noted in our previous coverage, the earphones will come with a three-button control setup, which will function differently per operating system. They're pretty decent looking, available in both black and white. As well as Windows Phone, the buds will also play nicely with any Windows 8 device, with the ability to answer / hang up on calls, play / pause / skip songs, manipulate volume levels and more.
Nokia is also launching its new line of earphones and headphone accessories (partnering with Zound), which are aggressively priced - well worth checking out if you're looking for a bargain. We'll be sure to get a set of a-Jays Five earphones to see how these new buds perform with Windows Phones and tablets. Will you be picking up a pair?
Source: Jays; thanks, Scott, for the tip!
Rich Edmonds is Senior Editor of PC hardware at Windows Central, covering everything related to PC components and NAS. He's been involved in technology for more than a decade and knows a thing or two about the magic inside a PC chassis. You can follow him over on Twitter at @RichEdmonds.
Hmmm just as my Shure's are starting to go too...

At that price...no thanks.


No thanks, I'll stick to my Motorola s305. Controls for volume, track skip forward and reverse, phone calls and other features for a fraction of the cost. They also sound better than any ear buds and no wires.
http://www.amazon.com/Motorola-S305-Bluetooth-Headset-Microphone/dp/B002...

Those are so unbelievably uncomfortable to wear after an hour. Over the head band is much much better

Not true, the Jays are comfortable. I am not new to IEMs though.

I dunno. I haven't found anything better than my JVC HA-FX3X.

Nice I want to buy another pair of the purity in ear ones for when I don't feel like taking the giant purity pros with me

Can't find specs for these. Just states turned aluminum casing. No mention of range etc. Think I'll pass

I'll wait for a review or two. If they exceed expectations, I might take the plunge.

They are $99 in the US, so not quite as bad as the exchange rate implies

Does the DAC on a phone even warrant headphones in this price range (assuming they are worth $100)? Especially considering there's no lossless support on WP and there's one flac player app that doesn't even support reading the SD yet.

WP8 supports WMA Lossless iirc.

I should try testing that, because you're not the first to say that even though the page by ms about what WP supports doesn't list wma lossless.

I though WP8 diden't support WMA Lossless either till I tested it last month with my 920 & I am now in the prossess of transcoding my libray from ALAC to WMA lossless they play perfectly.
And to the people who say $100 is to much to spend on a pare of cans are problay right... for themself. Myself I have yet to see any single armature driver IEM that I though sounded good and all the good dual/triple drivers start around $200/$300. Im guessing some of you would have a heart attack if you knew what a GOOD pair of headphone realy cost.

Well considering the headphones can't improve the DAC of the phone, I wonder if good headphones specifically for a phone is worth the investment. I have a $400 set of headphones that I hope are good. I'm kind of new to being an audiophile. They're certainly better than any other speaker I've ever heard but I don't know if they're actually $400 good.

Your absolutely right about the DAC but if you design the cans for knowing there going to be used on a moble device you can still get some pretty good results. Also the DAC's arent nessacerly as bad as you seem to think they are honestly this is why some manufactuers are even offering low impedance verisons of there high end cans take Beyerdynamic for example.

At that price, think I'll stick with my Pioneer buds for active listening and my Sennheiser over ears for serious listening thanks. :)

When you say any Windows 8 device, does that imply that they work with windows 8 pc's and tablets? Wish the pause and volume functions on my Nokia purity hd's would work on my windows 8 pc :-(

Yes. Working on windows 8 devices means that it works on devices that run windows 8. Hope that clears it up for ya.

I spent $100 on my Bose in-ears a few years ago.... I already put my preorder in. I'm a happy camper!

I'll wait for the Nokia cloud, considering these cost more than my phonew

I don't know how, or why, but I initially read that as "considering these cost more than my nephew" I was so confused.

Lol it was supposed to say phone but I guess the w snuck in there

Funny thing I skim read too and saw the same thing :-o

Now that my Bose got a ride in the washing machine for the second time (they are still working though), I might pick them up but they don't look particularly comfortable :/

i am happy with my sony MH1
thats awesome and worth money

so do the buttons controll everything, cause ive been looking for a 3button flt cable in-ear headphone and cant find any that say Windows compatible

Yes they are fully compatibale from my experinace with the nokia lumia 710. I owend a pair but the rubber around the drivers started to peel and I tried to get a refund but endded up with a Sony DRCBTN40KB & a Sony DREX12IP.
I am now contimplating getting a single button heaset because all the compatible three button heasets are too expensive.

I'm good with my WH-208, so no thanks

I loved them too but I didn't like the connector that much. My favorite part is that it had only one opening in the driver and that is in your ear. I was keen on buying a replacement but I can't really get them in my country.

Looks really decent. Although I never really like spending lots on headphones because I only break or lose them. I love the ones that came with my Lumia 920. These would be handy to have in the car though. When I buy a car!! Might invest and do my best to keep em safe haha.

Nope not for 120 maybe 75 or 100

I'd prefer to get a Purity Pro around my ears, but for now I'm happy with the in-ear ones that came with my Lumia 920.

I got a pair of the a-Jays Five for my Lumia 920. My main IEM for my L920 has also been the Nokia Monster Purity Pro IEM that came with my L920. I also have tried the SOUL by Ludacris SL99 (40% off at Best Buy),. I preferred the nuetral and transparent sound of the Purity IEMs over the SOULs. The a-Jays Five are some where in between the two, soundwise, but the Fives do have a bit more bass punch and more clarity in the mids, especially on the voices. They have a slightly better soundstage than the Purity, and while a bit more laid-back than the forward-sounding Purity, this presents vey well. Overall, I think they sound the best of the three. The PROBLEM: the controls don't fully work with my L920, bummer : ( The volume down works, but volume up doesn't; other controls seem to be fine. I've contacted both the seller (based in HKG) and a-Jays support directly. Still waiting for a reply. Would like to hear if anyone else is having any problem with the controls.

Update: a-Jays say they tested them with a L920 and they should work, but I have to go back to the reseller. I've sent them back and waiting for my replacement to arrive. Will post another update again when I can confirm that these do work with my L920.

Any further news on this? I just got some for my Lumia 720 and none of the controls seem to work :/ also had no luck with my laptop running Win 8.1

Never mind, they're working fine now :)

If the MEMS technology in that mic is good, then they're well worth it. There are times my Jawbone Era just doesn't play nice with my 920.

Okay:
There are plenty who would call me a snob... But I only wonder if those sound good. I'm not writing them off, as I haven't listened to them. But way too often now these kind of things are more akin to a fashion statement than say...quality sound reproduction.
Anyone...?

Well I managed to win a pair free so I'm hoping they sound good.

currently i have ajays 1, one+ and ajays 3. the ajays 1 (no buttons / mic) and 1+ (has a single button that works really well with my optimus 7, hd7 and 8x) can only be used with volume up to 24-25... anything louder will cause distortion. the ajays 3 however is really good and even sounded better than the monster purity hd in ear (free with lumia 710) when i turn on the beats audio in the 8x. ironic.

i personally can see myself paying that much for haedphone but im not much of a big music lover or what they call audiophile. someone would really have to convince me there are worh it. are there any cheaper flat cable in0ear headphone with 3 button controls that can work with windows phone. i looking to purchase sol rep jax headphones, not that there are compatible but they arein the price range i willing to spend plus i have a bestbuy $25 gift card. ny suggestions

90 dollars for some unknown brand earphones just because there 'made for windows phone' based on the fact that it has a mic? No thanks

I got the ones that Nokia are going to start selling in partnership with Zound.
They come in various colors. They dont have the Nokia colors yet because they have not launched but the models are the same.
They are three models, the boom, the knock and the pop
http://www.coloud.com/boom#intro

I have had my a-jays five for a couple of weeks and I can just say there is no other headphone in this pricerange that got better sound or build quality, just fantastic. http://wmpoweruser.com/review-a-jays-five-for-windows-headphones/?utm_source=twitterfeed&utm_medium=twitter&utm_campaign=Feed%3A+WmPowerUser+(WMPowerUser
Windows Central Newsletter
Thank you for signing up to Windows Central. You will receive a verification email shortly.
There was a problem. Please refresh the page and try again.