Deezer preview update for Windows 10 adds support for its Premium+ service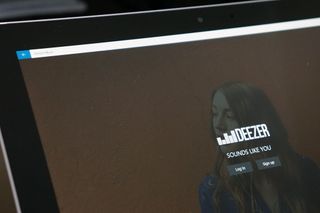 The music streaming service Deezer launched its Windows 10 app for PC and Mobile in a preview version earlier in March. Now the latest update appears to add support for its Premium+ service.
While there is no published list of what's been updated, the new ​1.3.5 version now allows access to the €9.99 a month Premium+ service on Deezer. It offers better sound quality (320Kbps), along with the ability to download playlists and albums for offline use. If you notice anything else that's new in the updated Deezer app, please let us know in the comments.
Thanks to Mihailo for the tip!
Download Deezer Preview from the Windows Store (opens in new tab)
I'd like this to be available in the US, I think the only way to get it in the US is if you buy one of their partners devices that comes with a subscription to Deezer correct?

Available with Cricket using GSM device.

First thing I thought seeing this was Cricket had a native W10 device incoming, no one else uses it. Posted via the Windows Central App for Android

In doing some research on the Cricket Deezer service, it seems like you're limited to crappy audio quality (96kbps?) and one device, period. You can't use it on a computer. Do you have the service? Is that true?

I had it from Nov-Jan, only used it on my 920. I haven't tried the new W10 preview app on the phone since I cancelled the service. The settings in the older app allowed different bitrates depending if on WiFi or not. I believe 320k was mentioned on WiFi. The app seemed to use much more data streaming discovery music using cellular data compared to MixRadio, which is one reason I cancelled the service. I never tried using it on my pc or surface.

It buffers/downloads the song almost instantly so if you skip between songs it eats data quickly. I wish it could just bufffer like 20s ahead instead downloading the whole song instantly.

Good to know, thanks. I enjoyed the music catalog and how quickly albums downloaded.

Wen in US? Zachary Bowling - ZAD Apps

Great , saavn add saavn pro to windows10 please

I thought Premium Deeper was $5.99. Did it increase without recently?
Pitching a tent on Mars.

Still doesn't negate what he's saying. I also know Deezer to be $5.99

Be careful...Premium Deeper might be a scam.

The ability to download albums and songs to the playlist was there before if you are a premium+ member

Just updated & now it load alot quicker. They have added the ability to now add or remove songs to & from a playlist. Seems that they still haven't fixed the app settings not opening tho.

All the Premium+ features were there already before, or at least were working for me :D Posted with the Windows Central app for Windows 10 on HP 250 G1 notebook. It is a scary old monster, I think :D

I wonder if this will force Spotify to offer better support!

Hmm add to playlist function does not seem to work I'm afraid.. Too bad, was really looking forward to that! Oh well, waiting for finished release.. Posted from Windows Central for Windows 10

Yes, I'd like one of your lemonades, please.

"along with the ability to download playlists and albums for offline use."
Has been here since the preview came out....

Because I feel like there has to be something better than Spotify, which is good, but leaves much to be desired until they revamp as a UWP app, I just made a Deezer account. After much poking around on their website, I saw at the bottom of their page a link for BOSE customers. Coincidentally my sister has a SoundLink Bluetooth speaker from BOSE and I was able to use the SN to register as a US citizen. No SONOS or Cricket required. Loaded the app on my Lumia and SP3, looking forward to trying it out over the next few days. TLDR: if you are a US citizen and have a BOSE SoundLink device or know someone who does. Grab the SNand you can create a premium+ account. 30 Days free, then $4.99/month for 12 months, then $9.99/month after that. +Surface Pro 3 i5 256 GB 8 GB

...Ok, so a couple of songs in, and already the app is much faster than Spotify. Audio doesn't seem to hiccup when exiting and re-entering the app either through Start screen tile or clicking volume up or down then tapping on song name or artist name on volume slider drop down. So far I give it a thumbs up, but still early to say if I'll keep it past the 30 days free. Good job Deezer!! +Surface Pro 3 i5 256 GB 8 GB
Windows Central Newsletter
Get the best of Windows Central in in your inbox, every day!
Thank you for signing up to Windows Central. You will receive a verification email shortly.
There was a problem. Please refresh the page and try again.