Dell pushes out Ambient Light Sensor fix for Venue 8 Pro tablet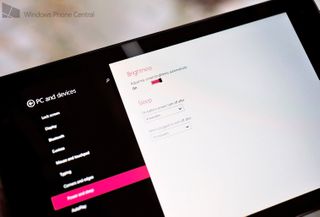 Between the various sales, discounts and all around good word-of-mouth, the Dell Venue 8 Pro, featuring Windows 8 (x86) on an 8-inch tablet, has become a mini-hit this holiday season. In fact, we wouldn't be surprised if many aren't given out as Christmas gifts in two days.
One complaint about the otherwise stellar device is the ambient light sensor. Out of the box, the brightness on the Dell is very dim. That's surprising if only because throwing it into manual control (instead of the default auto adjust), you're treated to a very bright display—easily the brightest of the all the 8-inch Windows tablets on the market. The reason it's so dim? To preserve battery life and rake up that 10 hour rating. Unfortunately, Dell's settings are too aggressive.
Luckily, they seem to be listening. A new patch came out a few days ago, featuring new ambient light sensor settings, which will optimize them for better performance. The update is just 2 MB and it will only take you a few moments to install.
So how is it? It's a lot better. We just compared it to our Toshiba Encore, which has more aggressive lighting adjustment and it now behaves in a similar fashion. In short, when you put the tablet into direct light, after about five seconds it will ramp up to a suitable level of brightness. Covering up the sensor will dim the screen, once again, in about five seconds. It's still a bit dim, but it at least adjusts to acceptable levels now.
If on your Dell now, just follow this link on their support site (opens in new tab) to download the patch. Also note that there was a BIOS update (opens in new tab) on December 9th.
How's your Venue 8 Pro been treating you? Let us know in comments.
Thanks, Diego, for the tip!
Windows Central Newsletter
Get the best of Windows Central in in your inbox, every day!
Daniel Rubino is the Editor-in-chief of Windows Central, head reviewer, podcast co-host, and analyst. He has been covering Microsoft since 2007 when this site was called WMExperts (and later Windows Phone Central). His interests include Windows, laptops, next-gen computing, and for some reason, watches. Before all this tech stuff, he worked on a Ph.D. in linguistics, watched people sleep (for medical purposes!), and ran the projectors at movie theaters because it was fun.
Cool. I was having problems with this issue.

Now if they could get connected standby to work, w/o shutting the tablet down, with only an ambiguous way to turn the unit back on, my main issues will be solved.

I'd like to know more about this issue - could you please give more details? Thanks!

My unit shuts down completely, unless I change sleep settings to "never," for both plugged in and not plugged in, settings. Then, I have to hold the power button down for 10 seconds, release, and then hold power for 2 seconds, to get it to boot again. Its tiresome...

I always leave mine at full brightness.

how does this work for everyday consumers? I realize we can proactively download and update drivers, but will this update eventually be pushed via windows update to regular users who aren't aware? How does windows 8 handle driver updates? Is it still the responsibility of the individual user, for example if someone doesn't know this exists they will never get the update? Just curious...

Good question. Pretty sure it will be pushed out by MS eventually, but for now, it's direct. Dell does have an updater app that should fetch these.

I wouldn't count on anything coming to Windows Update soon. One of the issues with Intel-based Windows tablets is that their makers treat them like any other PC. Dell's so-called 'Update' software has yet to identify a single one of these driver or BIOS patches on my Venue 8 Pro. Unless you are a serious PC enthusiast, I think most ordinary people will be much better served with a Microsoft-branded tablet (Surface or Lumia) where device updates simply happen, as on iOS.

Wierd, mines been picking up updates in its scans.

My dell app didnt pick up any updates, I had to go to online support from the app to download and install them manually.

Dell has included apps that you can run to check for updates. You can also set it to give you a toast notification when updates are available. Now, if they would fix the stylus problem...

I contacted support and had them ship me a new stylus because my old one worked only intermittently and even then hover-clicked like no other.
The replacement they sent works great.

I'm giving one out for as a Christmas present. Hopefully these are selling well enough for to renew Dell's interest in making more Windows 8.1 tablets. Btw, does anyone know if the keyboard and digitizer are available in any stores or is it only available through the Dell website?

Just Dell for now but they still haven't shipped yet.

Bummer...between the accessories for this and the keyboard for the Nokia 2520, I wish the respective companies would have released them alongside the tablets. Thanks for the info!

These are weeks out on dell's site. I placed an order some time ago for the stylus and case and the expected delivery date slipped from the 17th to the 26th. Ouch. However, the MS store in Scottsdale had a bunch of cases and styli (?) in stock. I was able to use the OneNote coupon by adding a $5 pair of headphones. Christmas saved!
Oh and as far as I know, keyboard hasn't been released yet.

Ahh, yeah I should swing by one (or both) of the Microsoft stores near me to see if they have anything in stock.

Looks like the folio case is back in stock at the online MS store. Stylus still isn't listed, but definitely stocked at my B&M.

Thanks. Do you know if it only works with the Dell stylus or are there 3rd party options that work just as well?

I bet someone has already had that question: http://forums.wpcentral.com/dell-venue-8-pro/252962-dell-active-stylus-only-option.html

Is nokia able to make windows 8 tablets like dell venue 8 ?

I think he's asking if Nokia will also make an 8-inch tablet

He may be asking if they will make a non RT version as well...

Still have mine for sale in the Marketplace. :)

My Mom is enjoying her DV8 pro, I'll have to get this update on hers. Thanks for the tip.

I love my Venue 8 Pro. Just wish they could get the crappy stylus problems resolved. It's basically useless for OneNote. Such a letdown compared to my Surface Pro. The stylus is a definite black spot on an otherwise fantastic device. They should have just gone with time tested Wacom technology.

Some styli are better than others... Better, not great... I have three now, and one works OK with oneNote. So if you are having big problems, make sure to get a replacement.

Yep, my replacement stylus actually works really well.

Mine came in the mail yesterday, had zero problems attempting to draw. But I really saw no lag of any sort while drawing and or writing. Make sure you have the firmware for the stylus.

I have my brightness fixed at 25% but I'll give the new adaptive algorithm a shot.

Anyone know if/when we will get a fix to allow Halo Spartan Assault to display properly on the DV8Pro? Other than that, love the DV8Pro!

Yes, it would be great to be able to play this on the DV8P. I have not heard of a fix as of yet though. Hopefully they are actually working on one.

Mines working ok. I like the Miracast feature the most. Way too many updates for such a new device. They need to do a better job at reading what's already updated and what needs updating through the automated process. I'm not having any issues with it but I give that 1 year until the warranty expires. :)

How do you use Miracast? I've read through the forums but got confused due to all the problems and different fixes people came up with. Do I need some external hardware to make it work?

Once you update the drivers, firmware and BIOS, it actually works pretty well. Just do charms - devices - project - add wireless display and you're good to go. You'll need a Miracast-compatible receiver, such as the PTV3000, attached to your TV/monitor.

http://forums.wpcentral.com/dell-venue-8-pro/254003-actiontec-screenbeam-pro.html You can use this one as well.

I'm having the issue but I'll check it when I get home.

Hopefully all the updates for the DV8P they also do for the DV11P because they are the exact same issues!

I'm having a similar issue with my 1520.. With the brightness auto adjust off, the screen dims by itself.. I have my brightness set to high, and when I unlock the device the screen is at its full brightness, but after a few seconds it dims a bit.. It also gets stuck on low, and the device needs to be locked, then unlock to bring the brightness back up.. Either way the screen still dims without me wanting it to.. Is this normal❔ Has anybody noticed this with their 1520❔

The memory on mine is already almost full. Is there any way to use SD card to install apps?

There is some kind of registry tweak you can use for apps, but I'm not sure I'd go there. I freed up a bunch of space on mine by moving SkyDrive (even online-only uses some space for the symbolic links), libraries and Office 2013 to the SD card.

I'll try anything to free up some space. Is there somewhere I can find how to do this?

To move skydrive, you need to use file explorer in desktop mode. right click the skydrive folder, select properties, select Location tab. On the Location tab there is a move button.

Yeah, the last thing you want to do is start messing with registry tweaks on an eight tablet device. Sometimes, I can really see the appeal of iOS (and WinRT).

I have another issue which bugs me more, touch precision. I have installed their all updates and also reset my dvp but still some area is screen are unresponsive when in landscape mode, to get past I switch to portrait. This especially happens in using charms menu. I checked a display model at Costco, it did not have this problem. Other folks facing or its only my piece.

I haven't had that problem with mine. Have you updated the touch firmware?

I have updated it many times from their drivers page. Also did a complete factory reset twice, updated firmware. I always get the the message the Synaptics touch controller is upto date, yet I face those issue. In thos particular area I don't see touch points (through a touch cirlcle) at all :(

After this message I thought something was fishy with my device alone. Started mspaint and tried to draw on entire dvp, it had a one inch of dead touch screen around right top of screen where search charms opens. All this while I thought it was a software or driver issue. Just got off with Dell tech support and they are sending a replacement device. Its holiday time so its going to take a while before I get the replacement. Anyways, rest of touch screen works which is enough for me to play SvZ and Despicable Me in the interim :) Anyways thanks for the confirmation Jack, I would have been lazy in doing this test and making the call otherwise. For those curious, running system tests is easy in dvp8. Shutdown device, power on while holding volume up starts all the tests for you.

I'm glad you got it figured out. The first one I had failed the firmware update, which completely disabled the touch screen. I swapped it the retailer, but I'd be frustrated if I had to wait.

Great idea for testing for dead touch zones! Seems obvious, but I never would've thought of it.

I'm giving one as a gift, great tablet.

I picked one of these up at Microcenter for $183 and a 32GB card for $6. Best little tablet I've ever used. I have a Surface Pro 2 for development, but for around the house, this is perfect.

Is the toshiba encore display as good as the Dell Venue? Can someone tell me, i want the encore because of the miniHDMI but i love great displays. Thankd!

The best windows 8 tablet at $99 , over that it's good, but lacks some stuff. $200 should be next year's price.

Works nice with pen and folio case. Except that the pen has a small easily removable tip that if lost renders it unusable. Support sending me a new one, but I suspect they will have to do that every week.
Windows Central Newsletter
Thank you for signing up to Windows Central. You will receive a verification email shortly.
There was a problem. Please refresh the page and try again.