Dell and Microsoft introduce a stunning new XPS 15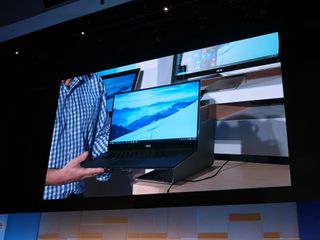 After announcing the stunning XPS 13 earlier this year, Dell has now launched a 15-inch model with the same design, dubbed the XPS 15. Revealed at Microsoft's Computex event, the notebook features a QHD+ Infinity Display, with Dell redesigning the XPS 15 for Windows 10.
No word as yet on when it'll be available or pricing, but we should know more in the coming weeks. How many of you were holding out on a 15-inch model of the near bezel-less XPS 13?
Do those think come with a dock port and additional graphics card like Nvidia NVM?

I think they're keeping that aw exclusive

Still waiting on the 17" version...

Same. Waiting for 17" to replace my wife's Precision M90 with XP. Lol. It won't die and she loves that ancient thing. It weights like 12 pounds. Time to join the 21st century.

That would be an awesome laptop! Also very expensive probably...

Awesome! 15" in the size of a 13"!!! This will probably be my next laptop! :)

I wonder what the configuration will be in this sweet machine.

Dell won't say. A strong "No comment" to literally every question.

They'd be crazy not to have a 16Gb RAM option...

The current XPS 15 is pretty badass, so this one will probably be pretty high end, hardware-wise, as well...

The display is too sweet to look away from, hope the graphic is amped up.

I still enjoy my XPS 15. Sure, I'm not going to buy it. ​

I purchased XPS 15 last September and I use my XPS 15 for my daily laptop, it's pretty great enough and I decided not to upgrade my laptop to this model.

So I'm assuming 15" screen in a 13" bezel, correct?

Aaah... quoting from my own comment, "I'm assuming". So yes, it is an assumption, we can only infer from the pictures - and it does look like a 13" chassis. Dell isn't really saying anything, showing goodies and then playing coy :)

Basically. Wouldn't even let me touch it.

Hallelujah! They did it! Way to go Dell!!!

This is super stuff from Dell...They are just kicking ass in the high end premium segment and becoming cool ...

I hope they managed to squeeze a RealSense camera into that tiny little bezel. Be nice to incorporate the Hello feature of Win 10. Maybe that's what they mean by Windows 10 ready. I'd buy this, but it'll make a tough decision between this and SP4. Good problems to have, right?

If this is less than 3.5 lbs with 10+ hours of "real usage" battery life then it's an instant winner. (and improve the trackpad over the xps 13)

The current XPS 13 has a Microsoft precision trackpad as far as I know. What's wrong with it?

When it shipped, it was pretty flaky. From all accounts, an update (presumably firmware) in March fixed the issues though.

Huh. Never had any real issues with mine. Still think it could be better but maybe I just didn't notice.

I've been waiting for this, but the keyboard has me a little concerned. I don't care about the lack of a number pad, but judging by all the empty space around it, they didn't change the keyboard at all to suit the larger form factor. If I didn't buy the XPS13 for fear the keyboard would be too cramped, the XPS15 might not end up being a solution.

I still use my xps 15 l502x model (2011) model. It runs without ay problem. I got a laptop from office so thinking to make xps15 as server ass battery of it is down and it weighs 3 kgs!!

Looks better with borders in my opinion
Windows Central Newsletter
Thank you for signing up to Windows Central. You will receive a verification email shortly.
There was a problem. Please refresh the page and try again.