Dell Latitude 7490 review: Check out that battery life
Key updates inside make this an impressive business device.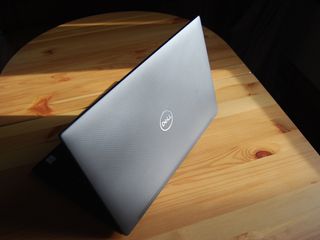 Dell's been busy updating its collection of laptops, and the Latitude 7000-series — primarily suited for business folks — has not gone untouched. However, the new 14-inch Latitude 7490, the refreshed version of the 7480, holds onto many of the same attributes, receiving most notably eighth-gen Intel Core processors (CPU), a low power panel option, and an "Active Steering" antenna for better Wi-Fi reception (opens in new tab).
This is undoubtedly a laptop with a high build quality and the durability needed to withstand time in the field, and thanks to decent performance and remarkable battery life, it remains a smart choice in the business arena.
A few notable upgrades
Dell Latitude 7490
Starts at about $1,050 (opens in new tab)
Bottom line: The Dell Latitude 7490 is mostly the same as its predecessor — the previous Latitude 7480 — but it's been updated where it matters most.
Pros
Outstanding battery life
Plenty of configurations
Performance meets expectations
Durable, understated chassis
Decent port selection
Cons
Small touchpad
Price rises quickly when upgrading
What you'll love about the Dell Latitude 7490
The Latitude 7490 looks a lot like the 7480, and that's OK. You can tell it's a business laptop before you open it, but that doesn't make it unattractive. The usual soft-touch black paint is now joined by a carbon fiber finish covering the entire lid — it looks like the same stuff used on the XPS palm rests — with Dell's logo stamped in the middle.
The single hinge is plenty tight, and you won't have to worry about your lid moving around if you're working in a moving vehicle. The soft finish continues on the palm rests and around the keyboard for comfortable typing, though it quickly picks up oil from hands.
The 1080p matte touch display isn't using Dell's new "super low power" panel, though the touch panel is embedded for a lighter overall device. Colour and contrast are certainly not the worst I've seen from a business device, and coupled with the 15W Intel Core i7-8650U CPU, I got about 15 hours of life from the 60WHr battery, even with performance cranked up and brightness at a usable 40 percent. With a non-touch, low power panel (that's expected to made available this spring), that battery life would no doubt climb considerably. I'm not a big fan of touch displays on clamshell notebooks, but in testing it worked as expected.
| Category | Spec |
| --- | --- |
| Form factor | Clamshell notebook |
| Display | 14-inch FHD (1,920 x 1,080) touch |
| Processor | Intel Core i7-8650U vPro |
| Graphics | Intel UHD Graphics 620 |
| RAM | 8GB DDR4-2400MHz |
| Storage | Samsung PM961 256GB PCIe SSD |
| Battery | 60WHr |
| Ports | Three USB-A 3.1, RJ45 Ethernet, Thunderbolt 3, HDMI 1.4, Smart Card reader, microSD, uSIM, 3.5mm audio jack |
| Size | 13.03 in x 8.8 in x 0.69-0.70 in (331 mm x 220.9 mm x 17.47-17.9 mm) |
| Weight | 3.11 pounds (1.4 kg) |
| OS | Windows 10 Pro |
Bezels around the display are an average size, and an IR camera for Windows Hello is seated above the screen. There's also a fingerprint reader set into the right palm rest, though it's far enough away that it won't hit your palm while typing. The camera was blazing fast and I barely had a chance to see the login screen, but the fingerprint reader took slightly longer than usual.
Dell knows how important security is in the business sector, and the 7490 has been equipped with necessary hardware. You're getting a contactless NFC Smart Card reader, a FIPS 201 Smart Card reader, a TPM 2.0 chip, Dell's ControlVault 2.0 system, and remote management thanks to the vPro CPU. You can also toss in mobile broadband capabilities in order to stay connected just about everywhere.
The 7490 I have here is one of the higher-end configurations (about $2,100) (opens in new tab), with vPro quad-core CPU, 8GB of DDR4 RAM, and a blazing 256GB PCIe SSD with a read speed of 3,411.9 MB/s and a write speed of 1,222.4 MB/s. I ran a PCMark 8 Conventional benchmark test as well and came back with a score of 3,076. Bottom line here is that as long as you don't grab a baseline model (Intel Core i3 CPU, 4GB RAM, 128GB SATA SSD) you shouldn't have an issue getting through a day's work. Ports won't slow you down either, thanks to a healthy selection. Everything is well spaced so that you can use multiple peripherals at once without any traffic jams.
Image 1 of 4
What you'll hate about the Dell Latitude 7490
One of the spots I can see potential customers getting flustered over is the steep pricing incline. There are admittedly a lot of different configurations, ranging from a 768p non-touch display with seventh-gen Core i3 and 4GB of RAM, all the way up to and surpassing the model I have here, and quality business laptops don't generally come cheap. However, the introductory price of $1,049 (opens in new tab) won't get you a device that can easily handle multitasking, and the high-end models with all features checked easily exceed $2,000.
Aside from that, the only other issue I had was with usability. The keyboard is great for long days of typing, with plenty of key travel, backlit keys, and perfect spacing. In the middle of the keyboard is a nub with physical buttons below, similar to the TrackPoint on Lenovo's ThinkPad line. Again, this works as intended. The Precision touchpad, however, has its size cut down by a second set of physical buttons below. I'm used to a large touchpad without any extra buttons, and though sensitivity out of the box seems to be upped a bit to compensate, my fingers ran off the edge. If you like a large surface, this one will take some time to get used to.
Image 1 of 2
Dell Latitude 7490 bottom line
Dell has seemingly kept the quality chassis and design of the 7480 while updating a few key components inside. It's nothing flashy, but the Latitude 7490 has outstanding battery life even with performance cranked all the way, and plenty of security features are readily available.
The keyboard is comfortable, and while the touchpad might be on the small side, the glossy touch display works well. There's an attractive introductory price that will no doubt bring a lot of people to the 7490's page (opens in new tab), but prices rise quickly for a device with the type of performance that I tested here. In any case, it's hard to dislike the laptop as a complete package, and it will surely prove itself as a worthy business partner.
See at Dell (opens in new tab)