Dell XPS Tower SE 8910 review: A budget-priced PC powerhouse
By Daniel Rubino last updated
Dell's XPS Tower Special Edition (8910) is a VR-ready desktop PC with a GTX-1070 that starts at only $1,249. We were also pleasantly surprised by how well it performed with just a Core-i5 processor.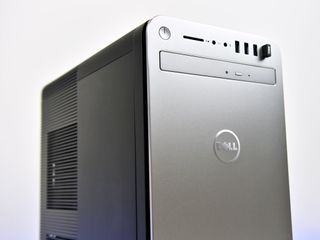 Desktop PCs are trying to make a comeback in 2017 and Dell's XPS line, which always stood for premium, is leading the way in the traditional category. While all-in-ones get the sexy chic, the now "classic" tower is still the go-to design for those looking for balanced cost and the ability to upgrade down the road.
The XPS Tower Special Edition falls in line with the premium class because it's already an upgrade from the XPS Tower. Featuring anodized aluminum and diamond-cut edges, the Special Edition brings a little extra flair.
After spending a few weeks with the XPS Tower Special Edition, here's what I think about it.
Configuration options galore
Faithful to all desktop tower PCs, Dell offers extensive configuration options for the XPS Tower and XPS Tower Special Edition. While options such as optical drives, including a Blu-ray burner, are nice we'll cut to the chase and talk about core components.
Category
Specs
CPU options
6th-gen Intel Core i5, i7 | 6th-gen Intel Core i5K, i7K with overclocking (SE only)
Chipset
H170 or Z170 with Intel K
RAM
8, 16, 32, 64GB
DDR4 at 2,133MHz
GPU options
NVIDIA GeForce GT 730 2GB DDR3
NVIDIA GeForce GTX 745 4GB DDR3
NVIDIA GeForce GTX 750Ti 2GB GDDR5
NVIDIA GeForce GTX 960 2GB GDDR5
NVIDIA GeForce GTX 970 4GB GDDR5
NVIDIA GeForce GTX 1070 8GB GDDR5 (SE only)
NVIDIA GeForce GTX 1080 8GB GDDR5X (SE only)
Storage
1TB 7,200 rpm SATA hard drive
2TB 7,200 rpm SATA hard drive
2TB 7,200 rpm SATA hard drive + 32GB M.2 Solid State Drive
256GB PCIe M.2 SSD + 2TB 7,200 rpm SATA hard drive
256GB or 512GB PCIe SSD
Wireless
802.11 ac (2.4GHz, 1x1) + Bluetooth 4.0
802.11 ac (2.4GHz & 5.GHz, 2x2) + Bluetooth 4.0
Media card
SD card reader (SD, SDHC, SDXC)
Ports
Front: (4) USB 3.0 Ports, mic-in, headphone, SD card slot
Rear: (3) USB 3.0 ports, (1) USB 3.1 port, (2) USB 2.0 ports, (1) USB 3.1 Type-C port, (1) HDMI, (1) Display Port, (1) Gigabit Ethernet, audio ports (5.1 channel (3 Jack)
Expansion
Up to 4 total 3 HDD/1 SSD
ODD Four PCIe expansion slots (x1, x1, x4, x16)
Four DIMM slots (supports up to 64GB)
Power supply
350W or 460W
Keyboard and mouse
Dell Multimedia Keyboard - KB216 – Black
Dell Laser Scroll USB 6-Button Silver and Black Mouse
Size
Height: 15.22" (386.5mm) / Width: 7.09" (180mm) / Depth 14.02" (356mm)
Weight
Starting 22lbs (10Kg) depending on config
Chassis
Minitower (23.7L) XPS Tower - black Only / molded plastic / sheet metal
XPS Tower Special Edition - Silver brushed aluminum face with diamond cut edges / molded plastic / sheet metal
As you can see, Dell lets you mix and match to your heart's content (and wallet's capacity).
The configuration I'm testing here is the baseline version with Core i5-6400 (2.7GHz base clock and 3.30GHz Turbo Boost), 8GB of RAM, and 1TB storage on a 7200RPM hard disk drive (HDD). That version retails for $999, and it has the optional NVIDIA GTX 1070 graphics card, with 8GB GDDR5 for an addition $250, bringing the total price to $1,249.
Those specifications make it a VR-ready machine (even with the entry-level 8GB RX 480) for Oculus Rift or HTC Vive. As you'll see below, the NVIDIA 1070 is no joke for GPUs.
For expansion, there are four DIMM slots for RAM and four expansion slots for additional storage, sound cards, PCIe SSDs or GPU cards for later customization.
Dell XPS Tower Special Edition: Fit and feel
Dell's XPS line has always been about quality, and that carries over with the XPS Tower Special Edition. Featuring "silver brushed aluminum face with diamond cut edges" it's not a bad-looking tower at all, and it's certainly better than the Dell OptiPlex PCs I remember from college. Nonetheless, when I showed people the tower, the reaction on social media and in real life was often met with shrugs and indifference. No one hated it, but the consensus seemed to be that it's a bit boring.
Considering the XPS line is more about being professional than gamer flair, I get what Dell was going for here. The tower is not meant to be the focal point in your room, unlike custom gaming rigs, but rather a charming, handsome and non-spectacular design.
Regarding quality, it's top notch. The metal in the front looks nice, and the vented grills on top for the main exhaust fan match the design.
What makes the XPS Tower neat, however, is the tool-less chassis. Sliding up two switches on the back lets you take the side door off and swing out the power supply to access additional expansion slots. It's not the most elegant design, like flipping doors on a car, but it works and is certainly better than those thumb screws and "slide-to-lock" doors I have seen on every tower design for 20 years.
Taking apart the XPS Tower Special Edition is like removing Darth Vader's helmet, and the pieces just peel away to reveal the mechanical wonder underneath. Removing the top cover gives you access to the main exhaust fan for occasional cleaning. It's all rather clever.
Classified as a mini tower, the Special Edition is relatively small with a height of 15.22 inches (386.5mm). You could easily put it on your desk in the corner (my advice) or put it on the floor.
For ports, you get four USB 3.0 Ports, a mic-in, a headphone and SD-card slot all in the front, which are always welcomed. Creatives need quick access to such conveniences during work hours, and this is the kind of design you expect. It's all rather clean looking, too, without being gaudy or too techy.
The rear of any tower PC is never pretty, and that's the case here. Nonetheless, I'm more interested in ports, and the more the merrier. Just as importantly, do we get a good mix of options? Luckily, we do. Dell crammed in four more USB 3.0 ports, two USB 2.0 ports, one USB 3.1 Type-C port, one HDMI, a Display Port, and a Gigabit Ethernet connector.
In case you lost count that's a total of eight USB 3.0 ports, two USB 2.0 ports and a bonus Type-C port for a hint of future-proofing. I have zero complaints regarding port selection as there is a little of everything to make everyone happy. Moreover, you are unlikely to need a port extender for this tower, which is great.
Performance and benchmarks: More than good enough for gaming
There are dozens of configuration options for the XPS Tower Special Edition, so performance will, of course, vary widely. I tested the entry-level version with a NVIDIA GTX 1070, a powerful GPU. Without the NVIDIA GPU option, the system falls back to a still decent AMD Radeon RX-480 with 8GB of GDDR5 memory.
I'm not a fan of spinning HDDs, but at least Dell limits it to the 7,200RPM version, which is about as fast as you'll get for one. The hard drive is fine, and Windows 10 works just great with it, but when transferring multiple files from different sources, while downloading something from the internet, the transfer rate comes to a crawl.
Being a tower, though, you can later upgrade it to full SSD using something like an affordable 500GB Samsung 850 EVO for $160 (opens in new tab). I wish Dell would just offer that option, but desktop users tend to expect one- or two-terabyte systems, which get expensive quickly when going all SSD.
Speaking of, Dell limits the Rapid-Hybrid option, which is a combo of SSD and HDD working in unison, for the $1,699 and $1,949 systems. That's a bit of a shame. Such a setup lets the OS run in the fast SSD space while the slower HDD can act as mass-storage.
CrystalDiskMark (higher is better)
| Device | Read | Write |
| --- | --- | --- |
| Razer Blade Pro | 2,571 MB/s | 2,467 MB/s |
| Razer Blade (960 EVO) | 2,079 MB/s | 1,809 MB/s |
| MacBook Pro 13 (2016) | 1,549 MB/s | 1,621 MB/s |
| Spectre x360 | 1,332 MB/s | 589 MB/s |
| Surface Studio | 1,327 MB/s | 512 MB/s |
| HP Spectre x360 15 | 1,128 MB/s | 862 MB/s |
| Dell XPS Tower SE (HDD) | 133 MB/s | 150 MB/s |
It's not fair to compare the speeds of a physical HDD to that of a digital SSD. Nonetheless, I want to put into perspective just how dramatic of a difference it is even with a 7,200 RPM HDD. Using an HDD does not affect gaming performance at all once loaded, because the GPU, CPU and RAM are doing a lot of the work. Where it matters is for transferring files or the initial loading of large apps. Sure, an SSD will get you faster game saves and loading of cut scenes, but I can't say using an HDD for gaming is at all bad.
Turning to the CPU and overall PC marks, and even at this baseline configuration the XPS Tower SE does a great job with a Core i5 and just 8GB of RAM.
PCMark - Home Conventional 3.0
| Device | Score | Comparison |
| --- | --- | --- |
| Dell XPS Tower SE Core i5 | 3,420 | Better than 67 percent of all results |
| Surface Studio 980M | 3,281 | Better than 67 percent of all results |
| Razer Blade Pro | 3,223 | Better than 63 percent of all results |
| Spectre x360 15 | 2,472 | Better than 41 percent of all results |
The Dell XPS Tower SE – even with a Core i5 – does very well here, besting the Surface Studio and even the Razer Blade Pro. Going with a Core i7 and GTX 1080 in the XPS Tower Special Edition would only increase that lead, probably by a lot.
The NVIDIA GTX 1070, however, performs quite well. Putting it up against the Razer Blade Pro, which sports a more powerful GTX 1080 and a Core i7-6700HQ CPU, and the XPS Tower Special Edition – even with a Core i5 – comes close to matching it.
Using 3DMark's Time Spy, which measures DirectX 12 performance, the Dell XPS Tower is slightly behind the Razer Blade Pro but way ahead of the anemic Surface Studio.
3DMark - Time Spy (higher is better)
| Device | GPU | 3DMark Time Spy |
| --- | --- | --- |
| Razer Blade Pro | NVIDIA GTX 1080 | 5,591 |
| XPS Tower SE | NVIDIA GTX 1070 | 5,003 |
| Surface Studio | NVIDIA GTX 980m | 2,862 |
Furturemark's 3DMark Fire Strike is reserved for high-end PCs and really stresses the GPU specifically. Again, the GTX-1070 even with a Core i5 does a very nice job.
3DMark - Fire Strike (higher is better)
| Device | GPU | 3DMark Fire Strike |
| --- | --- | --- |
| Razer Blade Pro | NVIDIA GTX 1080 | 12,976 |
| XPS Tower SE | NVIDIA GTX 1070 | 12,315 |
| Razer Blade | NVIDIA GTX 1060 | 9,100 |
| Surface Studio | NVIDIA GTX 980m | 7,961 |
| HP Envy 34 | AMD RX460 | 4,302 |
For Geekbench 4.0 the XPS Tower Special Edition also does quite well for general performance.
Geekbench 4.0 Benchmarks (higher is better)
| Device | Single Core | Multi Core |
| --- | --- | --- |
| Surface Studio 980M | 4,414 | 13,738 |
| Surface Studio 965M | 4,200 | 13,323 |
| Dell XPS Tower SE Core i5 | 4,103 | 11,467 |
| Razer Blade Pro | 3,660 | 12,325 |
| XPS 13 (9360) Core i7 | 4,120 | 7,829 |
| Surface Book 965M | 3,977 | 7,486 |
The Tower Special Edition's Core i5 processor – as expected – lags slightly behind the Turbo boost capabilities of the Core i7. Nonetheless, it still does quite well, beating a Razer Blade Pro in the process.
For CUDA scores, NVIDIA's technique of using the GPU for general processing, including video rendering, the Tower SE is near the top of the bunch.
Geekbench 4.0 CUDA (higher is better)
| Device | Score |
| --- | --- |
| Razer Blade Pro GTX 1080 | 193,311 |
| Dell XPS Tower SE GTX 1070 | 178,170 |
| Razer Blade 14 GTX 1060 | 139,603 |
| Surface Studio GTX 980M | 85,580 |
CUDA scores here reveal what we already know: the GTX 1080 is stronger than the GTX 1070, which itself is much more potent than the top-tier Surface Studio's GTX 980m.
At least in raw numbers, the takeaway is even with a baseline PC, the NVIDIA GTX 1070 does a lot of the heavy lifting for graphic-intensive tasks. That's excellent news, because for a little extra money you could get an accomplished gaming machine for $1300.
Putting aside raw numbers, let's take a closer look at some real world gaming. For consistency, I'm using Gears of War 4 (UWP) and Rise of the Tomb Raider (UWP), because both games scale across all types of hardware with ease. The metric I use here: What are the max settings to hit 60 FPS while using Vertical Sync (or G-Sync)?
Gears of War 4 UWP
| Resolution | Graphics presets | Average frame rate |
| --- | --- | --- |
| Razer Blade Pro GTX 1080 | 2916x1640 | Ultra (V-Sync ON) | 59 FPS |
| Dell XPS Tower SE GTX 1070 | 2560x1440 | Ultra (V-Sync; G-Sync monitor) | 60 FPS |
| Surface Studio GTX 980m | 2040x1360 | High (V-sync ON) | 59 FPS |
The GTX 1070 is very impressive. When using a Dell 24 (S2417DG) Gaming Monitor (opens in new tab) with one ms response time and NVIDIA G-Sync, the XPS Tower Special Edition matched the QHD resolution of the display with ease while at Ultra (maxed) settings in Gears. Unless you are gunning for 4K gaming, the GTX 1070 hits a sweet spot.
Rise of the Tomb Raider is another favorite title that offers all types of graphics configuration options to test even the most robust PCs. Again, even with a Core i5 and GTX 1070, the Tower Special Edition impresses.
Rise of the Tomb Raider (UWP)
| Device | Resolution | Graphics presets | Average frame rate |
| --- | --- | --- | --- |
| Dell XPS Tower Special Edition GTX 1070 | 2560x1440 | Very High (V-Sync ON) | 59 FPS |
| Razer Blade Pro GTX 1080 | 2048x1536 | High (V-Sync ON) | 58 FPS |
| Surface Studio 980m | 1920x1440 | High (V-sync OFF) | 56 FPS |
The ability to play Rise of the Tomb Raider on "Very High" settings (maxed out) while still hitting 60 FPS with G-Sync at QHD (2560x1440) resolution is impressive.
As to why it beats the Razer Blade Pro even when the Blade Pro's settings are only "High," it is likely due to some thermal constraints on the GTX 1080, but partially due to differences with the thermal design power (TDP) – 65W for the Core i5, but only 45W for the Core i7. In other words, Rise of the Tomb Raider is relying more on a robust CPU than Gears of War 4.
Dell XPS Tower Special Edition (8910) review: The Bottom Line
When I first received the XPS Tower Special Edition, I was a little worried about having only a Core i5-6400, 8GB or RAM, and a slower HDD. Nonetheless, I was blown away by the performance, which is mostly pushed by the NVIDIA GTX 1070 video card.
Considering the version tested here is just $1,249, I found the overall performance to be just excellent. Of course, you are more than welcome to toss in a Core i7 and even shoot for a GTX 1080. Or you could wait until next year to add those in later yourself with the tool-less chassis, and you'll have some spare cash.
To be clear, the XPS Tower Special Edition is not a gaming machine, nor is it advertised as such. Dell sells a very similar system for gamers – the Aurora R6 (opens in new tab) - with water-cooling, different aesthetics and more aggressive specifications.
The XPS Tower Special Edition is meant for people who want a powerful-yet-affordable tower PC that does not draw attention, make noise (the Tower Special Edition is super quiet, with just a wisp of air flow), and that can be improved upon with ease. Considering cost, design and performance, I think the XPS Tower or Tower Special Edition is a viable option for those who want an affordable and classy-looking machine.
The one thing that keeps me from loving it is the rather unimpressive HDD, which you'll feel when the OS boots or when you run large apps or games. While it does not affect gaming performance, it is a weak spot in 2017. Customers could easily toss in a Samsung 950 EVO SSD though and change everything about this machine for an extra $160.
See at Dell (opens in new tab)
The XPS Tower Special Edition is an excellent non-enthusiast class PC for students or people who want a general computer that can do some very impressive gaming in 2017. Upgrading the motherboard will be challenging due to the small chassis, but that demographic is not the target market anyway.
Pros:
Affordable.
VR enabled.
Quiet operation.
Convenient tool-less chassis for upgrades.
Options for GTX-1070 or GTX 1080 GPUs.
Restrained and refined chassis design.
Plenty of ports.
Cons:
Slow HDD.
Too conservative in looks.
Daniel Rubino is the Executive Editor of Windows Central, head reviewer, podcast co-host, and analyst. He has been covering Microsoft here since 2007, back when this site was called WMExperts (and later Windows Phone Central). His interests include Windows, Microsoft Surface, laptops, next-gen computing, and arguing with people on the internet.
Sounds like something I need to be saving my lunch money for, I always buy Dell Computers.

Good review. However, you really shouldn't consider it having a too conservative look as a negative. By your own admittance the design of the machine is for those that want that more conservative look. It would be like someone calling out a BMW M7 for it's fairly conservative look because it doesn't look like a red Ferrari 488 Spider. By all looks and purposes this is a BMW M7. If anything considering the crowd it is designed for the XPS 8910's cousin, the Alienware Aurora, is the conservative looking one.

I see what your saying and perhaps I should have suggested that the design is uninspiring. Not really a negative, but for people I showed it to they were not impressed by its looks. Totally subjective and 'towers are towers' and all, so I see the point.

Using myself a Thermaltake F31, the looks of the Dell is already to much gaming style for me. I might have overread, but how about noise? I built a similar Rig with i5 6600, GTX1070, 32GB RAM and a 500GB SSD and some silent equipment and hear nothing on normal office work.and a minimal sound when gaming.

Is Dell still throttling the pcie channels from 4 to 1? Had to get an adapter for my XPS 8900 to use the Samsung 950 Pro last year and now just recently the Samsung 960 EVO to take full advantage of the speed. Also, my GTX-1060 is 6 GB, thought the GTX-1070 was 8 GB; your article says 4 GB.

Correct, it is 8GB. Was using some older Dell data. Fixed now. Regarding throttling I don't believe so but it may also depend on which board you choose. I'll dig around.

Both, 1080 and 1070 should have 8GB Memory

$1,300 is not a budget PC price. The i5 is also nothing to be surprised by, it's a great CPU. Kaby Lake isn't a big improvement over Skylake, so having a 6th-gen instead of a 7th isn't a big factor. What's more, an i7 is not a major step up in performance. You get a 100 MHz clock boost and a bump in cache, but the line's claim to fame (HyperThreading) isn't going to be a noticeable improvement for the majority of people. That is especially true in gaming, where heavy threading is atypical. Also, you put near the start that the 1070 is a 4GB card, but it's an 8GB card. Have some time to kill on a day off, so I went and built something comparable, but better: https://pcpartpicker.com/list/MYj8XH That's building on the same CPU and chipset (i5-6600, H170). However, there was no mention of HDD size or the type of optical drive in the article, so I grabbed a standard HDD (WD 1-TB Blue) and a typicaly Blu-Ray drive (not sure if this thing had a B-R drive, but it should). What I did, though, was I bumped the RAM to 16 GB (2x8 GB) I also picked out likely better peripherals (Logitech G105 and G502) and threw in a PSU that is probably a bit better quality. For those not-small increases in hardware, the build ran $1,152. That's with the OS. It's been increasingly difficulty to justify PC building as the gaps between pre-built and self-built prices get smaller. However, I can say with comfort that this Dell is truly overpriced. If I were to cut hardware down to a nearly identical configuration to this thing, I would probalby be around $1,100. For the same $1,300 price tag this tower runs, I could throw in a nice SSD, or go with a GTX 1080 (though I'm an AMD fan and would go with a 480 or wait on the Spring/Summer launch of Vega). Just seems like more of an "old Dell" product than a newer one--bland, unimpressive, and overpriced. There are likely better pre-built options out there, I would imagine. My biggest complaint here, though, is calling $1,300 a "budget-priced PC." That's just not so.

It starts at $999; It's $1249 with an optional GTX 1070 8GB. I can't see how your $1,152 not-assembled is comparable to $1,249 for people who don't want to build a PC. This is a false equivalence on every level. So, for $100 extra Dell puts it together and you get warranty and support from a company. Seems fair to me and not "truly overpriced". I'm sticking with my assessment here. I'm looking at this for people who just want a PC and don't have "time to kill on a day off" to pick parts, order them, and then assemble a PC, which is not trivial if you haver never done it before. Even I stopped building PCs once I started making more money and had no time to spare. I can't be bothered with what is, for all intents and purposes, a hobbyist fetish with building a computer for guys in their 20s and 30s. As noted below, Microcenter is selling this same model of the 8910 for $899 (but in-store only).

The warranty on a pre-built PC is garbage. This thing gives you a 1-year warranty. The indiviauld parts in my build have warranties varying from 2-10 years (ignoring the RAM's lifetime warranty). Also, that "time to kill" was about 20 minutes. There are many resources to get advice on system building that the parts picking is incredibly easy. PC Part Picker's compatibility filter helps. Parts lists on pre-built PCs make going to a place like PCPP and seeing the savings easy. Besides, how is going to Dell's site and not knowing what "GTX 1070" or "i5-6400" mean any different? For most, that RX 480 will be perfectly fine, since they won't be doing VR (talk about big-money hobbyist activities...), and they aren't likely pushing to 4K monitors (again, big-money, hobbyist initiative). If we're getting into what the gaming masses want, it's not this PC. You're not wrong that building can be intimidating, but it also doesn't take long to get acquainted with hardware. As for ordering, it's no worse than going through that mess on Dell's site, not giving you a full breakdown of what you're buying (I'd be annoyed if I bought that, then found out upon arrival that the disc drive's not a Blu-Ray one). That the thing is available for $400 less at MicroCenter (which is great, went there for a GPU and case a month back to set my stuff in a mITX build) is more my point, though. This isn't a budget build, or a budget price tag. I can go to Best Buy's site and find towers with a GTX 1070 that are less expensive. There's this one for $980, which is close to the hardware setup of this Dell, or you have a better one for $1,180, which goes up to a Kaby Lake i7, doubles the RAM, adds a SSD, and still saves you about $100. I went through the parts breakdown to point out the pricing of the PC wasn't good. However, like I said, it's more about promoting this as a "budget-priced" computer. You're at about double the price of a budget PC. It's $350 more than a comparably specced PC from another seller. Margins on self-building have gotten really small over the years (it's why I told a realtive to get his sone an HP tower at Black Friday--you simply couldn't build a comaprable PC for the same price). However, this Dell bucks that trend, both across the industry and for a company that has done pretty well, in my mind, to stop being the behemoth of disappointment Dell was 5-10 years ago.

Dan, it seems to be a bit odd to more or less call those who build PCs poor losers on a site that probably has plenty of them. It may not have been what you meant, but you really should watch your words.

I have to agree with Dan here. It's pretty much the same reason why I still have all current gen consoles, and will probably get the next gen consoles as well despite being what you may consider a gaming PC enthusiast. They just work, no parts to assemble, tune etc. Thing is, as you get older (and probably 'busier') there is little time left for tinkering with this stuff, despite the fact that you really enjoy doing so. At some point, you just want to plug, play and go. No drivers, no updates, no 'settings'. Just play the game at whatever quality the devs give you, and you know, that's still fine!

Yeah, I often wonder how big of a customer base these pre-built gaming rigs have. Seems like once you get into PC-gaming territory, that audience has more interest in doing it themselves. Another pro to building your own will be a pure Windows experience versus the additions (crapware) and limitations (restore partitions) you might get from an OEM. The OEM is still a great source for notebooks, tablets, 2-n-1s and AIOs, but not so much standard-part towers. IMO, of course.

This really isn't a gaming rig though, Dell has Alienware for that and yes, the pre-built market is BIG. Everyone does it: Dell, Lenovo, Razer (who partners), not to mention all the subrands like iBuyPower, PowerPC, etc. I assure you that building your own PC is a niche market, or rather, caters to enthusiast crowds. Some people just want to buy a PC, take it out of the box and go.

Now that I look at the pictures on something other than my phone, and seeing that it can be had for much cheaper at Microcenter, it does look to have more value than I though, even as a base machine without the 1070. It even looks like you can drop a standard PSU in there, which was once not the case on OEM machines. Can you tell if it uses a standard sized motherboard?

Dan, it's the younger crowd that doesn't "get it". After building PCs for several years I gave it up and only recently built a scorpioVR PC because I could not wait for MS to release project Scorpio. While paired with an HTC vive and gtx1070 I'm still looking forward to the new console. My appreciation for consoles grew after a recent update to RawData over Steam now freezes the game minutes after launching and after spending 2hrs troubleshooting video card drivers, VR ini files, uninstall/reinstall the game and the issue still occurs. The bottom line is not everyone wants to build a PC, not everyone wants to game on one either especially when consoles are alive and doing well.

Microcenter has the same model with gtx1070 for $899. http://www.microcenter.com/single_product_results.aspx?sku=175521&utm_so...

Great deal, too bad it's in-store pickup only :/

Lucky I'm near one although I'm not planning to buy one

Yeah, Microcenter is pretty awesome. I hate to think how much I've spent there!

i am planning on getting its baby brother the XPS 8910 non-special edition and just using my own SSD and graphic card i already own. I will snag one out of the Dell outlet center when my tax return gets here.

The new case design is interesting. I'm still rocking my Dell Studio XPS 7100.

I LOVE how simple and elegant the tower looks.

Good read Daniel, how easy is it to upgrade the PSU to a 750W or 850W unit? Is the space there?

Comparing a tower to a laptop is pretty lolz.

With an AMD Ryzen 5 processor Dell could have shaved off $300 from that price and get similar or better performance. Replace the GTX 1070 with a RX 480 and you're saving another $200 while still getting good performance.
Windows Central Newsletter
Get the best of Windows Central in in your inbox, every day!
Thank you for signing up to Windows Central. You will receive a verification email shortly.
There was a problem. Please refresh the page and try again.