Dell's new 70-inch touchscreen monitor is perfect for Windows 10 PCs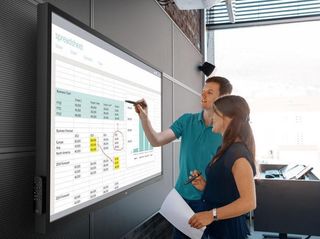 Dell has announced its new 70-inch Interactive Conference Room Monitor. The 1920x1080 resolution touchscreen display, which is designed to work as a whiteboard for use in schools and businesses, can connect to a Windows 10 PC. It is now on sale for $4,995 (opens in new tab).
In a press release, Dell has this to say about the large monitor:
While it has ports for wired connections to Windows 10 PCs, the monitor can also be connected to a laptop with the use of the optional Dell Wireless Module.
See at Dell (opens in new tab)
Not big enough, it has to at least be as big as the pull down projector screens that are used with Windows 7 computers in a lot of classrooms today, otherwise students will have much smaller text to look at. Who am I kidding, the teachers will just pull down the projector screen in front of the big monitor when they want 100 plus inches of low resolution, non touch goodness. :p

Isn't 1920 by 1080 pixilated as hell on a 70inch from two feet away?

I was about to ask the same thing. Once you hit $5000 you'd think they would be like "oh well, just add an extra $500 and make it 4K." Posted from Windows Central for Windows 10

Extra $500? A touch enabled 70" 4K display will set you back a good $15,000 or more.

It shouldn't have to be that expensive. The incremental cost is only the difference between a 70" 4K TV and 1080p TV, because the touchscreen tech is the same. I think today those retail price delta's are under $2k, but maybe they couldn't fit it all in for under $5k, which they deemed a critical price point. Perhaps they'll come out with a 4K model also for some extra cash, with a longer term plan to get the 4K model under $5k over the next 12-18 months. I agree with others saying it's much less attractive with only 1080p; leaving the display part of it sounding obsolete or about to be obsolete. This price range is targeting a more mass market than Microsoft's Surface Hub, including schools and small businesses. As such, buyers will look at it as a long-term investment, meaning success will be enhanced if customers believe it to be good for the next 5+ years.

I agree. Having such a monster screen with not being 4K is rather ... Lets say ... Risky to offer.

It's not that bad honestly. Especially compared with the low res projectors most schools would have anyways.

Teacher doesn't care, and students wouldn't be able to tell 4k from 720 from their desks. And most school computers are quite under powered and are likely not 4k ready. And a$500 price jump is HUGE when you are trying to outfit a thousand classrooms

Teacher doesn't care, and students wouldn't be able to tell 4k from 720 from their desks. And most school computers are quite under powered and are likely not 4k ready

We use projectors in college all the time. Far more better solution than buying an touchscreen TV for each classroom. I mean do you really need to touch the screen to get the point of the study?

While it might be nice, it wouldn't be needed. And, no it doesn't look pixelated. In a conference room or a classroom, 1080 is plenty enough for just about any screen used for many folks. Higher res screens in many cases would cause some things to print too small to be seen at the back, or even middle of the room. I'm sure we'll see 4K versions at some point. It's nothing that you need to get your panties in a twist over.

I work in a school district, and really (if anything) it isn't large enough. Remember that this is to be viewed in a classroom of conference room where people are potentially sitting some ~20-30 feet away from the screen. Sure, you can go higher resolution, but the kids at the back of the room are never going to be able to see the difference on a 70" display. I really wonder how quickly these screens will drop in price. One of the school districts I have been helping out has been replacing projectors with 75-85" 1080p touch screen displays for ~$3500... which still seems a bit ridiculous for what is essentially a TV that swaps a tuner out for a touch controller and adds a glass front instead of a plastic one.

I wonder if this will work with windows 10 mobile as well.

Of course it will. It is just a display.

I'm just wondering, which school has that kind of a budget?

I'm just wondering, which school has that kind of a budget?

They don't. Why do you think you are asked to buy cookie dough, and popcorn, and shirts, and frisbees, and yearbooks, and coke in bulk, .... True story, school I know of actually got two smartboards and kept them in a closet. Those smartboards alone cost $50,000 each. For that money, they could buy twenty of these Dell monitors and keep them in closets.

Robert Kennedy School in Los Angeles http://abcnews.go.com/WN/public-school-los-angeles-named-robert-kennedy-..., and a whole host of "Taj Mahal" public school.

ivy-league universities (Stamford, Yale, Harvard, UCLA, etc) and private schools have that kind of budget.

Colleges would have it easily for some of the schools. And, private schools might have it too. There'll be cheaper versions eventually.

Think post-secondary or private schools.

Does it Support full active stylus? I am looking for something like this that will act like a Surface Pro or Surface book. Currently I have a 70" 4K screen with a touch screen overlay and although it supports active stylus it does not work like a Surface which is kind of crappy.

Yes, it includes a stylus. Here's what it looks like.

Not really what I was saying. I see that it comes with two stylus, but does it support the full active stylus tracking as the surface products and some other products support?

My post was completely in jest, as should've been evident in the linked picture of the comically large pen to match the enormous monitor covered in the article.

You want it to be $7000 instead of $5000? Hmmm....

I would make this into a table

That screen should be 3840 x 2160.

Yes it should. 70" is absolutely a place for 4k. This is dumb.

What's the resolution on the Surface Hub?

The wireless option needs to be built into the unit, not an added cost.

Recommend me some best projectors/mini projectors for wireless continuum
Windows Central Newsletter
Get the best of Windows Central in in your inbox, every day!
Thank you for signing up to Windows Central. You will receive a verification email shortly.
There was a problem. Please refresh the page and try again.