HoloLens - Hands-on with the Windows Holographic May 2016 Update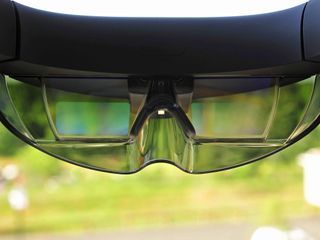 Earlier today, Microsoft pushed out the first update for their HoloLens Development Edition to all users lucky enough to own one. Since HoloLens runs a version of Windows 10, this update comes as a standard Windows Update found under Settings.
The actual changelog for the May 2016 update is massive with many small and useful additions added.
Since you can only record up to five minutes of video, this one is short, and maybe I'll follow up with another later on.
Disclaimer: HoloLens can only record video at 720P. However, I'm quite confident that this update also introduces some software video stabilization, which is why it now looks smoother. However, if you know anything about SW stabilization you will know it does this by cropping the video dynamically reducing the overall resolution. As a result, this video is not quite 720P. Please keep in mind that wearing the HoloLens is very different than what you see regarding the quality of the experience. It's a lot of processing to do holograms and record video at the same time, after all!
With that note out of the way in the video I demonstrate a few useful features, including:
You can now run multiple flat apps, up to three at the same time. This enables endless use cases for multi-tasking in HoloLens We've added a bunch of new voice commands: Try looking at a hologram and rotate it by saying "Face me"; Change its size by saying "Bigger" / "Smaller"
You can also pin photos without the app bar in your world
Groove Music app is now on HoloLens. Visit the store to download it and try playing in the background
Overall, this is a very significant update, and if you are lucky enough to try or use HoloLens, you'll appreciate how it feels even more like a holographic PC that you could use for real work.
For instance, while you always add a Bluetooth keyboard you can also now add a Bluetooth mouse letting you use those "classic" interaction tools instead of gaze and click. If a Skype call comes in and you are doing something else Cortana chimes in and lets you know of an incoming call, and she can answer or reject it for you, which is super convenient.
We'll be doing more with this May update this week, but feel free to sound off with video requests or questions in comments and I'll see about demoing it in another video.
Check your invite status at HoloLens
Windows Central Newsletter
Get the best of Windows Central in in your inbox, every day!
Daniel Rubino is the Editor-in-chief of Windows Central, head reviewer, podcast co-host, and analyst. He has been covering Microsoft since 2007 when this site was called WMExperts (and later Windows Phone Central). His interests include Windows, laptops, next-gen computing, and for some reason, watches. Before all this tech stuff, he worked on a Ph.D. in linguistics, watched people sleep (for medical purposes!), and ran the projectors at movie theaters because it was fun.
Posted from windows central for windows 10 mobile

This things get more awesome every time I see it! I have a question though, is it possible to have the app always facing you, so it would rotate in your direction if you move? If not someone needs to suggest that in the feedback app!

That is actually how the Start Menu works, but I'm sure something like that will come eventually for other apps. I'm not sure you would really be "active" while viewing and interacting with holograms, however.

I have another Q! I kept hoping you would look so far behind a 2D window that you would actually see the backside. Is this something that happens? Like, it becomes a mirror image?

That is what happens. I'll do a demo soon.

As this situation happens so in frequently, I don't have a word for beyond jealous. So you'll have to make do with two. I'd stayed away from Hololens videos, as I wanted to wait for more refinements... Man it looks good. Also, can you ask all windows to face you, and ask all to go flat, with single commands?

Just the one you are looking at at this time

Man, I want one of these so bad. I wanna live in the future now!

This is seriously amazing! I can hardly believe my eyes, this is Star Trek stuff!

Where is the Windows Central app in HoloLens?

I've shown it before. I can do a separate video. Looks just like it does on PC.

Daniel. My question is about movies. Have you tried watching a movie on it? You know - a 200 inch big screen tv

Sure, you could do that, but FOV comes into play. I can comfortably make a 60-inch hologram and watch a movie. Would I prefer it to my actual TV? Not quite.

Dan. I just have a curiosity, is it possible to grab the holograms as for example, as Iron Man does on the movies or right now is just the finger commands. From my Lumia 950

That totally depends on the size and quality of your TV and also if you didn't sell all the tech in your house to buy a HoloLens which I would happily do! Now a real question, does the HoloLens have any kind of range limit, I.e. If you are in a very large room can you place holograms on the far wall easily etc, any kind of fade on distant objects? I assume because of how it works with depth it's more refined to work with things close to you but I could be completely wrong? Posted from my Lumia 950

Not sure on the distance, haven't been in a room big enough...will have to do some tests.

Hololens tests. I have been asking for them since ages. Waiting for them eagerly.

Sweetawesome! Keep up the good work Microsoft. Y'all got this.

Looking pretty good, can't wait for release to get one.

Damm! This feels like a dream. Brilliant stuff!

This is soooo awesome... :O

FINALLY. Now HollowLens makes sense. Before this video, I was close to writing this technology off as BS. It still has a way to go before its useful but it looks really good. Thanks Dan. I think I'm on board now.

Really? FINALLY?? The features shown in this video have turned Hololens from BS write off to making sense? If you thought Hololens was BS Technology prior to this video or at any point in the last eighteen months then either 1) you hadn't read or researched enough and therefore your opinion is invalid or 2) your perspective on technology is dreadful and therefore your opinion is invalid. 'Useful' doesn't even get there, AR is the future..

Correct. I thought it was BS. Pure BS. I had a similar opinion about this big push into the 3D on phones and tv's.I'm sure you most likely was ALL-IN on that and you see how far it got. Anyway, speaking for myself, I am not as easily persuaded by things that sparkle as you might be. My opinion is not crowd sourced, Its BS until I decide its not.

Does Win10 Minecraft work with it?

Minecraft Windows 10 Edition works, but only as a 2D app. The immersive VR and tabletop AR modes demoed are not available yet.
Of course, controls are not optimized for HoloLens either, so you can do a lot of air-tapping on the on-screen controls or connect bluetooth keyboard and mouse.
Not sure about performances as I'm running it in the emulator, but it's been flagged as compatible in the Store. Screenshot of Minecraft running in the build 14342 emulator

Thanks. And extra thanks for the screenshot.

everytime someone records hololens, its shaky as hell. is it just the recording or is hololens like this?

yeah its only on recording, you can look up videos of people putting a camera behind the lens so you can see the smoothness of what you actually see
Windows Central Newsletter
Thank you for signing up to Windows Central. You will receive a verification email shortly.
There was a problem. Please refresh the page and try again.