Despicable Me: Minion Rush for Windows Phone updated with new minions and more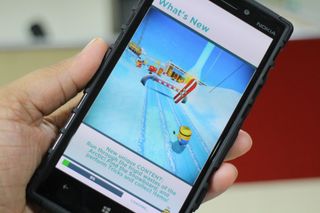 In March, Gameloft announced that the Windows Phone and Windows 8.1 versions of its popular endless runner game Despicable Me: Minion Rush would no longer be updated. However, as we reported in May in our overview of Gameloft's future plans, the company decided to change its mind and keep updating the game after all. Today, Despicable Me: Minion Rush was indeed updated for Windows Phone, adding in new minions and more.
Here's what's new in the update:
Choose between Dave, Carl or Jerry to run with in Minion Park and Eduardo's House! Hop on a skateboard, do tricks with a BMX or try the high-flyin' mini-game!
2 new environments: Minion Park and Eduardo's House
2 new Minions: Carl and Jerry
3 new mini-games: Skateboard, BMX and Minion Glider
The Windows 8.1 version of the game has yet to be updated with these new additions as of this writing, but we will update this post when that happens.
Thanks to Pratham and wayn1ak for the tips!
We originally posted this story stating this update included Xbox Live support when it fact it had been added in a previous update. We regret the error.
Download Despicable Me: Minion Rush in the Windows Phone Store (Free)
Download Despicable Me: Minion Rush in the Windows Store (opens in new tab) (Free)
Go Gameloft! Eagerly awaiting the Xbox Live support in Dungeon Hunter V, and this will make the wait all that much easier.

It's already out. Tweeted it a few hours ago.

Holy ****. Must've missed it since I'm checking stuff from my 635. Welp, time to break out the 930

Nice. Earned all 200 achievements right away. :D

Wasn't it already Xbox enabled?

Everything has been better since Build! I hope it continues with the launch of Windows 10.

Man.!! The movie minions hasn't even released yet in India :/

Ummmm.... I think it already got Xbox support in a previous update and Windows Central even wrote an article on it, let me look it up. EDIT: Yup, exactly 6 months ago on 24th December 2014. http://www.windowscentral.com/despicable-me-minion-rush-picks-xbox-live-...

They have fixed it with an editor's note at the end now :)

Man. I swear I see renewed interest by developers since build.

This year's build conference -_-

That's more points , hooray

I had an update for Dungeon Hunter V on my surface yesterday and have one for my wp8 this morning, but I'm at work so cannot download. So that could be the Xbox update.

Ah, Gameloft, its good to have you back!

That Windows PC version appears to me as a Xbox tile already. Duno why.

Lol. It was already Xbox live game.
Massive fail WPCentral

But we haven't been WPCentral for months now. Who failed again? ;-)

Hey, I didn't write it. But you're keeping us on our toes, and I like that.

Haha no, I know you didn't. I meant the you as in "you Windows Central" and it was mostly a joke (hence the emoticon) because well... Yes there was a mistake in the article but making a mistake while calling out the mistake is priceless. :D Although I must say I still type "wp" in my browser and let the redirect take me to the new url. Have not gotten used to the new name and it has been a while.

Didn't they say that they won't update this game on WP? Awesome they're back!!

My thoughts too... Well I don't play that game... But its good for our Platform

Great to hear that this one gets Updates again i started it two weeks ago! :-)

Hi, someone can tell me Why I can't see this update? Does anyone have an idea why is not downloadable?

It says its not available for my device (Lumia 1520 CV Italy ) why??

Idem su 920CVit 625CVit TRY BRAZIL STORE

Is it still an online game

Hopefully they fixed the broken achievements. Not counting on it though since it's gameloft.

I thought they said they wouldn't update it :')

How much data the game download after app installation

Windows 8 had an update yesterday
Windows Central Newsletter
Thank you for signing up to Windows Central. You will receive a verification email shortly.
There was a problem. Please refresh the page and try again.