Exclusive: More updates and Xbox upgrades coming to Windows Phone titles from Gameloft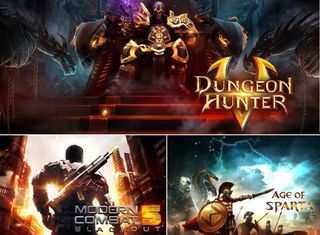 Back in December, Windows Central broke the news that mobile publishing giant Gameloft would be updating Order & Chaos Online for Windows Phone to make it current with other platforms – as well as releasing a Windows 8 version. We also shared advanced word that they'd be adding Xbox Live support to World at Arms and several other games.
Since those updates hit, Gameloft has released several new Windows Phone games without Xbox Live support. As "Gameloft Ryan" explained to us during our Order & Chaos Online weekend Twitch broadcast, the publisher will be updating some of its Windows games with Xbox Live status post-release. And now we're back with the exclusive word on which titles will be getting the Xbox upgrade next, plus more Gameloft update details!
Update details
Before we talk Xbox Live upgrades, here are details on three huge updates coming to three Gameloft games for Windows Phone and Windows 8. In addition to the specific features listed, all will contain bug fixes and performance tweaks as well.
Ice Age Adventures
The second Ice Age game that Gameloft has released for Windows Phone is another free to play city builder. But this one breaks up the monotony of collecting coins from your buildings with two big side activities: exploration and minigames! Read my detailed review to learn all about it.
This big update will bring updates 4, 5, and 6 from other versions to Windows platforms at last. New features include:
The Volcanic Environment
Rescuing the community voted animals (Pink Troodon, Parasoaurolophus, Dimetrodon, Iguanodon)
Sailing to Time Limited archipelagos & rescuing exclusive animals
To prepare for the big update, grab Ice Age Adventures now.
Despicable Me: Minion Rush
Based on the Despicable Me animated films, Minion Rush is a 3D endless runner starring the Cheeto-like minions that serve their former supervillain master Gru. One day they discover Gru has implemented a Minion of the Week program, complete with shiny trophy for the star minion. Soon the minions set out to win the award – by outrunning their peers in a series of obstacle courses.
This sizable update will bring updates 14, 15, and 16 from other versions to Windows platforms at last. New features include:
New character: Jerry, with an ability to use Power-Ups longer than other Minions
New character: Carl, who has a faster running speed from the start
New environments & mini-games like Eduardo's House & the BMX mini-game
Complete sub-objectives for each Milestone to earn Perks or Tokens
To prepare for the big update, grab Despicable Me: Minion Rush now.
Modern Combat 5: Blackout
The latest in Gameloft's Call of Duty-esque series of first-person shooters, Modern Combat 5 sees protagonist Cayden Phoenix desperately fighting against a rogue private military contractor with plans to unleash nerve gas against civilians.
Modern Combat 5 features both a big budget (for mobile) single-player campaign and a robust competitive multiplayer mode. Controversially, both modes require a constant online connection to work. Hopefully the big update will improve online server performance!
This single update will bring updates one and two to Windows platforms. These include some big changes, such as:
The switch to free-to-play
The all-new Support class
Brand new weapon class, the Light Machine Gun (LMG), for the Support class
6th weapon tier for all weapon classes
New multiplayer mode: Zone Control
Two beloved multiplayer maps from Modern Combat 3 & 4: Overtime & Scramble
Map voting between matches
Multiplayer leagues for solo & squad battles
New Area of Effect skill for each soldier class
Increased level cap for Solider classes from 100 to 120
I'd say to grab the game now, but you'll probably want to wait for it to become free to play if you haven't already purchased the premium version.
More Xbox games coming
Content updates are exciting – in fact, they should be the most exciting part of this story. Gameplay is king! But some people need their Achievement fix, otherwise their hands start to shake and all that stuff. I kid. The addition of Xbox Live Achievements gives players more objectives to work towards, and should reinvigorate several of Gameloft's established titles.
The following games will soon be updated to include Xbox Live Achievements. Your existing progress and purchases should carry over once updated. Gameloft expects the updates to roll out in June or as late as July.
Modern Combat 5
Here's one more reason to anticipate the Modern Combat 5 update – Xbox Live support! The game's predecessor Modern Combat 4 launched as an Xbox Live title, so it's great to see that functionality reach Zero Hour as well.
Age of Sparta
Not to be confused with Microsoft's Halo: Spartan Strike, Age of Sparta is a competitive city building game set within Ancient Greece. Players must build up their city's defenses and construct an army with which to defend Greece from the forces of the evil Xerxes.
Whereas Gameloft's Total Conquest is a clone of Clash of Clans, Age of Sparta much more closely resembles World at Arms and Kingdoms & Lords. You don't attack other players' bases; both sides' forces just duke it out in simple RPG-like battles. But the ancient Greek setting with a dash of mythology should certainly catch Achievement hunters' eyes.
Dragon Mania Legends
Gameloft sure loves its city building games! This one involves building a city of dragons. Players collect a wide variety of the magical reptiles, breeding them and training them to fight. You'll then send them out to battle against the dragon forces of invading dragons. It works a lot like Age of Sparta, but with a focus on the younger set. Check out George Ponder's review for more details.
Dragon Mania Legends received an update back in March that made the game harder to play without spending money on in-app purchases. Hopefully this Xbox Live update will meet a warmer welcome from mobile Windows gamers.
Dungeon Hunter 5
Last but certainly not least, Gameloft's biggest game of the year so far will soon be graduating to Xbox Live status! Dungeon Hunter 5 is the latest in Gameloft's Diablo-like series of action-RPGs. Players select a character from several classes and then set out on an epic campaign filled with monster killing and loot collecting.
The big new feature in Dungeon Hunter 5 is its stronghold system, which basically adds Clash of Clans-style PvP raids to the game. Each player can create his or her own dungeon, placing minions and traps to defend it. Raiding other players' strongholds asynchronously works like Cloud Raiders and similar games, except you'll directly control your character and fight through it like a dungeon. The final portion of a raid ends with you battling an AI version of the player who created the stronghold.
We'll let you know as these updates roll out within the next month or two. And stay tuned for more exciting Gameloft news from E3 in June!
Paul Acevedo is the Games Editor at Windows Central. A lifelong gamer, he has written about videogames for over 15 years and reviewed over 350 games for our site. Follow him on Twitter @PaulRAcevedo. Don't hate. Appreciate!
Nice! Also loving WM10 Xbox app :)

Need to clear some room on my phone for these games. Glad to see XBL get added.

Add "Six-Guns" too in this list, that's an awesome game

Six Guns needs an update! Ever since I got my Windows Phone two years ago,it's never been updated..

It works great for a zero update game. I'd say it just needs a refresh

Because the storyline isn't even complete yet. I'm so frustrated, it's such a great game but playing it makes no sense since the there is no end to the story. I'm happy someone has raised this issue here.

Agreed. I was always disappointed at how poorly the WP and W8 versions connected with each other.

Pretty awesome, looks like Windows 10 started fixing things before it being released!

Thank you Gameloft. U are true supporter of our platform. Companies like Warner bros,kabam, glu inc, and companies who have assholes CEO like snap chat should learn from you.

Gameloft supports Windows Phone only because Microsoft pays them to do so.

Modern combat and dungeon hunter here I come...

Really? Do you have any sources to that? I'd like to read it, thanks!

I have a question, will buying Modern Combat give me any benefits over waiting for it to become F2P?

Yeah... I want to know that too.


The only benefit is that its free... It's a detriment in so many other ways though. They are adding a "power bar" like in brothers in arms. So you will basically have to put in quartes to play consistently. The players who paid before it was FTP get "veteran status" and will never have to pay to play.

My understanding is that if you have purchased the game before the update you will be considered a "Veteran" user. You'll get some in-game perks and then you will not have the power bar that users who wait to download until after the update get. However, this update also introduces a VIP style system that you can get that stops you from being limited by energy for periods at a time as well.


Well Ordar & Chaos was updated and on par back in December, but subsequently is again out of date compared to Android at least.

Word. It's good to see Gameloft adding in Xbox support for their mobile Windows games. #SaveXboxWP

HUGE news!! Congrats Gameloft!!! Please, add Pastry Paradise to the list of Xbox Live enabled games! I am not a CCS fan, I like PP otherwise. :)

They will update minion rush? They said that they will stop supporting the game for Windows and Windows phones.. Anyway those are really good news!

I remember this as well. Would be great if someone writing the article mentioned this.

Behold the power of Windows 10.

If modern combat supports an Xbox controller it will be a good game for the S3.

It already does (: At least the 360 controller according to my coworker!

LOL ... but I thought that they dropped the Windows support.

Yeah, it looks like they've had a change of heart. Wish they'd do the same for Spider-Man Unlimited!

They updated Spiderman Unlimited earlier this year.

They did but they did say they would no longer update it for future issues. If you compare it to Andoid version, you'll see that WP8.1 users are missing out on a whole lot.

And modern combat 5 is still not available for the Lumia 930....

Pretty Amazing!!!! And the games are both in the Desktop and in the Pocket, that's a lot more awesome!

Yup living the order& chaos games

AWESOME! Also, apparently Minion Rush was brought from the "dead" since Gameloft a couple months ago announced they'd be dropping support for Windows. Which means we got 50 Gold coins free. XD

Will be installed automatically with Windows PC lol

Hope not. I hate when things come pre-installed on any device.

Not "pre - installed" its Installed automatically. There's a difference. Next level stuff.

I stopped playing Minion Rush a while ago after reading support was ending, now there's an update?!

Very nice! Looking forward to the updates of Dungeon Hunter 5 and Modern Combat 5!

And Spider-Man still dead in the water :(

This is the heart-breaking one for me, too :(

How about some sports games Gameloft.............Lets Golf, and NFL Pro....

Spider-Man like many have pointed it is the one that i'm lamenting and upset the most of not seeing in this list... i don't even care about the XL portion of it just the fact that they stopped supporting it... however given that they have added Minions back into the fray i am hopeful...

It would be nice if they would fix the "Save 15 civilians" achievement in "The Amazing Spider-Man". Broken since launch.

Sweet - looking forward to getting my fix, so I can stop shaking uncontrollably due to my lack of achievements...

So when r the updates coming out DH5 Is already showing up in game is there any dates besides "soon"

You say you kid about ​people getting antsy for Xbox live support...people rage in the forums and even try to start social media campaigns over it. It's ridiculous!! I used to care that my games were Xbox 360 and not PC so it would count towards my Gamer Score. Then I realized my epeen doesn't matter and having an ego about how much time I spent achievement hunting wasn't going to get me anything in life...except maybe teased by my wife.

It's not about "ego" for me, they're historical mementos of your gaming life.

Can someone pls review at DH5 for adding support for 512MB rams. We don't want that game when everyone stops playing it so it will be great to receive it associated

Now if ea could step-up republish some games they pulled like hotpursuit make undercover compatible for newerphones

Bummer I was hoping for an update por the MLP game

And what about the my little pony game from gameloft? IOS and android versions have more characters and story and i want to see the windows version up-to-date with its Ios and android counterparts.

Microsoft should buy gameloft

They bought minecraft and they didnt make it Xbox enabled @_@

Gameloft is awesome! Minion Rush is the most addictive endless runner I've played and I'm glad to hear it's being updated. I'm still loving Asphalt 8 too!

World at Arms got a bug update today as well.

I still play Minion Rush. Probably one of the best endless runners out there. Glad to see it being revived.

Man.. I have to say... at least for my and my child... is WAAAAYYY MUCH BETTER, besides characters, the story of the game is like seen the movie hahaha, at least for me...

Sonic Rush was good but it didnt appeal as much as Minion Rush to me. And the initial release of Sonic Rush didnt have good graphics so I uninstalled it and never bothered about it again.

Love the Gl stuff always good on every platform. Usually...

Awesome news, I'll be downloading these as soon as the Xbox integration update is live

You had me at Xbox Live Support. I'm really surprised that more companies aren't doing it but I guess they're all waiting to see if WP can move more hardware units.

I hate all these games as they all r online games

There's no reason to hate online games. The internet is a good thing.

Actually there are reasons to hate online games if either your internet connection is slow or if it's unreliable or both. I'm suffering from the third case and probably many others are too.

Do you hate a boat because you can't afford one? Or doctors because you couldn't afford medical school? It's not logical. ;)

How's the multiplayer concept will work then?

It's a fair point that you can't play Modern Combat 5 in single-player while offline, though. But we can make that point without hating the game.

And Spider-Man Unlimited?

Nobody is playing "Age of Sparta"?

Please help me.....when the Morden combat 5 will available for Lumia 930....

Wish my 920 had expandable memory. Mobile games these days are almost as massive as x86 PC games of yore. :)

I read some months before that Game loft has stopped the updates for minion rush.

When is the update for DH5 :((

Finally got my answer....

Where
The dark knight rises??....it's lagging on Lumia 535

No updates for Heroes of Order &​ Chaos ?

Is this meant to make Gameloft look good? In my eyes, yes they support Windows by making games for the platform, but they always make us wait normally a week or two before we get them. Then they don't update our games months afterwards, and I'm expected to say thankyou Gameloft.. Not a chance! I put real money into every game I have played, for what? Events get dropped? Games start to lag and become extremely buggy. Money well spent.. What a joke!!

They're not all in with WP, but they still support it far more than most mobile game publishers. Better updating of all their games would be nice, but we certainly celebrate the updates they they do provide.

Why doesn't my Lumia 930 support Modern Combat 5 Blackout? Or is this due to my regional settings? (Dutch, Netherlands)

Thanks for that exclusive information about those Xbox updates Paul!
Good news for the ecosystem.
Edit: I say wait for the xbox update and then download the games to show Gameloft that you like to see more Xbox games.

I bought MC5 some time ago, but it is borderline unplayable on my laptop. Needs optimization.

Gameloft needs to start updating SpiderMan Unlimited again. I love that game. I'm still playing it but on an Android tablet and would much rather have it on my Lumia 1520. It's not the same on WP8.1 anymore.

Where's Gameloft's Gangstar Vegas?

When the modern combat 5 free .update comes wp

This is very interesting as I love Diablo like games but not so much on my 1520. Something to look forward to

Hi I wonder if Gt racing 2 will experience the Real as an update soon
Windows Central Newsletter
Get the best of Windows Central in in your inbox, every day!
Thank you for signing up to Windows Central. You will receive a verification email shortly.
There was a problem. Please refresh the page and try again.