Exclusive: Order & Chaos Online returns next week, new Gameloft games to get Xbox support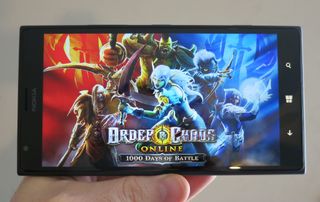 Last year, Gameloft unleashed the first and only Xbox-enabled MMORPG on Windows Phone: Order & Chaos Online. While Order & Chaos Online is basically a World of Warcraft clone, it's also an utterly massive and compelling game – especially for a phone game. If we had a game like that on Xbox consoles, I'd never leave the house (and now we kind of do, thanks to Onigiri).
Unfortunately, Order & Chaos Online suffered from a few frustrating bugs like uncompletable dungeons and unpurchasable pets, not to mention graphical glitches on the Lumia 1520. Gameloft last updated the game in August 2013, just before deciding to drop Xbox support on its Windows Phone and Windows 8 titles.
Don't despair! Windows Central is proud to announce that Order & Chaos Online is not only going to be updated next week, it's also launching on Windows 8 and RT – with Xbox support. Read on for exclusive details on the update and Gameloft's future plans for Windows Phone and Windows 8.
Update or new version?
When I learned that Order & Chaos Online would be making a comeback on Windows Phone, my first question was whether Gameloft would simply publish the updated version as a new game. We've seen developers who struggled with updating their Xbox Windows Phone titles in the past do just that, delisting the Xbox version and releasing a non-Xbox version with new features. Carcassonne and Doodle Jump are a couple of examples of games that got better after they dropped the Xbox branding.
Still, killing the original Xbox version of Order & Chaos Online would be a shame for a few reasons. One, existing players already paid for the game. Two: players who don't have all of the game's Xbox Achievements would never be able to complete them. And three: people who put many hours into their characters and accounts on the old version would be extremely disappointed if they lost those characters in the new version.
Lucky for all of us, Gameloft has decided to put in the extra effort associated with the Xbox certification process, and will be updating the existing Xbox version of Order & Chaos Online. People who bought the game over a year ago will finally have access to all the new features that have come to the iOS and Android versions since then. Nobody will lose their characters, and now they will have lots of new quests and areas with which to develop them further.
New price and Windows 8 version
Massively multiplayer online games live or die by their player bases. Because Gameloft never updated Order & Chaos Online on Windows Phone or fixed the things that were wrong with it, people who had bought the game stopped playing it. Potential new players had little reason to pick the game up, knowing that it had been abandoned and become a ghost town. A viscious cycle.
Luckily, several new factors will help keep the relaunched game populated and thriving. Besides the new content, the Windows Phone version will also be getting a new price: free! Yes, our version of Order & Chaos Online will go free to play when the update hits, just like the iOS and Android versions have done. The game previously cost $6.99, making it inaccessible to cheapskates. But as a free to play title, there will be no barrier to entry and everybody will have a chance to join in the fun.
What's more, Order & Chaos Online will also be launching on Windows 8 and RT either on the same day as the Windows Phone update or shortly thereafter. The tablet and PC versions should share the same servers as the phone game, meaning the potential player base will actually double! Not only will the game look better than ever when played on the larger screens of Windows 8 devices, it might even support Xbox controllers. We're still verifying controller support with Gameloft.
Update features
Competitive Multiplayer:

Battlefields (PvP)
Capture the Flag
2v2 or 4v4 challenges
League of Champions: join a league of legendary warriors and earn Honor Points based on your team performance. Rise to the top of your League leaderboard and redeem Honor Points for special weapons and equipment.
Leaderboards

New Dungeons & Regions:

Caves of Tear Coast
Ruin of Vliya Temple
Fate of Collapse
Arcadian Forest
Under Realm
Frostlund

New Items:

Black Market: secret auction full of rare and unique items

New Quests

New Challenges: daily and weekly quests for rewards

New Mounts & Pets
Revamped interface
Overall bug fixes and system optimizations
Dungeon Hunter 4
Coming back into the Xbox fold
Gameloft's decision to bring the Windows Phone version of Order & Chaos Online up to speed, as well as releasing Windows 8 and RT versions, signals a dramatic change of heart for the publisher. The company officially dropped Xbox support November of last year, ceasing to update its Xbox titles and releasing new games like Asphalt 8 and Dungeon Hunter 4 without Xbox features. Many tears were shed, some feet were stamped, and everyone's cats continued to do cute things like hide in boxes.
This year though, the company has decided to soften its stance on Xbox support for Windows platforms. Gameloft wouldn't go into much detail about it, but they did reveal that some technical hurdles that had previously caused them to move away from Xbox support have been removed. This coincides with what seems to be a fresh trickle of Xbox titles, such as Bad Piggies and ExZeus2. Perhaps Microsoft really has eased up on its draconian certification process.
Does that mean that Xbox for Windows Phone and Windows 8 is back from the dead? No, no. Unless Microsoft has reduced the Xbox certification process to the same level of unobtrusiveness as Google Play and Game Center, most developers will avoid bothering with Xbox for Windows Phone. But Gameloft, Microsoft, and the occasional random developer like ExZeus2's HyperDevBox will put out an Xbox game now and then. Nobody should limit themselves to only Xbox games, but at least we'll all have a few more Xbox games now that Gameloft has come back on-board.
Asphalt Overdrive
More Xbox updates and games coming
Speaking of Gameloft, the publisher has updates in store for more than just Order & Chaos Online. I'm told that UNO & Friends will also be getting an update. Gameloft didn't specify, but presumably the update will add the House feature that arrived on other platforms last month. Houses are UNO's equivalent of clans, allowing players to team up and earn greater rewards. With a game as simplistic as UNO, every little bit helps.
More excitingly, some of Gameloft's non-Xbox games will get the Xbox treatment. The only one that we know for sure will become Xbox-enabled is Asphalt Overdrive. The game was updated on other platforms last week, so we can expect the Xbox features will come when Windows Phone gets that update. Look forward to new cars, new race types, and more.
Will Gameloft update its other big game Spider-man Unlimited with Xbox Achievements? We can only hope so! Then again, we also have to cross our fingers that the Xbox certification process won't cause any more undue delays with title updates for whatever games Gameloft gives the Xbox treatment. Some people just need their Achievements, but wise gamers want feature parity with other platforms most of all – and then Achievements!
Order & Chaos Online could be updated on Windows Phone and launched on Windows 8 and RT as early as Monday, December 15th. We'll let you know as soon as it happens!
Windows Central Newsletter
Get the best of Windows Central in in your inbox, every day!
Paul Acevedo is the Games Editor at Windows Central. A lifelong gamer, he has written about videogames for over 15 years and reviewed over 350 games for our site. Follow him on Twitter @PaulRAcevedo. Don't hate. Appreciate!
More Xbox games? Bring it on! Also Order & Chaos looks cool. I might need to play it when it comes again :)

All I need right now is new SD card since the current one are already full. Lol.

Excited plz devs follow suit ND join the party that is xbox lol

Order & Chaos is very good, if you're into MMOs then you'll like it.

Wow this is really great news for the generally underwhelming state of gaming on WP. First Minecraft and Candy Crush, now this!

Is Phil Spencer in charge of Xbox on WP, if so, hopefully we'll see a move to the Google Play Games/Gamecenter style dev integration with a bit of id@xbox added to it.

I hope so. Phil seems like the kind of guy who will pull out all the stops to fix things like that and make the best experience for the gamer.

There has been talk that Phil is running all of Xbox division not just the console games, but video, Music, and the windows games.

Damn... I spent $6.99 on it last year. Now that it's going free, what will I get in return for my money? Anyways, with XBL I'm seriously thinking of downloading and playing again.

I feel like that as well. I would've played if the current version worked well on 1520, but as soon as this update launches I'll be playing again :D

Same here, I'm already pretty happy that they even bothered to update it though because all this time I haven't even been able to play it on my 930.

I feel really glad more game is coming to this platform. This platform need more games than apps. I think the current apps is quite good already. Will try to contact the COC developer after this.hehe. #pushinghard

What still I don't get is why the other developers could also invest on Windows Phone like the other platform. I'm sure Gameloft is not that shit to release Games to Windows Phone without market share. Indeed there is a great market and credible buyers (95% compared to 10% in android, rest are using pirated games).

Did u mean "why not"?? Btw I feel really bad for the Android developer for their pirated apps...

Make asphalt 8 x box gameloft Posted via the Windows Central App

awesome news paul! i cant wait.

Btw where is the Modern Combat.? Are they pulled it already?

They should update Modern Combat 5 with xbox live

Lofty promises on Order & Chaos (the original) have lead to nowhere. So many great gaming titles completely destroyed by this company.

Well this is some positive news.

coip will be jumping on one foot!

I was looking for his comment, too.

Well, after the initial shock wore off after the realization that the #SaveXboxWP movement has now come full circle (if you all recall, it started 13 months ago when Gameloft first abandoned Xbox gaming), I then thought, "Keep calm, don't gloat, stay professional, perhaps don't even comment on it." But, after thinking back over the last 13 months, in which I updated that original thread 60 times (and one that has garnered over 18,000 page views), to all the comments I've made on gaming articles here and the slew of condescending, contentious, and patronizing comments I've had to put up with from so many naive people who didn't understand what I was actually trying to do, and who didn't even bother to read the thread explaining it before spewing out their judgmental comments, I thought, "Nah, screw it. I earned this." So, here it goes: Xbox WP, Saved. Welcome back to the club, @gameloft, and you too @OofitsRyan, if you read this. Of course, the #SaveXboxWP movement will carry on. The pace of game releases is still not where it could be, we still need the certification process eased, and we need ID@Xbox extended to WP and Windows 8/RT. And, for Pete's sake, we need Minecraft: Pocket Edition to have Xbox achievements. But all that will come, as long as everyone who has participated in #SaveXboxWP so far (and I thank all of you who have), keep pinging @XboxP3 @joebelfiore @aarongreenberg @toddbrix and the like and remind them that Xbox can help Windows Phone diffferentiate itself from iOS and Android. Boom.

While I was completely against Xbox gaming on WP earlier, I later came to realize the potential this exclusivity has facilitated to uplift gaming on this platform particularly. No, that doesn't mean I'm completely for it. The current scenario of Xbox games certification only hurt the developers (especially the indie dev) who can't get their games Xbox enabled because of Microsoft's "pain-in-the-ass-certification-process". Rather, I'll support the campaign until Microsoft makes the Xbox certification process easier for the developers. They got to realize how it differentiates gaming on WP from iOS and Android. For one, games are released on WP after it's competitors. Only Xbox integration could be a good compromise for that drawback, I believe.

very good news, makes me love even more my lumia :D

Great news Paul, thanks for keeping us informed!

Now we can die happy ( wp die hard fans)

Spider Man needs achievements!

This is great news, Order & Chaos is a brilliant game should be even better when its free. Servers are pretty quiet in Europe at the moment so it should bring alot of new players on board.

My ex gf loved this game. Me too.

Might actually be persuaded to redownload and start playing this game again

Great news. Now that they are live enabled ill be investing time and money into them :)

I have been waiting for this for so long. My wife is going to hate this news lol

And GT Racing 2 still has text corruption issues on Snapdragon 800 equipped devices...

They gotta give us Plaque Inc.

will order and chaos work on 512 devices?

What about rings of chaos

I have to ask, does Windows Central have a problem with their competitors? I submitted tips to you guys a couple of weeks ago of details about the Asphalt Overdrive update here: http://www.1800pocketpc.com/asphalt-overdrive-update-delayed-10012/ and here: http://www.1800pocketpc.com/asphalt-overdrive-first-update-1011/ both of which were a week or more ago and now it's being billed as something you got exclusively?? Hmm.

One, neither of those articles mentions the game getting Xbox features, so they did not beat us to the scoop. Two, the article as a whole is the exclusive, not every single sentence within it. No, I don't read that site (or any of our competitors on the WP front) but when I'm told by Gameloft on that something is an exclusive, I believe them. :-P If you ever have a strong bit of gaming news, you can feel free to tip me directly by Twitter. I mostly do reviews, editorial content, and Twitch streams nowadays, but I can pass along important news that I don't have time to cover to another member of the staff.

Super excited! Been waiting a long time for this.

Wish Xbox enabled games will not delay updates as earlier ones.it takes several months to update in Xbox please Microsoft take care of it as no one likes older,version of games when your friends are playing updated versions.one more thing will they will update sixguns a like it but it is not updated from its first release.

Would be cool if Six Guns got updated too! The crappy connectivity between WP and Windows 8 on that one caused me to stop playing it. But I agree, delaying updates because of the Xbox cert process is always bad. I'm not convinced that won't continue to happen, even if thigs are supposedly going to be easier for Gameloft now.

Dang, may play it again now

Xbox certification clearly means late updates ..i guess
... I wont mind no xbox support!

EA is the living proof that's not true.

Can you elaborate? It took EA more than a month to fix the broken release of AC: Pirates...

Assassin's Creed is Ubisoft.

EA has updated Tetris Blitz about 50 times, all on a timely schedule on par with the iOS and Android versions.

YES! This is a huge win for Microsoft and all of us WP users. It's a shame that this news didn't come out a few weeks ago. I deleted Uno. I got tired of all the bugs and the lack of features when compared to the ios and android counterparts.

About time! Glad they're cool mind back to Xbox games which means I can play their games again. Yes, I only play Xbox games. No I don't care if you think I should play non-Xbox games. Xbox games has always been an advantage of WP and I'd like to take it if I can. To play non-Xbox games I can use my Android or even a PS3. Bring on the Xbox features, Gameloft!

I can't wait! I was hopping this one year ago! Great Gameloft!

Nice, any progress toward Xbox live is good progress, really glad to hear it. Maybe MS actually started listening to devs on Xbox certs, maybe this will get better for all games coming soon, at least one can hope. #SaveXboxWP​ ​

MODERN COMBAT 4 NEEDS TO BE UPDATED!!!! :'(

Cheapskates? That's a bit harsh. 7 quid, for maybe a casual gamer who doesn't want a burning phone, is steep as Everest. Especially when someone can just dl any old f2p which is better tbh. Allods online for example. Grand Fantasia, obviously the list is endless. Cheapskates is bs.

Grand Fantasia isn't on Windows Phone - it's not even a mobile game AFAIK! There are no other Windows Phone games with this much quality (IMO) or content. Huge games like this don't just pay for themselves.

World at Arms is now showing the Xbox branding on its artwork, and says it was updated 12/15/14. Can anyone confirm if this added achievements?
Windows Central Newsletter
Thank you for signing up to Windows Central. You will receive a verification email shortly.
There was a problem. Please refresh the page and try again.