Watch us play Order & Chaos Online with guest co-host Gameloft Ryan!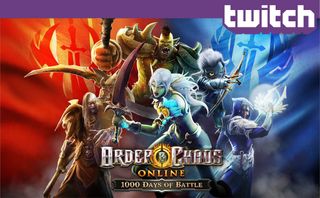 Update: The stream has ended. Continue reading for the full replay video and list of contest winners!
Last weekend we streamed Gameloft's gorgeous Windows Phone and Windows 8 racing game Asphalt 8 on Twitch and gave out some sweet prizes. This weekend we return with another great mobile Xbox game, and we'll once again be joined on the microphone by Gameloft Community manager Ryan Changes, also known as "Gameloft" Ryan.
Tonight at 8pm Central (9pm Eastern, 6pm Pacific, 2am GMT), we'll be playing Order & Chaos Online from Gameloft. Order & Chaos Online is the first and only mobile MMORPG with Xbox Achievements, and like Asphalt 8 it's a free to play game with fair monetization. Stick around after the Order & Chaos Online stream for a bonus SCHAR: Blue Shield Alliance stream with more prizes!
Watch live video from EastXTwitch on Twitch
Order & Chaos Online
First released on Windows Phone in July 2013, Order & Chaos Online received a massive content update last December. The game switched from a relatively high $7 price tag to free to play, and it also debuted on Windows 8 at the same time.
Now Windows Phone and Windows 8 players can share the same servers and share their saves between both versions, making it easier than ever to join your friends in this amazing mobile role-playing game.
Yes, Order & Chaos Online is a massively multiplayer online role-playing game in which players create a character and complete quests alone or with other players. You can join a guild, complete raid dungeons, engage in PvP, auction items, and just about everything you'd expect from a full-sized MMO.
For more information on Order & Chaos Online, check out these articles:
Once you're ready to join the adventure, grab the game for your platform of choice.
Tonight's Contests
We'll be streaming Order & Chaos Online for 90 minutes tonight, starting at 8pm Central (9pm Eastern, 6pm Pacific). During that time, we'll be giving out a total of five codes:
1 Grand prize: $50 Xbox gift card
4 $10 Xbox gift cards
Next, we'll follow up with a bonus stream, SCHAR: Blue Shield Alliance (from BA Productions), starting at 9:30pm Central (11:30pm Eastern, 7:30pm Pacific). Stay up late with us and you might win one of the following prizes:
To enter, just follow me at Twitch.tv/Eastxtwitch (making sure to enable email notifications!) and tune in during the stream. You can watch the stream right here in this post, but you need to actually participate in the stream chat to have a chance at winning. We'll deliver codes to the winners via Twitch message (PM) during the stream. No code begging!
I'll be available for a few minutes before and after the stream if you have any questions or just want to say hi. If you enjoy the stream, be sure to check our schedule and come back for more!
How to watch Twitch livestreams
What's the best way to experience Twitch? The Twitch website on your PC or Mac web browser. If you don't have or prefer not to use a computer, you can get the Xbox One, Playstation 4, or Xbox 360 Twitch apps and watch from the comfort of your couch. Android and iOS both have official and unofficial Twitch apps to choose from as well.
On Windows Phone, you'll have to grab an unofficial app. There are several to choose from, each with different strengths and weaknesses. Only one app lets you search directly for our channel, though. If you use the others you'll have to find and follow us from a web browser first. Read the roundup to learn more!
Streaming schedule
Want to know what's next for Windows Central's weekly Twitch streaming contests? Here's our upcoming schedule. The stream always starts at the same time: 8pm Central (9pm Eastern, 6pm Pacific).
Saturday, March 14: Forza Horizon 2 from Microsoft
Saturday, March 21: Costume Quest 2 from DoubleFine and Midnight City
Saturday, March 28: Divekick: Addition Edition from Iron Galaxy
In addition to our Saturday contest streams, we also livestream a variety of different games throughout the week. These streams don't have contests, but they still offer a great chance to see more exciting games while enjoying our live commentary and stream chat.
Mondays: This Monday we have a first look at Ori & the Blind Forest for Xbox One, plus a preview of Flame Over for Steam and PlayStation systems!
Tuesdays: The Witcher 2 for Xbox 360. Catch up on The Witcher saga before The Witcher 3 launches in May!
Wednesdays: Xbox One games. This week's game TBA!
Thursdays: Dragon Age: Inquisition for Xbox One. Chosen by our loyal viewers!
We hope you'll tune in as often as you can! Set a recurring alarm on your phone so you'll always know when it's time for the stream to start.
Winners
Everybody's a winner. Especially these dudes and dudettes!
$50 Xbox gift card
$10 Xbox gift cards
Surrealsonicus
ucfknighthood
Tamtaur
Lightcycle45
SCHAR: Blue Shield Alliance Steam codes
pure_pretzel
brownmeister2
mongbox
Thanks to Gameloft and BA Productions for providing tonight's prizes. Thanks also to our Twitch stream co-hosts and moderators!
Windows Central Newsletter
Get the best of Windows Central in in your inbox, every day!
Paul Acevedo is the Games Editor at Windows Central. A lifelong gamer, he has written about videogames for over 15 years and reviewed over 350 games for our site. Follow him on Twitter @PaulRAcevedo. Don't hate. Appreciate!
That'll be 3 AM for me... Hope I'm awake by then

I'm looking forward to tonight.

Awesome! I keep putting off getting into this game so I'd like to see it in action. And maybe if I win a gift card I can have enough money to get dragon ball xenoverse!! ;D

Signed up for Twitch, but won't make this one. I will stay up and watch some at some point, but got work tomorrow. Have a good broadcast guys.

I have to say I swore by 8Stream but because of your Twitch apps article I tried Unstream and I find it a lot better. Bought it today. Thank you for the reviews!

I've missed the last few weeks of streams, damn real life getting in the way. I've always been interested in this game but never downloaded it. Going to try to make it out tonight to check this game out

I have never understood why people watch other people play games. It just doesn't make any sense to me. I guess that's one reason I have never watched any kind of sport.

We treat our program like an interactive podcast. People tune in just as much to hear the trio of hosts and to chat with the other viewers as they do to see a game. Also, it's often useful to see more of a game than you could in trailers.

Hmm, the app won't let me correct that typo. :-\

I was exactly the same, but will be giving it a try at some point. I hope I like it.

I think it's a generational thing. South Park pointed that out.

But I'm in my thirties. It's more a matter of having preconceived notions and thus being afraid to try something.

Look at the talented music/standup/comedy act Beardyman. He can get, 200 to 400 000 views on YouTube, and I consider him TALENTED and worth every watch.
Now look at FrankieonPCin1080, he plays games only, and he's pretty fun to watch, but he gets like 1 000 000 views on youtube.... per clip. Now Frankie is really fun gamer to watch, but he's nowhere better then Beardyman.
Its just like everybody will tell you, generational thing, where gamers are rewarded.

That's cool. I'll watch it if I'm still awake :(

Thanks Paul for another great stream. Great chat as always and I got my O&C toon in the Windows Central Guild! THanks Baltogok for the add!

Now you will be alone until next Twitch stream!

Great stream Paul! It is nice having Ryan back as he always has interesting insight to add.

It was a good steam tonight. Fast passed chat. Glad Gameloft Ryan made I out. Thx for the prizes. I think I'm going to load this game up again. I had removed on my phone to free up space. Looks like its still a fun game.

Made the dungeons look easy

I know this has nothing to do with the page but on change.com there is a partition for Snapchat on windows phone if we can get that to 25,000 we might get a reply from Snapchat as of when they start making a app for us, thank you please sign it we need as many as possible thx

I don't need snap chat. Not do I want it. There are forums you could post in located here at windows central. I have email, facebook chat, Skype, and SMS. All 4 send images just fine.

I would have been there, my daughter's birthday was last night though. Replay was awesome!!

No worries. Hope her birthday was great! :)

You should play Wolfenstein: The New Order for your Wednesday stream, until the Old Blood launches!

That's not a bad idea! I have been wanting to get back into Wolfenstein. I was going to play Resident Evil Revelations 2 this week though. Will talk it over with the team.

Just wanted to comment, even thou I never got to watch it, what a great game to stream. Hope you had fun. Just started up my old toon again. To bad this streaming occurs so late here in Sweden, otherwise I would've looked.

Awesome stream Paul. It was a pleasure being a part of it. I really enjoy when Ryan comes to the stream
Windows Central Newsletter
Thank you for signing up to Windows Central. You will receive a verification email shortly.
There was a problem. Please refresh the page and try again.