Destiny 2: Season of the Lost — List of known bugs and launch issues
Things haven't gone according to plan in Season 15 so far.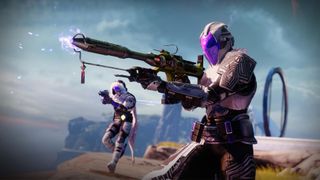 (Image credit: Bungie)
Destiny 2 Season 15, also known as Season of the Lost, is finally here. Promising players plenty of new loot, two new seasonal activities, and a rich story that sets the stage for the upcoming Destiny 2: The Witch Queen expansion, Season of the Lost sounds like it might be the best Destiny 2 season yet. Unfortunately, things have started off a bit rocky with Season of the Lost, as many players are experiencing a wide range of annoying bugs and glitches.
Thankfully, Bungie is working hard to track and fix these issues as quickly as they can, and we're taking note of all the major issues that the studio is warning players about (as well as any quick fixes that players can use). Here's what you need to know about all of the current known bugs and launch issues for Destiny 2: Season of the Lost.
What are the top bugs in Destiny 2: Season of the Lost?
Due to how many issues players are experiencing right now during the launch of Season of the Lost, Bungie has provided the Destiny community with a list of top bugs and issues to be aware of when playing Destiny 2. If you don't see an issue you've experienced in the following list, let us know and we'll add it.
Seasonal currency issues
Summary: Players with a maxxed out inventory of the Parallax Trajectory currency (1,500) will not earn more, and additional currency won't be sent to the Postmaster.
Quick fix: Always make sure you spend some Parallax Trajectory so that you can continue earning and using more.
Wayfinder's Voyage Step 4 not progressing
Summary: A bug is causing Step 4 of the Wayfinder's Voyage quest to become impossible to complete.
Quick fix: Abandon and reacquire the quest to fix the issue.
Mission Cocoon errors
Summary: Players may receive error code URCHIN while trying to play Mission Cocoon.
Quick fix: Players can resolve the issue by clearing out a space in their quest inventory.
Mission Cocoon crashing
Summary: PC players may crash while attempting to complete this mission.
Destiny 2 won't start on PC
Summary: PC players may be unable to launch Destiny due to an unknown missing file.
Quick fix: This issue may be resolved by verifying Destiny 2's game files.
Armor synthesis crashing
Summary: Opening the Armor Synthesis screen with a piece of faction armor (Future War Cult, Dead Orbit, New Monarchy) will cause a crash.
Astral Alignment chest delay
Summary: In the Astral Alignment activity, there can be an extensive delay between opening the final chest and receiving the activity rewards.
Astral Alignment not progressing
Summary: In the Astral Alignment activity, joining an encounter in progress will block players from completing the encounter.
Tracing the Stars quest not progressing
Summary: Progression toward the Tracing the Stars quest doesn't count if players pick up Atlas Skews before they pick up the quest, or if they pick up Skews on another character.
Quick fix: Pick up Atlas Skews after picking up the quest, and make sure you do it on the character you have the quest on.
Witch Queen preorder emblem not appearing
Summary: The Lucidity pre-order emblem from the Witch Queen DLC is not showing up in the Collections tab.
Bungie Friend list not updating
Summary: A player's Bungie Friends list doesn't update automatically when accepting Bungie Friend Requests.
Can't import friends to Bungie Friends
Summary: When attempting to import friends from other platforms for Bungie Friends, some platforms display an error and can't import friends.
Bungie Friend notification spam
Summary: If a player sends a Bungie friend request to another player, and if that request is pending when they sign in next, a notification will be shown for each outgoing friend request that is pending.
Charged Melee input issue
Summary: On controllers, when "Charged Melee" is mapped to an input, changing the button layout will retain that mapping.
Quick fix: Players can reset the custom layout or clear the mapping for "Charged Melee" to fix this issue.
Lucky Pants element won't change
Summary: The Lucky Pants Exotic Hunter leg armor's elemental affinity cannot be changed.
Withering Heat mod has no description
Summary: The Withering Heat artifact mod has no description text. When this mod is equipped, causing damage with a Solar ability weakens Champions for a short duration.
Sweet Spot triumph not progressing
Summary: The Sweet Spot Triumph is not progressing when killing Vex Wyverns with precision damage.
Can't make Fallen Walker event heroic
Summary: The barriers surrounding the Scorch Cannons in the Fallen Walker public event repel anything near them, preventing Heroic completions of the event.
Can't enter Vault of Glass
Summary: Some players are blocked from entering the door in the Vault of Glass opening encounter.
Quick fix: Players who leave their fireteam, return to Orbit, and re-join their fireteam can receive their rewards and progress through the rest of the raid.
Pardon Bungie's dust...
While the issues with the launch of Season of the Lost are annoying, Bungie is working around the clock to make sure they get fixed as soon as possible. With any luck, these issues will be resolved quickly and players can enjoy Destiny 2 for what it is: one of the best Xbox shooters available. For more help, make sure to check out our guide to how to use crossplay in Destiny 2 as well as our complete beginner's guide on how to get into Destiny 2 in 2021.
Survive the Truth
Destiny 2: The Witch Queen
Take back the Light

The upcoming Witch Queen expansion features the sinnister Savathun and her brood of Light-wielding Hive, which will undoubtedly prove to be the most challenging foes faced by Guardians yet. Players can expect tons of new loot, enemies, locations, and more.
Get the Windows Central Newsletter
All the latest news, reviews, and guides for Windows and Xbox diehards.
Brendan Lowry is a Windows Central writer and Oakland University graduate with a burning passion for video games, of which he's been an avid fan since childhood. You'll find him doing reviews, editorials, and general coverage on everything Xbox and PC. Follow him on Twitter.