Developers, sign up now for DVLUP Days in Toronto and Dallas in May!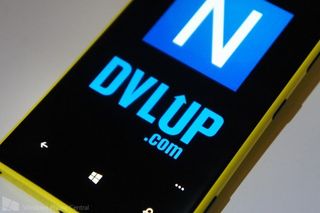 Did you know Nokia does more than make phones? They also help developers from large companies to the indie guy who's just getting his feet wet. Their group to do this is dubbed DVLUP (www.dvlup.com), and they've grown to be quite a massive – and important – part of the Windows Phone ecosystem.
Their ongoing DVLUP Days program is a way for you to learn new skills and talk to the experts who will show you how to either make an app or make your app even better. It's a phenomenal and FREE event, in which you can even nab yourself a free Windows Phone (if you publish your creation in three weeks) and some other goodies.
The event will be in San Diego this weekend, but that's at capacity (sorry!). Luckily, Toronto and Dallas are still a go, and we have all the details below!
Toronto – Saturday, May 10 8:00 AM to 8:30 PM (EDT)
The day begins with a brief introduction from your local Nokia Developer Ambassador who will share their experience developing apps for Windows Phone. You will also learn more about DVLUP, which is a fantastic developer focused rewards program helping you get more out of developing for Windows Phone.
Then you'll get straight down to business with plenty of time for hands-on app development and support from the Ambassadors. We'll make sure you're well-fed and caffeinated all day long.
Registration begins at 7:45am. There will be intro presentations, a Q&A / Ask The Expert session and a whole load of coding! Register here.
Dallas – Saturday, May 17 9:00 AM to 6:30 PM (CDT)
Learn to make amazing Windows Phone apps at Nokia DVLUP Day in Dallas on Saturday 17th May and win big prizes just for participating. Join Nokia Developer Ambassadors Greg Stoll & Bill Reiss, as well as several Microsoft Technical Evangelists, as they provide hands-on Windows Phone development training in a dynamic and fun event. Register here.
This event focuses on -
Track 1: App Development – Getting Started & App Studio
Track 2: App Development – Maps, Imaging & Cloud Services
Track 3: Game Development – Getting Started with Unity
Lightning Talks with Q&A
App Design & User Experience
Windows Phone Packaging & App Store Submission
App Marketing & Advertising
Windows Central Newsletter
Get the best of Windows Central in in your inbox, every day!
Daniel Rubino is the Editor-in-chief of Windows Central, head reviewer, podcast co-host, and analyst. He has been covering Microsoft since 2007 when this site was called WMExperts (and later Windows Phone Central). His interests include Windows, laptops, next-gen computing, and for some reason, watches. Before all this tech stuff, he worked on a Ph.D. in linguistics, watched people sleep (for medical purposes!), and ran the projectors at movie theaters because it was fun.
Holy shit I'm going Dallas

Ryan Lowdermilk of the Windows Developer Show, and a Microsoft Developer Evangelist, said in this week's podcast that he would be at the Dallas event.

Don't know who that is .....just looked him up and added him on twitter

Signed up for Dallas too! :p

Me too! I've been meaning to get something written for a while, so this will be the perfect motivator

Track 4: How to write a change log and their importance by Sir Daniel Rubino.

You guys should definately go. I went to the NYC one and it was great! I have never seen so many Windows Phones in one place lol I came home with lots of free stuff and they always have contests and hand out lots of free phones to attendees. The one in NYC was in MS Office and it was amazing. Got to see their local server room and they had just about every W8 tablet on display including every Nokia Windows Phone. Plus the team is great. @ActiveNick in particular comes to my mind.

Don't forget about Lance (WPCentral just did an article about instructions for 1520 Qi charging that Lance put together) but like he said DVLUP day was awesome, I'm just waiting on my free phone lol... For those who want to check out the app I created because of DVLUP day just search for "The Tonight Show" - yeah sorry for the shameless self promotion lol

Lance, George 'the Beard' and the rest of the DVLUP team are all some of the coolest people to meet. Lots of fun, and enthusiasm.

+1 million points for you, sir !

1 million DVLUP XP points!?! Alright!!! Lol but if this is Lance (which I think it is) thanks for the help... (I was sitting next to you while you helped the young lady with her cookbook app)

How could i forget Lance. He did an epic Vine video showing all the attendees in NYC. Cool dude and he knows his stuff. Especially Visual Studio.

Thanks for the kudos, I'm glad you enjoyed DVLUP Day in NYC. It certainly was a fun day and the energy from the 250+ attendees made it so exciting for us too.

Already signed up in Big D!

Look forward to seeing you there.

Lot of activities from both Microsoft and nokia to get developers to write apps for windows phone 8. Its a good chance for small developers but the point is the big companies apps are not upto the same level compared to other OS's. What time is it in US now? Am waiting for WhatsApp update which is supposed to be out at 12:15 pm as our Daniel Rubino leaks:-)

lol, well, the beta was updated :P

You are late with your article about the latest update of WhatsApp Daniel.. No doubt that you get to know about everything related to WP8 before others being secretive till the official announcements

WhatsApp getting the big update today!?? What??

It was a joke. AFAIK, there is no update. I have no idea when there will be one either.

Make pocket lock any dev watching this comment,, using ambient light sensor to detect phone has been put to pocket and locking it automatically, good old Symbian trick from app named pocket lock

I wonder what will happened with the DVLUP programs after Nokia devices and handset division was sell to Microsoft.

From what I understand, nothing. They stay as is doing what they do.

Hey Daniel, I have a 12 year old son who is thinking he is interested in someday making apps and games - he loves windowsphone etc and is pretty techy as kids are now. I don't code or program, and he only plays around so far on the microsoft online app maker. Is this way out of the league of someone like my son, or would there be interesting things for a kid who is interested in this kind of thing? Thanks!

I don't know how to do all that stuff and I'm going lol I wanna learn and have alot of money making ideas for apps maybe I will run into a future app dev partner so I can start a company

As far as him picking up any technical skills, it would definitely be out of his scope. But there's no harm in being exposed to it, even if only to further his interest.

That's kinda what I was thinking. Wouldn't be bad to be exposed to it for that reason alone. Appreciate the feedback.

I agree. Just bringing him and letting him meet people could really help him and make an impact.

That's great, really appreciate the feedback all! Just registered him and myself for Toronto, he'll be pumped to hear

Actually this is the perfect event for him and you to attend. We have had 8 year old first time developers show up and publish their first apps at these events. One in Boston even got a lot of press for it.

Yes, I hear the kid had an awesome teacher that day in Boston :) But seriously, he was quite talented. By the end of my App Studio session, he came to see me with his dad's Surface and his app was being generated. It's called Kids Zone.

That's right across from the building I work in in Toronto. See you guys there!!

When music will got the update?

When Microsoft publishes it, usually.

I hope Toronto means we finally get some major Canadian apps.... Banks, sports teams, etc

I'm glad I read all the comments...this is a definite must to ALL the Canadian banks.

Yup, going to the Toronto event

Bring this to London please!!!

I am ready for Dallas... Been registered for over a month now. I can't wait and it is going to be a blast...

Have you ever been to one?

Make sure and introduce yourself while there.

I need to come to Toronto!

Hm why a indie guy who just get there feet wet.......they make seems that there are no good developers in india....

Fuuuu... I leave Toronto on the Second. I assume there's no live stream for the Q&A

I couldn't go to the Chicago one so signed up for Dallas! I'm excited for this!

Awesome! You'll be glad you came.

I'm signed up for Dallas....but I don't think I'm gonna make it. The entire cast of Firefly will be reunited at Dallas Comic-Con on that day. I don't think I can miss that.

Perhaps you should consider cancelling your registration then so it can open up a seat for someone else as well as ensure we have an accurate count for catering? Thanks in advance.

I will do that as soon as I've given up on trying to figure out how I can do both. ComicCon is Friday through Sunday, but all of the photo ops are Saturday afternoon. I was thinking about going to DVLUP in the morning, but my daughter has a soccer game @ 9am in Mansfield. In other words, I'm still trying to work this out.

What else is at Dallas comic con

Well, you also have a reunion of many cast members from A Nightmare on Elm Street, several cast members of The Walking Dead, Stan Lee, William Shatner, a few people from Star Trek: Next Generation and then, of course, lots of artists and writers and merchandise. http://www.fanexpodallas.com/

If I'm not mistaken, the fan expo is at the Irving Convention Center, which is right down the street from Microsoft's Irving office where the event is being held. Maybe you can do some of both?

Actually, this is the 1st event they're having at the Dallas Convention Center. They had really outgrown Irving. At the Fan Expo in February, they had to close off the elevators and "up" escalators b/c they had surpassed maximum occupancy upstairs.

Just signed up for Dallas. I'm just glad it's on a Saturday. It's kind of hard to take time off of work.

Great news! I am also going to dallas.

Already signed up and printed my ticket see yall there

See everyone at Dallas! I'm running the game dev track.

Looking forward to seeing everyone at the Toronto Event :)
Windows Central Newsletter
Thank you for signing up to Windows Central. You will receive a verification email shortly.
There was a problem. Please refresh the page and try again.