Devil May Cry 4 and ScreamRide headline this week's Deals with Gold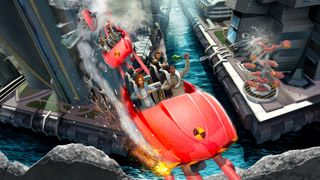 This week's Deals with Gold promotion is headlined by ScreamRide and Devil May Cry 4 for the Xbox One. Dungeon Siege III, Metro 2033 and several titles on offer for the Xbox 360 as well.
Xbox One:
Xbox 360:
The deals marked with an asterisk are available for Xbox Live Silver customers as well. The discounts on the aforementioned games are valid until November 23. You guys interested in any of the games on offer?
Source: Major Nelson
Oh man... still waiting for a deal on RE Revelations (the first game). They want $40 for it... winder why it's not on sale?

You can get the 2nd one for around £15 at Cex or Gameseek so I assume the first one will be cheaper. Microsoft deals are still more expensive than buying the actual disc.

That's up for debate. Sometimes you can get better digital deals. Sniper Elite 3 dropped to $9.99 mere months after launch on the Xbox Store, while it was still higher priced on disk.

Blame the publishers sometimes their doing a disservice to their digital copy keeping it at original msrp or not dropping the price low enough Lucas arts(Disneys a little more open to sales) & activision being examples

For anyone is Aus, Microsoft are having a pretty good sale, 25% off store vouchers (works on xbox) so can get $100 vouchers/games for $75. Along with some other game sales (digital and physical) https://www.windowscentral.com/e?link=https2F%2Fclick.linksynergy.co...

Just wait for Black Friday, people!

Horrible week. But Black Friday is near, so I guess they're warning us up for that.

Wasn't Screamride also on the list last week? That one tempts me, but I don't know if it's really any good. I've often liked coaster building games.

Coaster building is a minor aspect to this game. There is a demo in the store, though. I was intrigued, but I played the demo and was totally turned off.

Felt the same way. Was hoping to see Atari take another stab at rct but on xb1 with ride exchange

Atari is making another one, but I refuse to ever buy from them again. Instead, I am waiting for Planet Coaster from Frontier, the actual RCT devs.

I see that Dungeon Siege is free for Gold this week. I want to buy it but I only have X1 and when I try to purchase it gives me error. WTF!? Any ideas?

I may just get DMC4 at that price.

Another way the government manipulates the masses. Kill me.

The day after Thanksgiving sales in the U.S. They have discounts and promotions on hot items...like Xboxes and Playstations for 300 dollars and iPads with 100+ dollar gift cards and such.

More great deals on Live Posted via the Windows Central App for Android

Still have yet to see the project spark coin/token refund
Windows Central Newsletter
Get the best of Windows Central in in your inbox, every day!
Thank you for signing up to Windows Central. You will receive a verification email shortly.
There was a problem. Please refresh the page and try again.