Strategy-RPG Devils & Demons coming to Windows Phone, 1941 Frozen Front gets weekend sale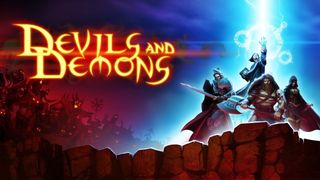 German developer Handy Games has brought several solid games to Windows Phone, including Aces of the Luftwaffe, SPS Football, and 1941: Frozen Front. Even though most of those titles are free to play, they all look and play very nice. They also have a game called Stage Dive Legends that stars a rock-and-roll playing Confederate soldier, for some reason.
We now have another Handy Games title to look forward to, as the developer has informed us that Devils & Demons will soon be coming to Windows Phone. Devils & Demons is a fantasy-themed strategy role-playing game with highly detailed character art. And to celebrate the game's impending release, all in-app purchases in 1941: Frozen Front (also a strategy game) are half off until the end of the week.
Devils & Demons
Being a fantasy-themed game, Devils & Demons naturally has an epic setting for its strategic battles. In the world of Desola, a dark portal opens in the Shadowlands. Devils and demons and drunk drivers (kidding) emerge from the portal, warring against humankind.
Humanity's last hope rests in the player's hands. You'll have to build a party of warriors and team up with the Order of the Light to stop the invading monster army. Then everyone can celebrate with a drink, but responsibly this time.
Devils & Demons is a turn-based strategy game, much like 1941: Frozen Front. Characters move on a hex-based grid. But instead of tanks and soldiers, this one features units like mages, archers, and templars. And the bad guys tend to be monsters as opposed to Nazis. Way cooler!
This game will be Handy Games' largest title yet, with a huge arsenal of quests to complete and hundreds of maps to explore. Players will collect a wide variety of heroes to join their party. These can then be combined and upgraded to make better units.
Besides completing quests and collecting characters, players will also take part in a fairly detailed story. The cut scenes are voice acted and feature an orchestral soundtrack.
Devils & Demons will be free to play on Windows Phone. It will be monetized by both ads and in-app purchases. On Android, users have complained about the obtrusiveness of the ads – a problem that SPS Football and 1941: Frozen Front suffered as well. But the most recent Android patch did tone down the ads, so hopefully our version will be based on that update. And Handy always lets players pay a couple of bucks to disable ads if they like.
We don't have a firm release date on Devils & Demons yet, but we'll keep you posted!
1941: Frozen Front
Maybe fantasy isn't your thing, and you'd prefer a serious strategy game based on World War II. In Frozen Front, players begin each mission with a variety of units: infantry, tanks, artillery, planes, and more. You'll move each unit across the map's hex grid, uncovering the fog of war as you search for the enemy. Each unit gets one attack per turn, so you'll need to consider whether it will survive an attack (the game tells you how much damage both sides will take) before assaulting an enemy unit.
Killing enemies gets you gold which can then be spent on new units, armaments, and refueling existing units. Complete missions skillfully to earn a gold bonus too.
If you'd rather jump ahead in the campaign and have an easier time of things, In-App gold purchases are on sale for half off through this weekend. You don't have to buy gold to beat the game, but it will cut down on grinding.
Download 1941: Frozen Front – Windows Phone 8 – 18 MB – Free
Windows Central Newsletter
Get the best of Windows Central in in your inbox, every day!
Paul Acevedo is the Games Editor at Windows Central. A lifelong gamer, he has written about videogames for over 15 years and reviewed over 350 games for our site. Follow him on Twitter @PaulRAcevedo. Don't hate. Appreciate!
I'd rather buy the game and pay 0.99$ - 2.99$ than having those ads or pay-to-play options...

You can pay to get rid of the ads at least. But I believe both games are designed to be grindy.

Wow and I thought Monster energy represented Satan lol.

Yes. Windows Phone is dead. Going to be replaced by Windows 10.

Okay, Windows for mobile phone will be dead soon also. Windows 10 mobile will be a cute ROM remnant on Android of a once great mobile OS.

windows phone 8.1.1 is the best OS now!

I also didn't this at first my friend... The ROM is just so Android users can experience a native WP experience, it WILL NOT run android apps other than the ones on it.

How so? I'm still using mine. And this 1520 has never felt more alive!!!! Yep!!!

Awww. windows finally has enough importance to get trolls. :)

You sir win the internet :)

Troll, if you have brain, use it. Thn comment. Suddenly all trolls are coming back, and that's a good news for wp

Frozen Front? I play Frozen Throne ;)

Now time for forza in wp.

go play ur counter strike then

Noo no I need stick cricket and Ly sports games

Looks good, hopefully It doesn't have all of those in app purchases that ruin so many other games

So is Devils and Demons also 512mb supported? That's not made clear.

Am downloading it once is out

Keep em coming especially strategy games! I hope Microsoft studio will develop the Skull Of Shogun 2. Hehe

No, I don't think it has online multiplayer at all.

Was meaning to check out Frozen Front a while back. I'll definitely have to download it now. Thanks for the news!

Hope we can get some Xbox support in future updates for them
Windows Central Newsletter
Thank you for signing up to Windows Central. You will receive a verification email shortly.
There was a problem. Please refresh the page and try again.