Diablo 2: Resurrected faces server problems, Blizzard deploys maintenance
If you can't get in to play right now, you're not alone.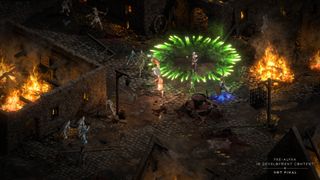 (Image credit: Blizzard Entertainment)
What you need to know
Diablo 2: Resurrected, a remaster of the original game and its Lord of Destruction expansion pack, is now available.
Many players are reporting server problems, being disconnected from the game or having characters go missing.
Blizzard Entertainment is aware of the issues and is currently deploying some fixes.
Diablo 2: Resurrected is now available and like many online games, the servers are having problems at launch. Blizzard Entertainment confirmed that many players are facing issues logging into the game, as well as having characters seemingly be deleted. To fix this, the game is undergoing maintenance, though offline play is still available.
September 23, 4:04 p.m. EST: Another round of emergency maintenance has taken servers offline. It's expected that servers will be down for about 45 minutes.
[#D2R] We'll be performing emergency maintenance beginning at 1:00 PM (PDT) and lasting until approximately 1:45 PM (PDT)[#D2R] We'll be performing emergency maintenance beginning at 1:00 PM (PDT) and lasting until approximately 1:45 PM (PDT)— Blizzard CS - The Americas (@BlizzardCS) September 23, 2021September 23, 2021
September 23, 1:45 p.m. EST: It looks like servers are slowly coming back online, with lobbies being populated by multiple players.
Hopefully this means that the problems will all be solved relatively soon. In the meantime, we're tracking a list of Diablo 2: Resurrected bugs and launch issues, so if there are non-server problems that players start encountering in monstrous quantities, we'll be sure to let you know.
Diablo 2: Resurrected is currently available for Xbox Series X, Xbox Series S, Xbox One, PC, PS5, PS4 and Nintendo Switch. This comes as parent company Activision Blizzard is facing a lawsuit, accused of of allowing sexist workplace behavior, abuse and more to persist. Several high-level employees have been let go from the company, including the game director on Diablo 4, the next mainline entry in the action-RPG franchise.
It's finally here
(opens in new tab)
More than a fresh coat of paint

Diablo 2: Resurrected includes the original game and the Lord of Destruction expansion pack, with all-new improvements and better graphical quality. It's available now on all platforms.
Samuel Tolbert is a freelance writer covering gaming news, previews, reviews, interviews and different aspects of the gaming industry, specifically focusing on Xbox and PC gaming on Windows Central. You can find him on Twitter @SamuelTolbert.
I just lost my trapper, after playing 5 hours. On my second disconnect. First time, we were told that they would have to have an unscheduled downtime, for about 30 min, to fix that. Fair enough i think... 30 min later, it was running again, no problem... I can live with that, though i can't for the life of me, figure out why they haven't spent more resources, fixing the log-on system, as well as servers ?? I assume that's where the problem resides ??
That just reminds me, of all PoE (Path of Exile) Launches to date... The first 48-72 hours SUCK, because it keeps disconnecting you...
Now, 5 hours in, at the end of Act 2... I got disconnected again... Sigh... Ok... I logout, and wait 10 min... Maybe there was an update/patch... I log back in... And my damn trapper is gone ??
Really ?
REALLY ?? In all my years of D2/LoD and PoE headaches... THAT has NEVER happened before, and honestly... That's NOT allowed to happen... EVER... Downtime i can cope with, if barely accepting, due to bug and minor glitches... Being kicked out on random occurrences... Hell, that's just part of how games are now adays... Glitchy as ****... But losing your progress/Character... NOT ALLOWED !!! Sorry, i had to vent a bit... Does anyone else agree ??

I don't disagree. But thanks for beta testing their software and making it right for when I join in a month. Look at the bright side, you didn't die. Unlike the first bungie jumper or sky diver.

Well, it wouldn't be a new game release without server issues.
Windows Central Newsletter
Thank you for signing up to Windows Central. You will receive a verification email shortly.
There was a problem. Please refresh the page and try again.