Did you already pre-order the Surface Pro 3?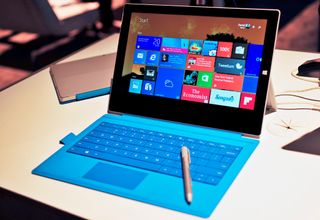 Microsoft made the Surface Pro 3 official yesterday. It's a beautiful new tablet that aims to replace your laptop. We've got two loaner devices from Microsoft and will have a lot more content coming. In the meantime we need to remind you all that you can pre-order your Surface Pro 3 today and get it on June 20. Also, we want to know if you pre-ordered. Take our poll after the break!
We're really digging the Surface Pro 3 so far. It takes the strengths of Microsoft's previous tablets and amplifies them. It also addresses a lot of the shortcomings from their previous work. Check out hands-on video above to see what we're talking about and check out the full specs for the Surface Pro 3.
Pre-order
Starting today, you can pre-order the Surface Pro 3 online from the Microsoft Store. You can also walk into your local Best Buy or Microsoft Store to place a pre-order in person.
On June 20, the United States and Canada will be the first to get the Surface Pro 3, though only the Intel Core i5 versions will be available then. The configurations with either an Intel Core i3 or Intel Core i7 won't ship till late August.
A lot of regions like Australia, Austria, Belgium, China, Denmark, Finland, France, Germany, Hong Kong, Ireland, Italy, Japan, Korea, Luxembourg, Malaysia, the Netherlands, New Zealand, Norway, Portugal, Singapore, Spain, Sweden, Switzerland, Taiwan, Thailand and the United Kingdom should be able to pre-order today. But the availability will be sometime before the end of August 2014.
The Surface Pro 3 comes in the following configurations and prices:
Intel Core i3 / 64 GB / 4GB of RAM / $799
Intel Core i5 / 128 GB / 4GB of RAM / $999
Intel Core i5 / 256 GB / 8GB of RAM / $1299
Intel Core i7 / 256 GB / 8GB of RAM / $1549
Intel Core i7 / 512 GB / 8GB of RAM / $1949
Other than that, all Surface Pro 3 configurations are identical. Hit up the link below to place your pre-order.
Pre-order the Surface Pro 3
Did you pre-order yet?
So did you pre-order a Surface Pro 3 already or are you planning on pre-ordering? Which model did you get? Take the poll below and sound off in the comments!
Reading this in our mobile app? Head to Internet Explorer to take the poll m.wpcentral.com/did-you-already-pre-order-surface-pro-3
Get the Windows Central Newsletter
All the latest news, reviews, and guides for Windows and Xbox diehards.