Disney Plus didn't list the Marvel movies in order — so we will
By Ara Wagoner published
I don't know why Disney doesn't have these in order, but we can fix that!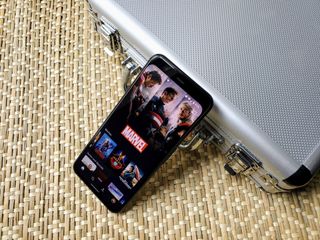 (Image credit: Ara Wagoner / Windows Central)
Disney Plus (Disney+) has the greatest collection of Marvel movies and shows ever available for legal streaming. Unless you've been buying up every Marvel Cinematic Universe movie over the past decade, this is likely the first time you've had a chance to have a proper marathon of Marvel's Infinity Saga, which has served as the canonical MCU up to this point. From the original Iron Man to the conclusive "I am … Iron Man" in Avengers: Endgame you can relive most of the story so far.
Disney hasn't made a proper MCU playlist in the Disney+ app — a major oversight in this humble hero-lover's opinion — but it's OK! We've put the movies in order in a handy list that will let you watch the story of the Infinity Stones according to the in-universe chronological order:
Technically, Ant-Man and the Wasp takes place before and during Infinity War But because the post-credits scene is "The Snap," I'm putting it after Infinity War. Not that it really matters since Ant-Man and the Wasp is one of the few MCU films that isn't on Disney+ at launch because of pre-existing content agreements that Disney simply has to wait out at this point.
As a small reminder, watching all of these movies would take more than 40 hours, so you're either going to want to add these movies to your Disney+ watchlist in order, or you're going to want to bookmark this article so you can come back throughout your multi-day Marvel movie marathon.
And of course, once you're done, I recommend:
Avengers, Assemble!
Disney works its magic as only it can.

Disney may not have gotten every jewel in the crown known as the Marvel Infinity Saga onto Disney+ yet, but it's as close to a full set as you can get without spending hundreds and hundreds of dollars.
Ara Wagoner is a Writer at Windows Central. She's addicted to music and video subscriptions. When she's not writing help and how-to's, she's running around Walt Disney World and singing show tunes. If you see her without headphones, RUN. You can follow her on Twitter at @arawagco.
Neat list, but I'd rather have them ALL, and not just infinity stones stuff... I will keep my collection of BDs and UHDs for quality's sake

Thank you, always wanted this 👍🏾

Another great chronological list to have is one for the Disney theatrical animated movies such as Snow White, The Fox and the Hound and Mulan. Of course it is not necessary to watch them in order of release but it is interesting to see how Disney animation has evolved since 1937.

Numbers 4 and 5 need to be switched. Incredible Hulk is before Iron Man 2. At the end of Incredible Hulk, Tony talks to the general about the Avengers initiative, but during Iron Man 2, Tony is kicked out by Nick Fury. Plus, movie websites point to Incredible Hulk coming out before Iron Man 2.

Yeah, Incredible Hulk is definitely set before Iron Man 2.

I would have gladly done a theater marathon for EndGame but Disney didn't offer it in Orlando, even though they offered fan events and marathons previously (my son and I saw a 13 movie marathon for Infinity War). Alas, will have to settle for the 9 movie, 27+hr Star Wars marathon in Dec for episode 9...
Windows Central Newsletter
Get the best of Windows Central in in your inbox, every day!
Thank you for signing up to Windows Central. You will receive a verification email shortly.
There was a problem. Please refresh the page and try again.